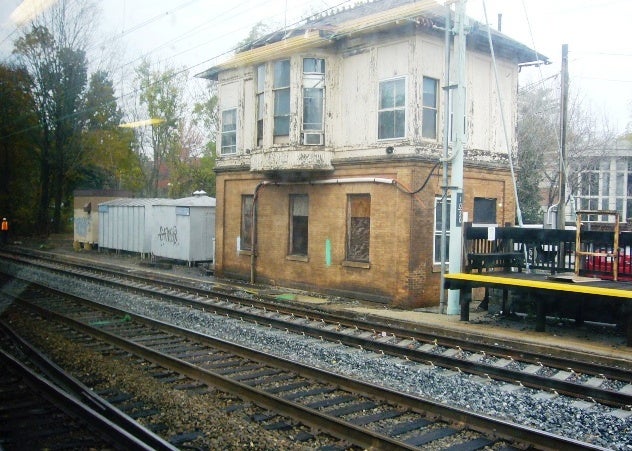 Old and new tracks and ties at Bryn Mawr

(This is the third in a series of PlanPhilly stories examining the infrastructure projects that would accompany a re-visioning of the Central Delaware waterfront, and how they will meet their biggest challenge: funding. This previous story looked at the proposals for parks and green space in the Penn Praxis Vision, and who will pay for and maintain them.)

Dec. 20
By Seth Budick
For PlanPhilly
With a new dedicated source of state funding in place, SEPTA's financial security has clearly been improved, but the implications are less obvious for future improvements to public transit service in Philadelphia.
In July, Governor Rendell signed into law Act No. 2007-44 (Act 44) establishing the Pennsylvania Public Transportation Trust Fund. The trust fund combines state funds from a number of sources into a single pool to then be distributed statewide. Those sources include a percentage of state sales taxes, Turnpike Commission funds, lottery money, and allocations from pre-existing dedicated transit funding sources. This new unitary source of funds should allow SEPTA to eliminate the annual scramble to close its operating deficit and put it on relatively firm financial footing. The likelihood of service expansion and improvement, however, is less clear.
Impact of the new state funding system
It may be unrealistic to expect substantial expansion soon due to the fact that SEPTA's capital and operating budgets are relatively independent of each other, and it is the latter which will see most of the impact from the state's new funding structure.

The Transportation Trust Fund provides $508 million to SEPTA's operations in fiscal year 2008. Of that amount, only $437 million has been budgeted by SEPTA for FY2008 with the rest held in reserve to cover operating deficits in the future, according to SEPTA's Senior Director of Budgets, Rich Burnfield.

Together with other sources of funding (including trust fund money to cover lease and debt costs and Act 26 money that covers lease costs), this still represents a total state contribution of over $496 million to SEPTA's FY2008 operating budget, a substantial increase compared to the $405 million that was budgeted in FY2007.
While this increase seems generous, SEPTA's capital budget has not been treated nearly as well. Under Act 44, new funding allocated statewide to transit systems' capital budgets amounts to $50 million, but SEPTA will see relatively little of that money this year. That is because a good portion of capital dollars are allocated in a discretionary manner by PennDOT, and this year, owing to its substantial debt service, Pittsburgh's Port Authority will largely be the recipient of the state's largesse.

Thus, only a small fraction of the total increase of $300 million in Act 44 transit funding in FY2008 will actually be available to subsidize grand new projects for SEPTA, whether improvements of existing service, or extensions to the system.
At the same time, SEPTA has long used funds from its capital budget, or state subsidies that could be allocated to operating or capital, to supplement its operating budget.

In FY2007, this consisted of a transfer of $26.8 million from the capital to the operating budget, as well as using $79 million of flexibly allocated state subsidies to close the operating deficit. The large increase in the operating subsidy should obviate some of these transfers, though the increase in the capital budget will probably not be enough to fundamentally change the funding picture according to Don Shanis, Deputy Executive Director of the Delaware Valley Regional Planning Commission (DVRPC). "A lot of people don't realize that without this funding they would have had to cut the system. This allows them to maintain it."
Using capital funds to supplement its operating budget has not come without a cost. "We've been robbing Peter to pay Paul" said SEPTA spokesman Richard Maloney. As Don Shanis put it, "they've deferred a lot of capital projects, so the new funding doesn't open the door for a lot of new projects. The only way that that would happen would be a big new contribution from somewhere; either a local contribution, a state contribution, or some kind of creative financing, possibly private sector involvement."
SEPTA's short term capital plans
Though the state subsidy to SEPTA's capital budget will probably not be increasing dramatically, it will likely benefit from improved state funding in coming years.
According to Rich Burnfield, SEPTA has made clear to PennDOT that it expects to receive a larger share of the discretionary pie in the future. "Next year, when it grows another $50 million, and the year after that, when it grows by $100 million, our expectation is that we will get a share of that which we believe is more in line with what our capital needs are."
In addition, the impending completion of the reconstruction of the Market Street Elevated will be a significant boon to other capital projects. Over $100 million is budgeted for this program in FY2008 alone, none of which, according to SEPTA CFO and Treasurer Joe Casey, originates from earmarked federal funds. Because federal money was not specifically dedicated to this project, other capital programs should benefit from the elimination of this drain on the capital budget.
One of the largest of those projects is the purchase of new regional rail cars to replace a fleet that is 40 to 44 years old. These cars, costing $2.15 million each, are expected to begin arriving in 2009, with a total of $330 million having been budgeted for their acquisition. Another impending large capital expense is the purchase of several hundred new buses, at $508,000 each, to replace an aging fleet which will be 12 years old by the time it's retired. While these vehicle replacement programs lack much sex appeal, they are precisely the sort of projects that will benefit from a more secure state funding arrangement according to Don Shanis of the DVRPC.
Among the projects that have garnered the most public attention, modernization of SEPTA's fare collection system is apparently at the top of management's agenda. Though it has been studied for years, moving ahead with long overdue fare modernization is "the number one issue to be addressed in the immediate future" according to SEPTA spokesman Richard Maloney. Despite public pressure to get this project underway quickly, however, SEPTA may be anxious to keep expectations from getting too high. As Mr. Maloney put it "We're doing a lot of work, but we can't promise to our customers that this will come quickly, because the last thing we want is to select the wrong system and the wrong technology."
Although it has not had funding budgeted for FY2008, the rehabilitation of City Hall Station is another high profile project that is currently in the design phase. According to Joe Casey at SEPTA, this is also a project that is likely to benefit as capital funds are no longer needed for the completion of the Market Street Elevated reconstruction. Conspicuously absent from a list of likely future capital projects, however, are any plans for system expansion. Indeed the only system expansion that we may see in the near future, according to Mr. Casey, is an extension of regional rail service from Elwyn to Wawa.
Possible longer term capital projects

This is not to say that there aren't a number of projects that are considered high priority by stakeholders in the region. According to the DVRPC's Don Shanis, besides fare modernization, locally favored projects include an extension of the Regional Rail R5, extended service along the Schuylkill Valley corridor, a Paoli transportation center, extension of Regional Rail service to Quakertown, light rail on Philadelphia's Delaware River waterfront, and extension of the Broad Street Subway to the Navy Yard and along Roosevelt Boulevard in Northeast Philadelphia. The enormous cost of subway projects is prohibitive, however, with a Northeast extension of the Broad Street line costing perhaps $2 billion.
Mathew Mitchell, the Newsletter Editor of the Delaware Valley Association of Rail Passengers, a transit advocacy organization http://www.dvarp.org, says that by far the most cost effective project that SEPTA could undertake right now would be an extension of the Norristown High Speed Line, SEPTA's Route 100, to King of Prussia. A request for dedicated federal funding for this project, as well as a major expansion of service in the Schuylkill Valley corridor, was submitted, but received a "Not Recommended" rating from the Federal Transit Administration.
According to Mr. Mitchell, this was largely a result of the King of Prussia extension being combined with a proposal for the so-called Schuylkill Valley Metro (SVM), a rail line that would have provided high frequency service from Center City to the Reading area. The Route 100 extension "has a lot of bang for the buck, and so was folded in with SVM to leverage the cost-effectiveness." Ridership projections for the SVM were unrealistic though, according to Mr. Mitchell, and at a cost of $2 billion, the overall project was not cost-effective. In addition, SEPTA requested the maximum 80% federal contribution even though "it was stated since the Clinton administration that projects with that level of federal contribution would have very low priority."
Since the chances of the SVM receiving earmarked federal funding are "essentially nil," according to Joe Casey, a new proposal will need to be prepared for a Route 100 extension in order for it to qualify for dedicated federal funds. SEPTA could instead choose to fund this route entirely out of its existing capital budget. With the increased competition that has recently been chasing scarce federal funds, many cities and transit agencies are choosing to fund new projects themselves, according to Mr. Mitchell. SEPTA could say "let's go ahead and do this with our own funds."
Another project that is frequently mentioned by transit advocates in Philadelphia is the restoration of trolley service on one or more of the lines that were suspended in the 1980s and early 1990s. Though the city still has a relatively large streetcar network, that web of trolley lines was substantially larger until recently. The unused trolley tracks and wires that still wend their way all over town provide ample evidence of that history.
Streetcar expansion a national trend

Ironically, construction of new streetcar lines is one of the most popular forms of transit expansion occurring nationally, with cities from Tampa to Seattle getting on board. Trolley lines have been particularly popular due to their low construction costs and the recent trend towards increasing population and investment in downtowns across the country. Some of these new lines, most notably in Portland, have been spectacularly successful, where "they're extending it a lot all over the downtown area, and now they're planning to go out of the downtown" according to Railway Age Contributing Editor William Middleton.
In Portland, the price of the new four mile long streetcar line has ranged from roughly $15 to $33 million per mile, while the vehicles themselves have been acquired for approximately $2 million each. This reflects the notorious variability of prices for new construction which depend strongly on local factors. In Portland, this included necessary roadwork according to Kay Dannen, Community Relations Manager for the Portland Streetcar.
BRT in Bogata, Columbia

This variability is especially conspicuous in the case of light rail; rail lines that use vehicles similar to streetcars, but which generally travel at faster speeds and are separated from automobile traffic. For those lines, the construction of elevated structures and tunnels, for example, can easily result in infrastructure costs that are several times those of a street running trolley. A somewhat cheaper alternative is Bus Rapid Transit (BRT), where buses run in a dedicated right of way, avoiding traffic. BRT construction costs can still be high though, as in the case of a recently completed line in Los Angeles' San Fernando Valley which cost approximately $23.6 million per mile to build.
In Philadelphia meanwhile, ridership on SEPTA's streetcar lines has been relatively stagnant. Septa did recently reinstate service on one of the lines that was temporarily suspended in 1992, the #15, on Girard Ave. In 2005, after, according to SEPTA's Joe Casey, the city made it its #1 priority, the transit agency invested $88 million in restoring the line, even without an earmarked federal contribution.
On the other two lines suspended in 1992, the #23, which ran from South Philadelphia to Chestnut Hill, and the #56, which ran along Erie & Torresdale Avenues to Northeast Philadelphia, much of the trolley infrastructure is still intact and restoring service on those lines is a top priority of many transit advocates like Mike Szilagyi, creator of a website that documents the history of Philadelphia's streetcars. For the #23 in particular, "it will require replacement of a lot of track and possibly substations as well, but all that was done with the #15." Indeed, SEPTA has $189 million dollars budgeted for infrastructure improvements to the #23 and #56, but not until 2012 at the earliest, reflecting the fact that those projects are "on the back burner" according to SEPTA spokesman Richard Maloney.
Aside from improving the fabric of the city, advocates like Mike Szilagyi argue that trolleys offer the benefits of increased capacity, longer life spans, zero emissions (on a local scale), less noise than buses, and the potential for running them entirely on "green" power. At the same time, arguments in favor of trolleys do often contain an appeal to the emotions. As William Middleton puts it, "my personal preference to have a streetcar system should have nothing to do with what's the best system." If those appeals do result in increased ridership, however, then they clearly do have practical implications. As Mr. Middleton admits, "rail does draw more passengers." Generating a true cost comparison of buses and streetcars is clearly a necessity, although, according to Matthew Mitchell, "it's probably a doctoral thesis worth of work."
While SEPTA's improved funding is certainly a step in the right direction, a substantial expansion of service, like an extension of the subway down Roosevelt Boulevard, is clearly going to require "major leadership and will on the part of the region," according to Don Shanis of the DVRPC. This may also have to wait for significant changes in SEPTA's management, says Matthew Mitchell. "None of this is going to happen until there is a fundamental change in mindset in the company."

Seth Budick, who recently completed a Ph.D. in Biology at the California Institute of Technology, has a longstanding interest in architecture and urban planning issues. Contact him at sbudick@gmail.com
WHYY is your source for fact-based, in-depth journalism and information. As a nonprofit organization, we rely on financial support from readers like you. Please give today.