2 Philly cops sue department, claiming spate of anti-Semitic harassment
Two Jewish police officers are suing the Philadelphia Police Department over what they say is systemic anti-Semitic harassment. Claiming they've been subjected to Nazi-related graffiti, verbal abuse and other workplace discrimination, the officers said the abuse has been ignored by department supervisors.
Officers Stacey Gonzalez and Pavel Reznik accuse police department supervisor Karen Church and 10 other officers in the Ninth District headquarters (near the Ben Franklin Parkway) of committing or tolerating "anti-Semitic, racist and hostile environment" abuse. They two said they've lodged several complaints.
The federal civil rights lawsuit claims an array of abuse — that the officers were not given time off to celebrate Jewish holidays, that a Nazi "SS" symbol and a German phrase meaning "skull and crossbones" were scratched onto their lockers, and that a police patrol car was marked with the Star of David with the words "Hebrew Hammer."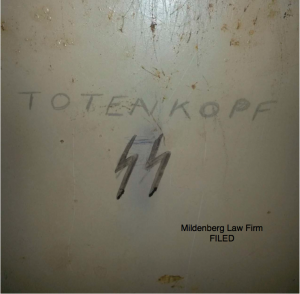 Civil rights lawyers Brian Mildenberg, who is representing the officers, said those acts were intended to "scare and harass" Reznik, a Jewish immigrant born in Russia who is a 12-year veteran of the force.
"Supervisors took part in the conduct and therefore were aware of it," Mildenberg said. "My clients do feel that they brought this to the attention of the department, but it has not been effectively remedied."
A police spokesman and a representative of the city of Philadelphia both declined to comment on the pending litigation.
Gonzalez and Reznik, both still on the force as patrol officers, had filed complaints internally and to the Equal Employment Opportunity Commission, the federal agency that enforces civil rights law.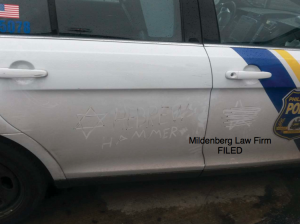 Before being moved to a new district, Gonzalez, who has been on the force for 21 years, said she endured anti-Semitic comments. When she spoke up about it, her boss, Karen Church, allegedly retaliated against her.
According to a transcript of an interview as part of a police internal affairs investigation, Gonzalez walked into Church's office while she was watching a news report about a battle between Israel and Hamas when Church allegedly said: "Why doesn't the United States just take a missile and blow up Israel?"
When Gonzalez reported that comment, she said Church punished her by making her stay after her shift to clean, speaking to her in a demeaning way and shaming her for taking time off during Yom Kippur, according to the suit.
Christian officers had flexibility to take Christmas off, according to Gonzalez, who said when she tried to do the same for Yom Kippur or Rosh Hashanah, she was penalized.
"I felt like they were putting me on trial because of my religion," Gonzalez said.
Then there was an incident ahead of a Memorial Day party this year in which Gonzalez had said she planned to bring fried chicken. Learning this, a female officer said, "Stacey, don't bring in no … Kosher sh*t," according to her internal affairs complaint.
"To me, that means she had a problem with my faith, and I wonder if she would have said the same thing if I was Caucasian and Jewish," Gonzalez told the internal affairs investigators.
Reznik said being a Jewish immigrant made him a target in the police department.
The alleged discrimination started when he entered the police academy, when he said it was clear he would be persecuted because of his ethnicity and heritage.
Someone allegedly made a comment to Reznik about "all the benefits immigrants get without doing any work," according to the suit. And Reznik said it was common to hear, "Oh, we're just getting Jewed out" if an officer thought something was too expensive.
"Any time I would try to bring these concerns to instructors," Reznik said of his time in the police academy, "I would be told that it is just" their humor, "and I'm just being too uptight and that they'll talk to them. But nothing would change."
The lawsuit is seeking punitive and compensatory damages.