Here for the Drama: Sanditon, Season 2 Episode 5
☕  Get the tea on your favorite PBS dramas with our recap newsletter, Here for the Drama. Subscribe for free. 💌
Dear reader,
The penultimate episode! What secrets are left to be revealed, what romances are yet to be tied up? There are so many plotlines tangled together right now, but I'll do my best to cover each one.
At the Parkers', Alison is determined to leave Sanditon with her broken heart, but Charlotte is trying to convince her to stay for the ball that evening. (That is, if the ball happens, Tom!) Fraser insists that Carter give her an explanation and an apology, but he refuses.
Colbourne is also refusing to apologize to Charlotte for what he said at the garden party, and says Charlotte has no right to demand an answer from him. These two stories aren't parallel though — from Mrs. Wheatley's exclamation earlier, I'm all the more certain there's more to Colbourne's story. Read on…
At Lady Denham's, a double force: Lady Denham tells Mary about Lennox's debts all over England, and Esther continues to deteriorate from Edward's poisoning. Mary reacts as we imagined she would: furiously. Distraught, she makes sure Tom knows that Sidney was in love with Charlotte, and only married Eliza for her inheritance to save Tom. (I know, how did he not notice?!) Esther is worsening quicker and quicker — it seems Edward's convoluted plan to distress her and convince Lady Denham to forfeit her inheritance is working.
Georgiana is similarly concerned with inheritance, but by her conflict with receiving it. At an intimate painting session with Lockhart, he mentions he would travel if he had money and wouldn't paint for commission again. Of course he says he isn't painting Georgiana for a commission — "but for love!"
At the ball, we have to wait through the slowest-moving dance in history to see if Lennox is actually going to propose. Here's my real question, reader: Why does Lennox want to get married? Does he really love Charlotte? Does he just want a wife?
How much did your heart race when Esther stumbled across the dance floor — and when the doctor diagnosed her with "hysteria?" How is no one noticing what's happening? Not even Lady Denham? I have no predictions on how this might be resolved, unless Clara finds her moral compass.
On a happier note, I'd watch a full episode of just Alison and Fraser bantering. My prediction is that Fraser is also from a farming village. He's made so many references to Alison being a farm girl that there has to be a connection!
Reader, what do you want in the season finale? I'm hoping for: Babington to save Esther!, Charlotte and Colbourne to get engaged — but only if Charlotte wants to get married, Georgiana to follow her heart and Alison to realize Fraser was the right person for her all along. I also think there's more to the mystery of Sidney being in Antigua than we've already uncovered… perhaps the name of the mystery man out to take Georgiana's fortune? I just hope it's not a name we know…​
Til the finale!
Christine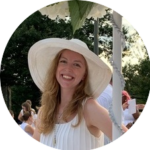 P.S. Lennox abandoning Lucy after she becomes pregnant — which Austen character does that sound like? If you said Willoughby, cheers to you. No cheers to that Sense and Sensibility scoundrel, or to Lennox, who we can finally say with certainty is not a man of honor. An actual man of honor? Colbourne, who confesses his past to Charlotte, from his falling out with Lucy to raising Leonora as his own daughter. We're only left to wonder: how will Leonora react to overhearing that shocking revelation?