July 20 marks the 50th anniversary of the first moon landing. To celebrate, we collected memories from people who got to witness the momentous event in real time.
Here are a few from WHYY followers in Pennsylvania and New Jersey.
We were acutely aware of the danger
Derrick Pitts was 14 years old that summer, living in Philadelphia. Today, he is chief astronomer at the Franklin Institute and co-host of WHYY's weekly segment "Skytalk." Even back then, he was obsessed with all things space.
"I was deeply into it and completely captivated by the technology, and by the idea of exploring another world," Pitts said. "I followed everything I could follow on television, in the newspapers, in magazines, anyplace I could get any information."
On the black-and-white television in his mother's bedroom, he watched the astronauts come out of the lunar module, climb down the ladder, and step onto the surface of the moon.
"It was a grainy image on television, and you could hear the astronauts speaking from the moon with that radio transmission voice that broke up every now and then, with a beep in there every now and then also, that really told you that it was live and happening," Pitts said.
He remembers feeling the magnitude of people all around the world, witnessing the same event.
"It's as if everyone stopped what they were doing to focus on this incredible human moment of exploration," he said. "We were also acutely aware of the danger that was involved here. The amount of risk that was wrapped up in the whole thing kept us all glued to our seats."
We sent people to the moon with this technology
Katie Hunt was also 14 years old at the time, watching the proceedings on TV at her neighbor's house in Bronxville, New York. Everyone else had gone to bed, but Hunt was way too excited to sleep. She roped her neighbor's dog, a dachshund named Hilde, into watching on the couch with her.
"I just kept running to the window, and looking out, going, 'Oh my God, they're so far away, I can't see them. Oh my God, I have to watch the TV,' " Hunt said.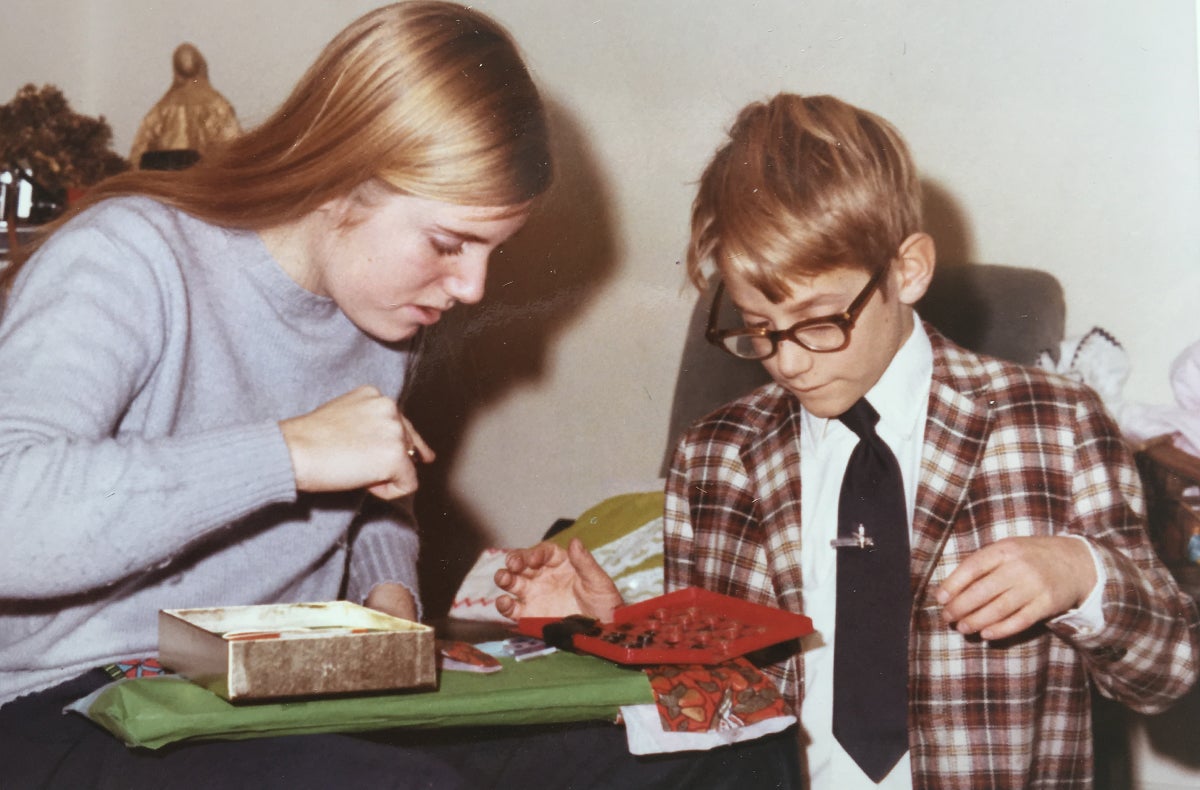 Decades later, as a research and development director for Dow Chemical, she had the chance to visit space control at NASA.
"I was so excited, I felt like I was 14 again," Hunt said.
The coolest part, she said, was Mission Control — the room where NASA workers were directing the moon landing that fateful day in 1969. The technology they had then was a far cry from what we have today.
"They were writing messages on paper, putting it in a tube, and sucking it with a vacuum into the next room," Hunt said. "I couldn't believe it. I thought, 'We sent men to the Moon with this technology — we should be able to do amazing things today.' "
One of the most moving moments of my life
During July 1969, Nanette H., who preferred we don't use her last name for privacy reasons, was a Peace Corps volunteer teaching English in Libya.
During a group outing in the desert, their vehicle crashed off a sand dune and everyone sustained serious injuries. They were evacuated by the U.S. Air Force and brought to a military hospital near Tripoli. Along with wounded soldiers flown in from Vietnam, they watched the historic first step around a black-and-white TV in a hospital room.
"It was one of the most moving moments of my life," Nanette said.
Years later, while she was working at the American Philosophical Society in Philadelphia, Nanette heard Neil Armstrong give an impassioned talk on the need for government-supported exploration.
"I couldn't resist the opportunity to tell him about the group of injured Peace Corps and military folks who had huddled around the TV in Libya that day," she said.
"He was most gracious," she added, "but I later realized that I was probably the 10,000th person who felt compelled to tell him where they had been on that historic occasion."
I felt like I would grow up in a new age: the Space Age
The moon landing inspired dreams of discovery in Ken Lacovara, who was 8 years old when it happened.
"It really left an indelible impression in my young mind," Lacovara said. "It filled me with hope, and it filled me with a desire to get out there and explore. And I felt like I would grow up in a new age — in the Space Age — and I did, and it's been amazing."
Lacovara later went on to discover the remains of Dreadnoughtus schrani, one of the biggest dinosaurs to ever walk the earth.
Recently, he earned the Explorers Club Medal, the highest honor awarded by the Explorers Club, an international professional society dedicated to research and exploration. The medal had been given to Apollo 11 astronauts Neil Armstrong and Buzz Aldrin in the past.
This year, 10 Apollo astronauts attended the award ceremony, in honor of the 50th anniversary of Apollo 11's moon landing. It meant a lot to Lacovara that he and his 11-year-old son got to meet these heroes, and commemorate humanity's first steps on the moon with them.
"For me and a lot of scientists that are my age, that was the moment that really led us into exploration and this desire to discover what's out there," he said.
WHYY is your source for fact-based, in-depth journalism and information. As a nonprofit organization, we rely on financial support from readers like you. Please give today.