In Philly halls of justice, feds seizing more immigrants with no criminal past
As the Trump administration continues its immigration crackdown, ICE agents find courthouses a convenient place to collar undocumented immigrants.
Listen
6:22
One October morning, Tettie Addy caught a train to Philadelphia from his North Jersey home.
After a messy divorce, he found himself routinely trekking to Philly's Family Court to handle matters involving his ex-wife.
Usually, the trip was a repetitive exercise in patience: Wait in line to pass through the courthouse's metal detectors, then wait some more until the judge called his case from dozens of others dealing with everything from protective orders to child support.
But that balmy morning, a stranger stopped him before he reached security.
"I'm looking for you," the man told him. "You should be out of this country."
Within seconds, another stranger joined the first. They tackled Addy and took him outside where the shorter man identified himself as an immigration enforcement officer. Minutes later, the Immigration and Custom Enforcement officers were booking him at their Philadelphia field office.
The Liberian-born Addy, 53, has lived in the U.S. — most recently in East Orange, New Jersey — for nearly two decades. In that time, he had never gotten into criminal trouble.
But his visa had lapsed years ago. And although Addy already had started the process to rectify that error, the expired visa put him on ICE's radar.
As the Trump administration continues its immigration crackdown, ICE agents have found courthouses a convenient place to collar undocumented immigrants, saying the security stationed there ensures the arrests go smoothly.
But legal experts worry that using Philadelphia's courtrooms as an arena to enforce immigration laws is keeping people from coming to court, potentially preventing the criminal justice system from functioning properly.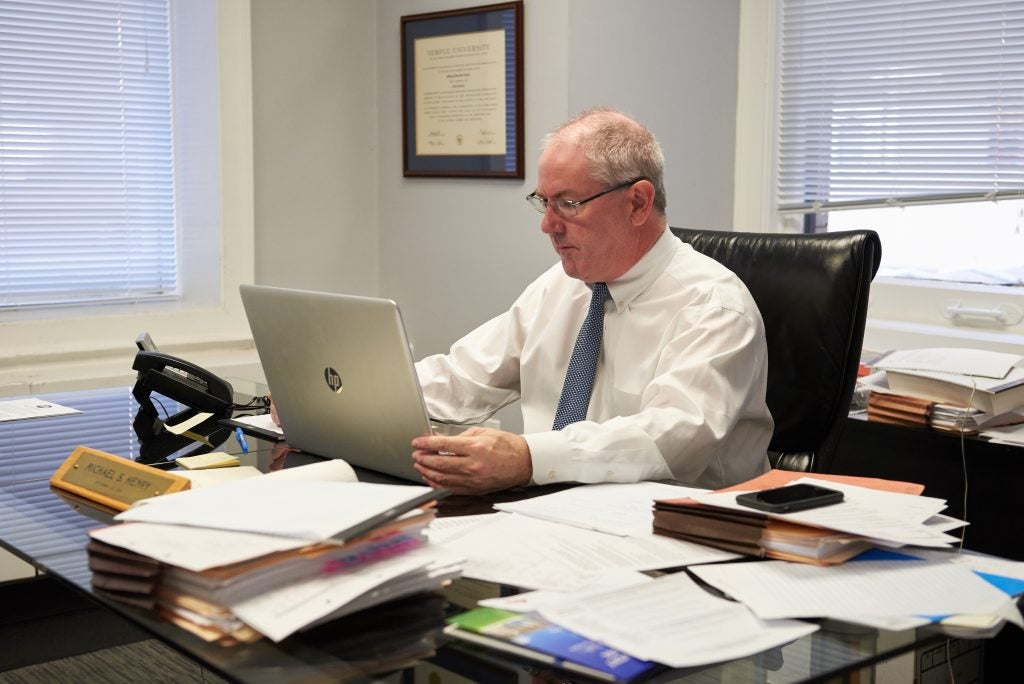 Fear keeping immigrants away
In the district that includes Philadelphia, ICE officers have made 4,938 arrests in 2017 — a 34 percent increase from last year, records show.
ICE officials would not reveal what percentage of those arrests occurred in and around courthouses in Philadelphia, but interviews with a dozen criminal law practitioners indicate that ICE has dramatically increased its courthouse surveillance since President Donald Trump took office.
"The uptick of ICE presence has really created a chilling effect on the way we are trying our cases and even defending them," said Keir Bradford-Grey, Philadelphia's top public defender. "It impacts not only — of course — the defendants, but people who are witnesses, potential witnesses. They're afraid to come forward. They're really afraid to come in in support of their family member or loved one."
Philadelphia immigration lawyer Mike Henry, who is representing Addy, said undocumented immigrants going to court over traffic violations, domestic disputes and similar matters are increasingly at risk of being nabbed by ICE agents.
"The people who were detained in the past were people who were already convicted of fairly serious and deportable offenses," Henry said. "The enforcement priorities have changed all that, kind of stood it on its head."
By enforcement priorities, Henry is talking about Trump's push to deport not only criminals who are in the country illegally, but also those who have overstayed their visas.
And to carry out this mission in Philadelphia, ICE officers are keeping an eye on court dockets to intercept immigrants on their way to hearings.
"ICE arresting people from courthouses will only continue to perpetuate fear within our immigrant communities and continue to make people less likely to come forward and prevent justice for victims," said Mayor Jim Kenney spokeswoman Lauren Hitt.
Despite other condemnations from those who both prosecute crime and defend the accused, officials with Philadelphia's court system, the First Judicial District, say there is little within their power to stop it.
"Because federal agents are not beholden to a state court's policy concerning federal actions, the [First Judicial District] currently has no official policy in this regard," said court spokesman Gabe Roberts.
Capitalizing on 'symbolic value' of courts?
Immigration law expert Cesar Garcia-Hernandez sees that as punting responsibility.
"Just the same way that they have an obligation to ensure that there aren't marching bands roaming through the lobbies, they also have an obligation to ensure that law enforcement activities are not scaring the critical parties to criminal proceedings away from the courthouse," Garcia-Hernandez said.
But why courthouses? Why not make an arrest in some other place? Department of Homeland Security officials have defended the practice, saying since courts are secure facilities with metal detectors, an arrest is less likely to involve an armed confrontation.
Plus, ICE internal policy does not discourage arrests at courthouses as it does for churches, schools, and hospitals. Critics argue that courthouses should be added to that list of "sensitive" locations.
In Addy's charging documents, an ICE official wrote that in his arrest for allegedly violating a protective order, Philadelphia officials ignored the federal government's request to hold Addy for immigration agents.
"The subject was released with an active detainer because Philadelphia prisons under directive from the mayor of Philadelphia do not honor ICE detainers," according to the ICE deportation officer, identified as C. Medina, who assisted in the arrest.
Garcia-Hernandez considers Philadelphia's status as a so-called sanctuary city part of the motivation behind descending on the city's courthouses.
"There is substantial symbolic value to targeting migrants in courthouses because those locations go to the heart of democratic governance, and, in many locations where ICE has targeted courthouses, DHS takes issue with the policies of democratically elected officials," Garcia-Hernandez said.
Even though top court officials in Philadelphia say they can't go against the federal government, some practicing criminal law in New York have gotten creative.
For instance, defense attorneys have hidden immigrant clients in courtroom bathrooms. And judges have set high bail so an immigrant would be temporarily jailed to dodge an ICE officer waiting in the wings.
"All efforts to push back on this kind of activity will send a clear message to the Immigration and Customs Enforcement agency that state and local officials take seriously the sanctity of the courthouses in their communities," Garcia-Hernandez said.
A spokesman for the Philadelphia district attorney's office declined to be interviewed, but he said prosecutors do not share victim or witness information with immigration officials.
'I love this country'
Addy waited in an immigration prison in York County for a week before he found himself in front of Judge Kuyomars Golparvar.
The immigration judge said Addy's two kids, 18 months and 25, are legal residents. And so is his elderly mother, who can sponsor him for permanent legal status. Since Addy has never been convicted of a crime, the judge deemed Addy was not a threat to public safety.
After a 12-minute hearing, Golpavar made a decision.
"Based on the totality of the evidence, I do find that he is somewhat of a minimal flight risk, and I'm going to set bond in the amount of $5,000," Golparvar said.
Addy posted the full-amount in cash and was released
Henry, his lawyer, is confident the whole thing will be behind Addy once his paperwork is approved.
And though the complaint from his ex-wife that sent him to court in the first place has been thrown out, he's still trying to piece his life back together.
He's had to spend thousands of dollars on his pending immigration case. After his detention for a week in York County, he lost his steady construction job.
Addy said he hopes that fewer immigrants who show up to court trying to follow the law are arrested there for breaking it.
Although his legal status is not solid right now, he said it doesn't change his core identity.
"I am an American, because I've been here 19 years," Addy said. "I love this country. I love the people. So I think I should be given the chance to live here."
WHYY is your source for fact-based, in-depth journalism and information. As a nonprofit organization, we rely on financial support from readers like you. Please give today.