High court ruling in case over same-sex wedding cake could cast shadow in Philly
Listen
2:25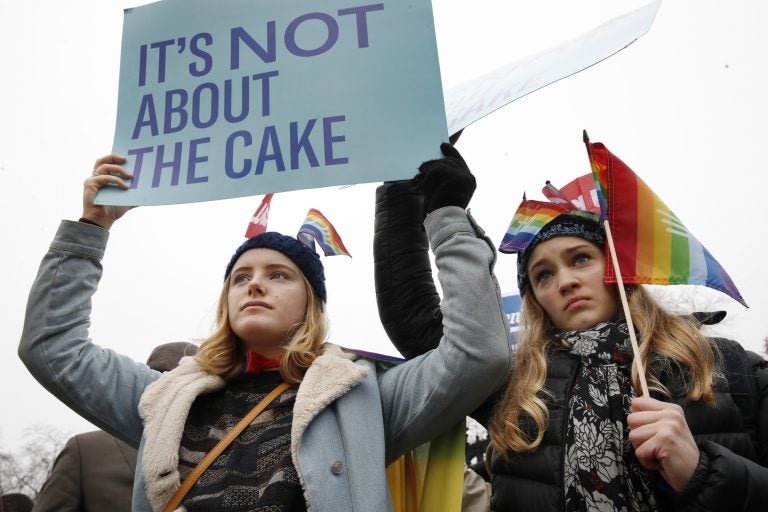 Philadelphia city officials are among local leaders nationwide anticipating the outcome of the Masterpiece Cakeshop case now being considered by the U.S. Supreme Court. In the case, a Christian "cake artist" from Colorado is arguing that the First Amendment gives him the right to refuse to make a wedding cake for a same-sex couple, despite state anti-bias laws aimed at protecting LGBT people from discrimination. If the justices side with the cake-shop owner, civil rights advocates fear it will start a trend of knocking down local LGBT protections.
After making her case in front of the high court, lawyer Kristen Waggoner told reporters her client has a constitutional right to express his creativity through baking — and the right not to.
"Jack Phillips loves and serves everyone in that same religious faith that inspires him. It also ensures that he doesn't create cakes that express messages that violate his conscience," Waggoner said.
If the court agrees with Phillips, LGBT advocates worry it will start to erode local protections everywhere, as conservative groups find plaintiffs to challenge city and state laws that provide protection to LGBT people.
Around the country, a patchwork of laws guarding against sexual discrimination or gender identity bias in the workplace has passed in the absence of such protections federally.
"Right now, I can be married in 50 states, but I can still be fired in over 25 of them for simply putting my partner's photo on my desk," said Jonathan Lovitz, the Philadelphia-based senior vice president at the National LGBT Chamber of Commerce. "Now add to that the additional fear of discrimination in publicly accessible stores and restaurants."
Philadelphia has civil rights laws that protect LGBT residents from hate crimes and workplace discrimination.
Rue Landau, director of the city's Commission on Human Relations, said if Phillips prevails, the city's protections won't automatically disappear. But she cautioned that a conservative group could attempt to challenge Philadelphia's special protections.
And having a Supreme Court precedent on its side would supply the arguments with serious ammunition.
"If the court does find in favor of the baker, they're basically finding a constitutional right to discriminate," Landau said. "And it would open the door for any business to claim an exemption from local and state civil rights laws."
In the event of a court decision in favor of the baker, Landau said she is hoping it will be a narrow, applying only to the situation in Colorado, rather than apply nationwide.
"Otherwise, it would be reversing decades of movements to create strong civil rights laws throughout the country," she said. "But for the Commission on Human Relations, we're going to keep doing what we do: Continue to accept discrimination cases under sexual orientation, gender identity and any other category and review each case on its merits."
Landau said the commission receives around 20 LGBT discrimination complaints every year. Some settled by mediation; others are resolved after hearings in front of the commissioners.
Discrimination or artistic expression?
In 2012, David Mullins and Charlie Craig visited the Masterpiece Cakeshop in Lakewood, Colorado, to order a cake for their wedding reception. After they were turned away, they filed a civil rights complaint, which has wound its way to the country's highest court.
Even though Phillips objected to making the cake on religious grounds — he refused to make Halloween or risqué bachelorette party cakes, too — the Supreme Court accepted the case not as a religious freedom case, but under a different First Amendment argument: that his making the cake was a type of artistic expression protected like any other kind of free speech.
Outside the Supreme Court, lawyer Waggoner said if the court backs Colorado's position, that the baker must make same-sex wedding cakes or stop creating cakes altogether, it would force him to produce expressive products that bear a message at odds with his values.
"This court has never, never compelled artistic expression or political or ideological expression," Waggoner said. "And if it does so now, we will have less civility, less pluralism and less diversity in our society."
But Lovitz with the National LGBT Chamber of Commerce said not only would backing the baker be opening the door to widespread discrimination, such a ruling would also pack an economic punch.
"Part of the social contract that makes America work is that while we may not agree with each other, we are all invested in this economy together," he said. "Being open for business with everyone is not just smart business sense, it's the American thing to do."
WHYY is your source for fact-based, in-depth journalism and information. As a nonprofit organization, we rely on financial support from readers like you. Please give today.