Delaware rowers see urban river in a different light
Spend an afternoon on the Christina River with the Newport Rowing Club, and you'll see how these students see the water in a different light.
Water is vital for life, and keeping our rivers and streams clean is important not just for drinking, but also for recreation. Spend an afternoon on the Christina River with the Newport Rowing Club, and you'll understand why these students see the water in a different light.
Every day after school, club members gather at their boathouse along the Christina River south of Wilmington. Before hitting the water, the team of about 40 high school students gets a brief warmup and some inspiration from coach and club founder, John Cohn.
On this afternoon, Cohn quoted 2018 Boston Marathon winner Desiree Linden: "They asked her, 'What's your message? What's your secret?' and she said, 'Keep showing up.' That was it, just keep showing up, do your work, it will happen, but you have to be there for it."
With that motivating message, team members jogged to the river to grab their boats and oars and hit the water.
"Our high school group is definitely our biggest group, we have about 40 athletes now, and they race all throughout the year, about 10 races per year," Cohn said. "Our middle school group is a ton of fun, it's a really good introduction to the sport. They practice here three times a week."
Rowing is often used as a metaphor for all sorts of life lessons, Cohn said.
"It teaches a ton of hard work, it teaches teamwork, it teaches resilience."
That resilience was on display on the day we followed along with the team. It was an unusually chilly spring afternoon with the temperature hovering around 40 degrees. It was even cooler over the water. But the rowers took it in stride.
"It's an extremely physically demanding sport, it's also one of the sports that people can do for their entire lives, from the time they can hold an oar until they're unable to later in life," he said.
Being a successful rower demands teamwork.
"There's no sport that requires such a team bond like this one," said Strath Haven High School senior Anna Goodwin. "You are in a boat with other girls, you have to be exactly with them, catch with them, everything with them. And inside the boat and outside of the boat, you are a team, and you are a family, and that's the best part."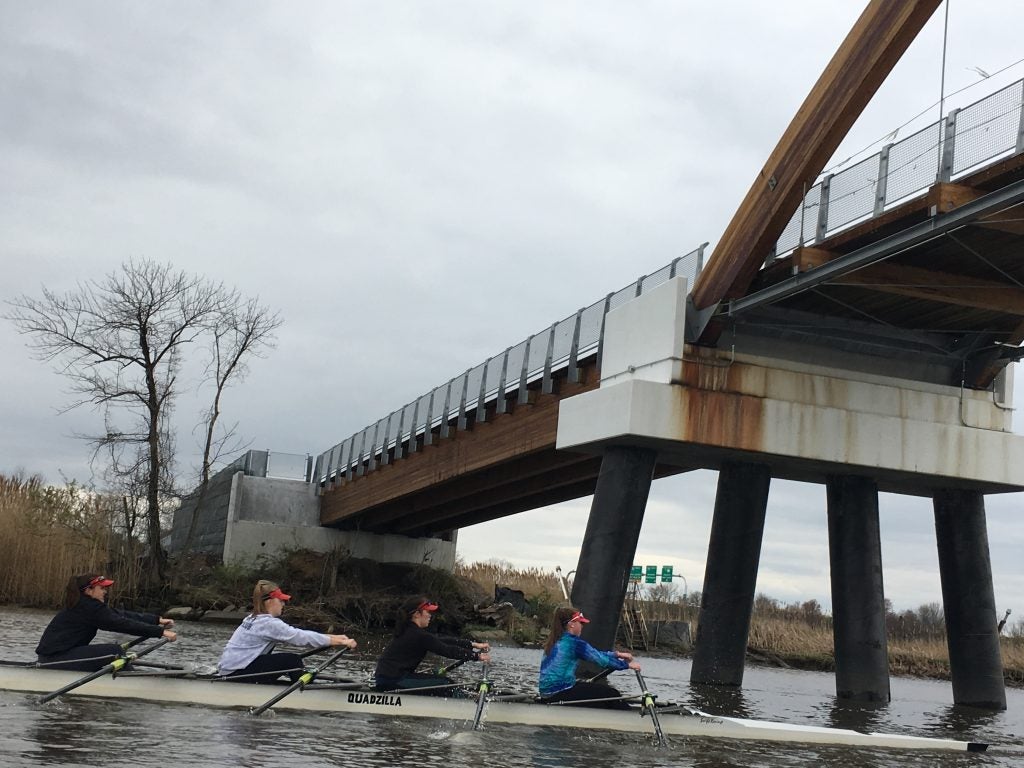 After joining the team as a sophomore just to get in shape, Goodwin not only stayed with it, she will continue her rowing career at Temple University next year. A chance at college scholarship money is another benefit the rowing club offers to members.
"Particularly women are heavily recruited in college," Cohn said. "We've been really fortunate to help about 50 athletes in the past seven years go row at schools all over the country from Division 3 and club teams all the way up to Division 1. We've had an NCAA champion come out of our club. We've had national team members."
Rowing on the Christina River gives a whole different perspective to this waterway nestled alongside the city of Wilmington and crisscrossing underneath a very congested section of I-95. "You don't think you'll find this natural system in the middle of Delaware, but you see this amazing little home that we have and it's important to keep it clean," Goodwin said. "We rely on it 100 percent. It's our sport … if we don't have that clean water, then there's no place for us to row."
The Christina's current and tidal flow make rowing challenging at times. It also requires Cohn to pay close attention to what's happening on the water.
"We monitor the water all the time to know what the conditions are going to be like, and what we should expect from each practice," he said. "We also get to see a whole different side of the city."
Club members frequently see bald eagles soaring over the river. Rowers will shout "America" when they spot an eagle and occasionally will take a break so they can admire the birds.
"It's a really cool thing, we love that," Cohn said.
Cohn hopes to grow the club to as many as 80 or 90 rowers. His goal is to have as many people rowing in northern Delaware as possible.  In addition to after-school programs, the club also hosts summer camps for middle and high school students to get on the water and give rowing a chance.
WHYY is your source for fact-based, in-depth journalism and information. As a nonprofit organization, we rely on financial support from readers like you. Please give today.