To the Balkans and beyond, right in Center City
Listen
6:46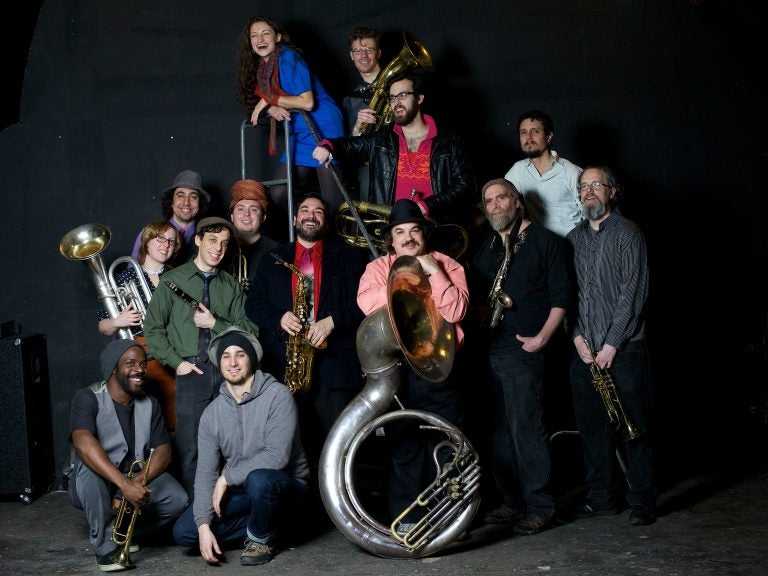 Every Tuesday, visitors to the upstairs room at Frankie Bradley's in Center City are transported to Serbia, Bulgaria, New Orleans — and just about anywhere else a brass band can take them. That's when the West Philadelphia Orchestra is in residence, and that sort of journey is a typical set list for them.
"A lot of the inspiration for the orchestra started with Serbian and Bulgarian music," said singer Petia Zamfirova. "We kept being curious about the styles in the region, so we kept exploring further and further."
A key sound of the band is the baritone horn. "It's a smaller version of a tuba that plays an octave higher,"  Hayley Varhol said of her instrument. "We are sort of the rhythm guitar of the band. There are three of us, and we're each playing one note of the chord, in syncopated rhythms."
Twenty players make up a rotating roster for the group, and they all bring different musical backgrounds to the mix.
"The biggest takeaway I've gotten from this band is how to be a very flexible musician," said percussionist Chad Brown. "For example, the baritone horns are always switching up their patterns, quoting a new phrase or rhythm, and then we drummers have to figure out how to counteract or complement that rhythm."
The West Philadelphia Orchestra performs upstairs at Frankie Bradley's every Tuesday night. Once a month, it's a benefit for an area nonprofit organization.
Hayley Varhol, Chad Brown and Petia Zamfirova visited WHYY and spoke with NewsWorks Tonight host Dave Heller. You can hear their conversation and music at the link above.
WHYY is your source for fact-based, in-depth journalism and information. As a nonprofit organization, we rely on financial support from readers like you. Please give today.