Making sense of shootings: Aurora, CO & Utoya, Norway
Listen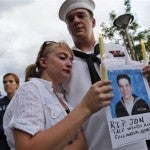 Hour 1
Yet another mass murder by gun has claimed too many lives in the United States and inflamed the nation's bitter debate about gun safety and legislation. Friday morning's slaughter in an Aurora, Colorado, movie theater premiering the latest "Batman" blockbuster, "The Dark Knight Rises," killed 12 moviegoers, wounded another 58, and yielded a suspect outfitted in body armor and packing a personal arsenal that reportedly was legally purchased. While much about suspect James Holmes is still unknown or unconfirmed, the weapons used — an assault-style rifle, a shot gun and two .40 caliber handguns, and ample ammunition reportedly bought online — advance an argument about gun rights, responsibilities and legislation that our guest, UCLA law professor ADAM WINKLER, documented in his recent book, "Gunfight: The Battle over the Right to Bear Arms."
But yesterday bore evidence that mass murder by gun isn't solely a U.S. calamity, despite our singular relationship to personal firearms. The nation of Norway mourned the death of 77 people one year ago at the hands of confessed murderer Anders Behring Breivik, who followed up the bombing of a government building in Oslo by gunning down 69 teens and young adults on Utoya, an island camp for young political leaders in training. Joining us to help us understand the political context for Breivik's attack and Norway's response are JAN EGELAND, a diplomat from Norway who led international relief efforts including the U.N.'s effort after the 2004 Indian Ocean tsunami and now deputy executive director of Human Rights Watch; and CAS MUDDE, a Dutch political scientist now with the University of Georgia who studies the relationship between the radical right and established parties in Europe and the U.S.
Listen:
[audio: 072312_100630.mp3]
WHYY is your source for fact-based, in-depth journalism and information. As a nonprofit organization, we rely on financial support from readers like you. Please give today.