Delco Grandmother Raising Grandchild Empowers And Supports Other Grands Who Step Up
Karen Barnes, 60, is founder of Grands Stepping Up, a non-profit that provides a myriad of support for grand and kinship families in Delaware County raising children.
Listen
5:24
"I'm always tired, but I don't stop," said Bobbi Arnot, "I can't. I haven't."
Arnot is a mother to six children, grandmother to 14 and great grandmother to three. For the past several years, she's also been a mom again, raising her now 15- and 13-year-old grandchildren.
Arnot's daughter battled with addiction, and while mothering a second generation wasn't in the plans, Arnot said she felt she had no choice but to step in.
"The day before I took my grandchildren, [my daughter] was found lying in the middle of a sidewalk where her friends dumped her all messed up," recalled Arnot. "So it was just getting worse and they would have been in the system if I didn't take them."
The opioid and mental health crises, gun violence, incarceration, death, and illness have left grandparents and extended family members in their 50s, 60s, 70s — and even 80s — to raise young children. According to Generations United, 2.5 million grandparents across the country — roughly 100,000 of those in Pennsylvania — are raising grandchildren under age 18.
Grands Stepping Up steps in
"One day you're the grandparent and the very next day, you have a decision to make — and it's about the power of saying yes," said Karen Barnes, 60.
Barnes is the founder and president of Grands Stepping Up, a Delaware County-based non-profit that supports grandparents and kinship guardians raising children when the biological parents are unable or unavailable to do the job. Grands Stepping Up supports the families by providing free or discounted legal support to help them gain guardianship or custody. The group also provides food, clothing, toiletries, furniture, therapy, and overall support.
"So many of these families need healing," said Barnes. "It's very traumatic on the children and on the grandparents — sometimes they've lost their child and they are grieving, but don't have time to grieve because they need to take care of their grandchild."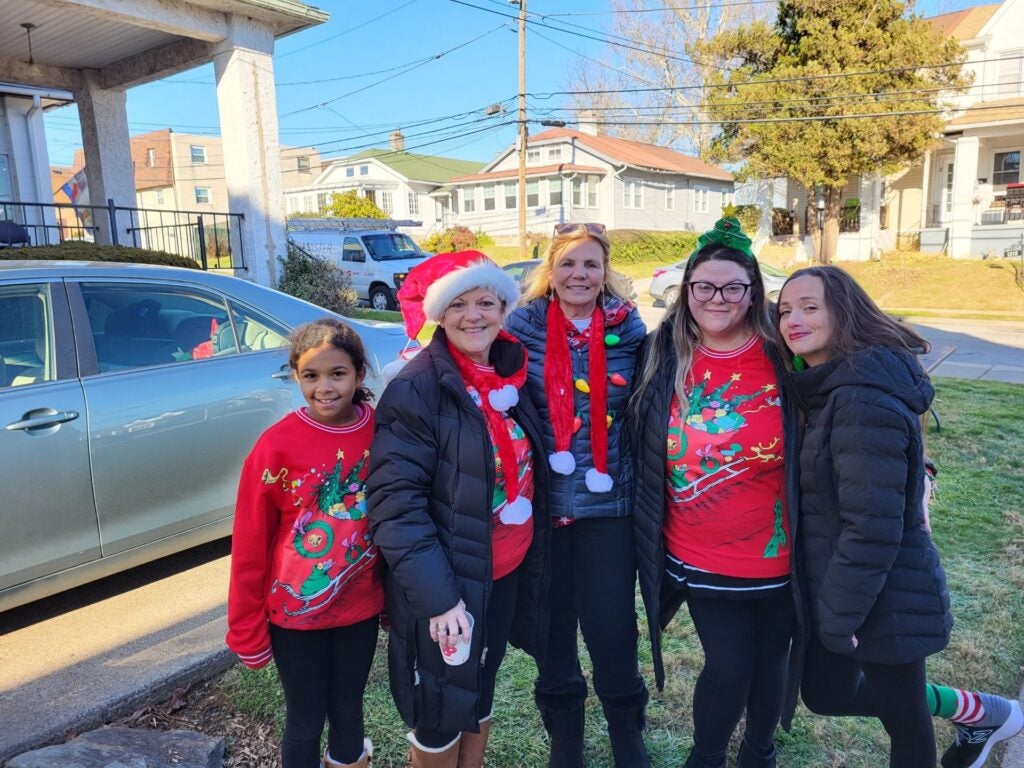 Barnes said she's seen grand families that include up to six children, all under age 18. She said many grandparents are on fixed income like social security, or live in senior housing, and bringing in young children can be a big upheaval.
"They are on a fixed income and now they have all these mouths to feed," she said.
A grandparent who stepped up and said yes
Barnes founded Grands Stepping Up during the pandemic, but her work began more than 11 years ago after she got the call to pick up her granddaughter from the hospital.
"My daughter was young when she had her, she was only 17," recalled Barnes, who said that her daughter was also battling addiction. "So I had to step up, make the decision to say yes, and begin to raise my granddaughter."
At the time, Barnes, a then-divorced mother of five, was not working due to a gastrointestinal illness she was dealing with. She was struggling to raise her youngest daughter, who was in middle school. Barnes said she hit roadblock after roadblock trying to take in her infant grandchild, but it didn't stop her.
"Every barrier, I wouldn't let it be a barrier, and I turned it over," she said. "I actually went to our local courthouse, went in and asked for emergency custody, and I got it."
Barnes made connections at a local grandparents group. She soon gathered resources and learned how to navigate the system so that she could raise her granddaughter, Ellie. Her skills were soon put to the test when a fellow grandmother, Gina, got a late-night emergency call about an infant grandchild she had never heard of. She called Barnes for help.
"Within 24 hours — and I kid you not, it makes me cry to this day — we had caravans going to her house of so much goodwill that that child did not need one diaper, not one wipe, not any clothing, shoes," said Barnes. "That child had everything he needed for the first year of life."
That day became a call to action for Barnes, and her life's work supporting grand families began: "I said, 'If we can do it for one, we're going to do it for as many people as we can.'"
A history of advocacy
"Her motives are completely pure and that's amazing because you don't find that in very many people," said Mary Flanagan, who nominated Barnes for the Good Souls Project.
Flanagan volunteers her time as a grant writer for Grands Stepping Up and has spent the last year working closely with Barnes.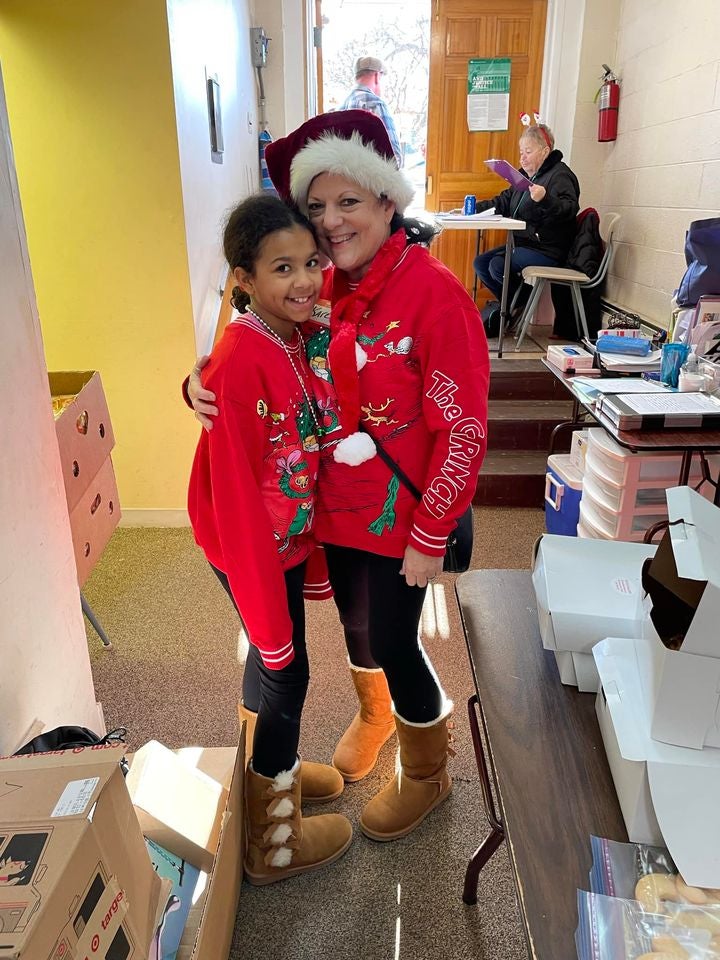 "When I met Karen, I was amazed at her," said Flanagan. "She has such a magnetic personality and she is so passionate — she is the quintessential good soul."
Flanagan said Barnes is a giver and an empath. Barnes agreed that she feels the pain and struggle of others, which motivates her. She said it began when she was just a child, when her brother, Denis, was born with Down Syndrome. She said he was often bullied and she stepped up to become his advocate.
"When I get angry, it puts a fire under my butt," said Barnes. "I've always been a proponent for the underdog in my life, and that's where it all comes from."
The fire is what keeps Barnes going, as she continues to raise her now 11-year-old granddaughter whom she has adopted. It also keeps her focused on supporting the hundreds of families touched by Grands Stepping Up every year. The group, she says, has distributed over $2 million dollars in in-kind donations through their pantry, named Denis' Pantry after Barnes' brother. He died of COVID-19.
"I think we have a responsibility, and an ethical and moral duty, to do everything we can to assist these families," said Barnes.
Barnes has testified in Harrisburg, advocating for more funding and support for grandparents, as well as to clear up the red tape that keeps so many from being able to access resources. Barnes and her volunteers also provide daily support to grand and kinship families in the region, by providing school supplies, Thanksgiving, Christmas and Easter baskets, grants that pay for activities for grandkids, birthday support, and so much more.
"She does so much for so many other people," said Arnot, who has also received support from Grands As Parents, and volunteers when she can. "Karen is the poster child for what a good soul is."
Barnes said she's not in it for the praise, but for the end result.
"I do it so that I can lay my head on the pillow at night and say that I did the best that I possibly could to help these children," she said.
If you know someone who has performed an act of kindness whether it be big or small and you think they serve as an example of compassion, generosity, and service tell us your story- by nominating your person at whyy.org/goodsouls.
WHYY is your source for fact-based, in-depth journalism and information. As a nonprofit organization, we rely on financial support from readers like you. Please give today.