Zoning board approves 75 townhomes in Queen Village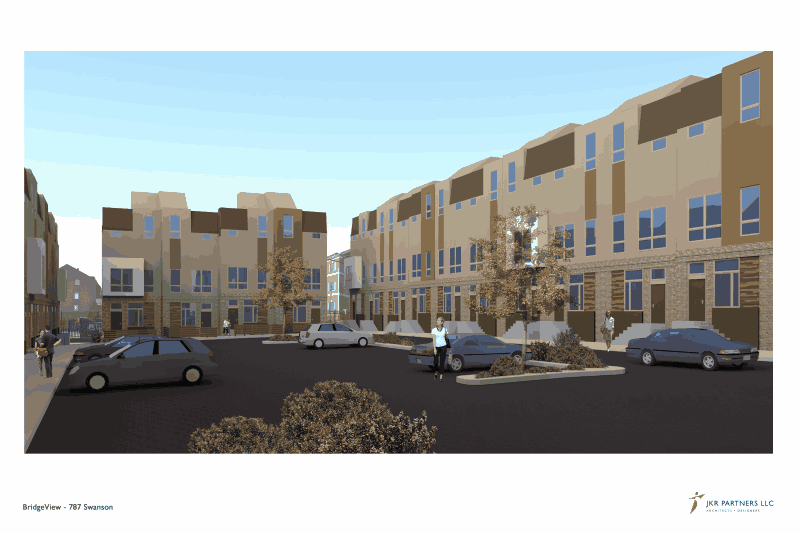 The Zoning Board of Adjustment approved variances on Wednesday for a project at Columbus Boulevard and Swanson Street—near Catharine, in Queen Village—entailing 75 townhomes with 75 parking spaces.
The project had earlier been recommended by the Planning Commission after the developer redesigned certain aspects in response to comments from the Civic Design Review Committee.
A small group of near neighbors—including Phyllis Pertnoy, a board member of the Queen Village Neighborhood Association—first asked for a continuance and then, rebuffed by the board, protested the variances outright. Meanwhile, a member of QVNA's zoning committee testified in support of the project. To be clear, QVNA's zoning committee supports the project; a handful of Queen Village residents do not.*
The property in question had previously been the subject of a number of proposals for high-rise residential development, which Queen Village residents had opposed.
The property was rezoned for single-family residential, and the developers were seeking variances to build multiple structures for multi-family use on a single lot; if they had subdivided the lot, 77 townhomes could have been built by right, according to attorney Hercules Grigos, who represented the developer, US Construction.*
No parking is required for properties—like the one in question—zoned RSA-5, for residential, single-family attached structures, and yet the developers are providing one parking space for each unit. Queen Village neighbors felt that wasn't enough. So the developer made a deal with the Delaware River Waterfront Corporation to have the homeowners' association pay for 30 spaces in a nearby parking lot.
Scott Klein, one of the near neighbors concerned about traffic and congestion, felt that still wasn't enough. The property is at an awkward crossroads near the off-ramp from Interstate 95; its internal parking area will be inaccessible to cars traveling north on Columbus Boulevard. At one point during the hearing, Klein said the issue was "an all or nothing thing."
"They want nothing," Hercules Grigos responded. "That's exactly right."
The group of protestants seemed to make competing complaints: there's not enough parking in the project, they said, and there will be too much traffic congestion from cars coming and going from the development.
Ultimately, the zoning board ruled that the community had had ample opportunities to share its concerns with the developers, and ruled unanimously that the variances were justified.
*Per comment below, the original version of this article mistakenly gave the wrong impression that Queen Village Neighborhood Association opposes the project as a group. Additionally, JKR Partners were originally identified as the developers, while they are in fact the architects. PlanPhilly regrets the errors.
WHYY is your source for fact-based, in-depth journalism and information. As a nonprofit organization, we rely on financial support from readers like you. Please give today.