ZIP Audio Postcard: Ron Wilch, Center City, 19102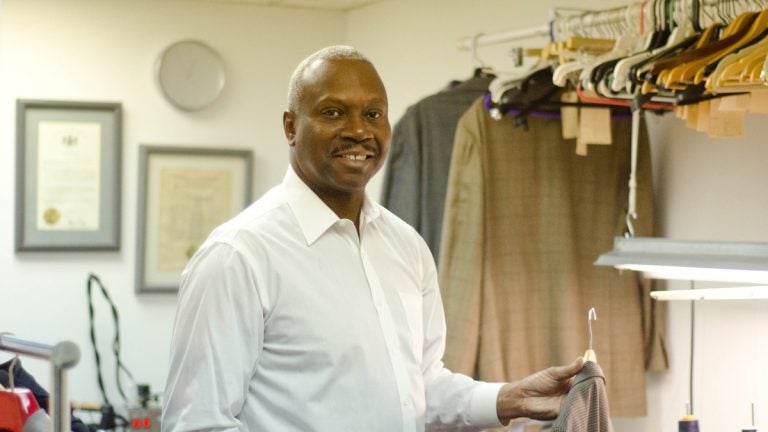 The last place you would expect to see a tailor open his shop is on the fourth floor of a corporate building; but for Ron Wilch, this is the perfect location.
"I didn't want to open a store front at the ground level for people to walk in," Wilch, founder of the Wardrobe Clinic, said. "I wanted like a clinic atmosphere."
The Wardrobe Clinic at 1500 Walnut St. is a full-service fashion company specializing in clothing repair, alterations and custom design. Wilch and his team, who have over 60 years of experience combined, "heal" their customers' garments by using industrial machines for sewing, hemming and making buttonholes. One of the clinic's main objectives is fast turnaround. Clients can drop off their clothes and expect to have them altered in as quickly as an hour.
Wilch remembered a particular incident in which he hemmed a dress in just 40 minutes. A customer was buying a dress at a store on 16th and Walnut streets. Someone from the store called Wilch's Fashion Emergency Hotline and said a client in the fitting room needed a dress hemmed in about an hour. She was attending an event that same night. Wilch told them to send her over.
"Before she even came in the door, she had her hands like she was praying, 'Please! Please! You got to help me,'" Wilch said.
Forty minutes later, Wilch was zipping the woman into her dress so she could wear it straight out of the clinic to her event.
"Now that's a good story," Wilch said.
Some people have suggested Wilch call himself the "fashion doctor." He decided to use that title and now goes by the "fashion doctor of center city."
"If you have a family doctor, you don't change your doctor every year," he said. "I don't want the customers to change their tailors every year, so we're your wardrobe clinic, we're your doctors in fashion."