World leaders respond to passing of former President George H.W. Bush
Former President George H.W. Bush has died at the age of 94.
Family spokesman Jim McGrath says Bush died shortly after 10 p.m. Friday, about eight months after the death of his wife, Barbara Bush.
The nation's 41st president served from 1989 to 1993, and eight years later watched his son George W. became the 43rd president.
Praise is coming in for former President George H.W. Bush from another former president, and leaders around the globe.
The office of former President Barack Obama and Michelle Obama said Bush's life was "a testament to the notion that public service is a noble, joyous calling. And he did tremendous good along the journey."
The Obamas credited him with "expanding America's promise to new immigrants and people with disabilities. Reducing the scourge of nuclear weapons and building a broad international coalition to expel a dictator from Kuwait. And when democratic revolutions bloomed across Eastern Europe, it was his steady, diplomatic hand that made possible an achievement once thought anything but – ending the Cold War without firing a shot."
They said: "It's a legacy of service that may never be matched, even though he'd want all of us to try."
President Donald Trump and first lady Melania Trump are mourning the passing of former President George H.W. Bush.
In a statement, the Trumps praise Bush for his "sound judgment, common sense and unflappable leadership."
The Trumps say that Bush "inspired generations of his fellow Americans to public service." They also praise the former president for guiding the nation and the world to a "peaceful and victorious conclusion of the Cold War."
The Trumps add that Bush remained humble despite his accomplishments, "following the quiet call to service that gave him a clear sense of direction."
The statement was issued while the Trumps are in Buenos Aires, Argentine for the Group of 20 summit.
Former President Bill Clinton is remembering George H.W. Bush for his "great long life of service, love and friendship."
In a statement issued early Saturday, Clinton said he would be "forever grateful" for the friendship he formed with the man he turned out of the White House after one term.
Clinton, who defeated Bush in the 1992 presidential election, says he was always struck by Bush's "innate and genuine decency" and by his devotion to his wife Barbara and his family.
Clinton says Bush's extensive record of public service was rare, with his years in the military, in Congress, the United Nations, China, the CIA and as vice president and president. Clinton adds that Bush never stopped serving even after leaving office, working on tsunami relief in Asia and within the U.S. after Hurricane Katrina.
The two former presidents worked together on those relief efforts.
The small, oil-rich nation of Kuwait is offering its condolences for the late President George H.W. Bush, who led the 1991 Gulf War that freed it from Iraq.
The state-run KUNA news agency flashed news of Bush's death Saturday morning at the age of 94.
Kuwait's ruling emir, Sheikh Sabah Al Ahmad Al Sabah, offered his condolences to Bush's son, the former President George W. Bush. Sheikh Sabah also offered condolences to current President Donald Trump.
KUNA said Sheikh Sabah noted Bush's efforts to "create a new international order based on justice and equality among nations."
Sheikh Sabah also said Bush never "forgot the Kuwaiti people and will remain in their memory."
Former Soviet premier Mikhail Gorbachev has expressed his "deep condolences" to the family of former U.S President George H.W. Bush and all Americans following his death.
Gorbachev worked closely with Bush to bring an end to the Cold War in the late 1980s and 1990s, and lauded the former president for his abilities as a politician and his personal character.
"It was a time of great change," he told the Interfax news agency, "demanding great responsibility from everyone. The result was the end of the Cold War and nuclear arms race."
Gorbachev said that he and his wife, Raisa, "deeply appreciated the attention, kindness and simplicity typical of George and Barbara Bush, as well as the rest of their large, friendly family."
Former President Jimmy Carter has offered condolences following George H.W. Bush's death and praised the man he says lived a life defined by service and civility.
Carter said in a statement release Saturday: "Rosalynn and I are deeply saddened by the death of former President George H.W. Bush. His administration was marked by grace, civility, and social conscience. Through his Points of Light initiative and other projects, he espoused a uniquely American volunteer spirit, fostering bipartisan support for citizen service and inspiring millions to embrace community volunteerism as a cherished responsibility.
"We again extend our heartfelt condolences to the Bush family."
German Chancellor Angela Merkel says former U.S. President George H.W. Bush was "a true friend" of her country, whose reunification 28 years ago he supported.
Merkel wrote to President Donald Trump Saturday that America has lost "a great patriot and statesman." Merkel, who grew up in communist East Germany, highlighted Bush's role in helping bring about German reunification in 1990, less than a year after the Berlin Wall fell.
Merkel said, "The German people had in him a true friend who recognized the significance of this historic hour and gave us his trust and support."
She added that "the courageous and peaceful revolution by people east of the Iron Curtain met with the courage and skill and of a statesman who, together with others, led Europe and the trans-Atlantic partnership through this upheaval and ushered in a new era."
Germany's foreign minister is also remembering former U.S. President George H.W. Bush as one of the architects of his country's reunification in 1990.
Heiko Maas said in a statement Saturday that "we are mourning a great statesman and a friend of Germany."
Bush was president when the Berlin Wall fell in 1989 and supported German reunification less than a year later. Maas said that "he courageously seized the opportunity to end the Cold War."
He added that "he is also an architect of German unity. He supported it from the beginning without reservations. We will never forget that."
British leaders past and present are paying tribute to U.S. President George H.W. Bush as a committed public servant who helped the United States stand tall on the world stage.
Prime Minister Theresa May says Bush was "a great statesman and a true friend of our country" whose "ethos of public service was the guiding thread of his life and an example to us all."
May said in a statement that "in navigating a peaceful end to the Cold War he made the world a safer place for generations to come."
John Major, whose 1990-1997 term as British prime minister overlapped with Bush's presidency, said the late president "saw America's obligation to the world and honored it."
Major told the BBC that "I feel privileged to have worked with him, and even more privileged that he became a lifelong friend. He was, quite simply, one of the most deep-down decent people I have ever known."
EU Commission President Jean-Claude Juncker says Europe will never forget the role that former U.S. President George H.W. Bush played "in making Europe a safer and more united place following the fall of the Berlin Wall and the Iron Curtain."
In a statement issued Saturday after news that Bush had died at 94, Juncker says, "President Bush's calmness, leadership and close personal relationships with Helmut Kohl and Mikhail Gorbachev were decisive in restoring peace and freedom back to so many people across our Continent. We Europeans will forever remember this."
Juncker praised Bush for always serving his country "with honor, bravery and dignity" and noted he was a family man with a deep devotion to his wife, children, grandchildren and the people around him.
The E.U. official says, "I personally have lost a friend" and offers his condolences to the Bush family and the American people.
Japanese Prime Minister Shinzo Abe says he's "deeply saddened" by the news of George H.W. Bush's passing.
Abe praised Bush in a statement Saturday for Bush's role in ending the Cold War with the Soviet Union and taking leadership in the Gulf War.
Abe is currently in Buenos Aires for the G20 summit. He says, "Bush accomplished historic, great achievements by contributing to peace and stability of the international community."
During his four-year presidency, Bush visited Japan twice and played tennis with Emperor Akihito. Abe says that "hugely" contributed to further enhancing amicable Japan-U.S. relations.
The Dalai Lama, has offered condolences after the death former President George H.W. Bush.
The Tibetan spiritual leader said: "He was in fact the first American President that I was privileged to meet. I recall being deeply touched by your father's concern for the Tibetan people and the situation in Tibet. It is truly admirable to have lived over 94 years. While nothing can replace the loss of a father, we can rejoice in the fact that his was a meaningful life, dedicated to public service. I commend your parents for encouraging their children, including you my dear friend, to devote yourselves to the service of others."
For some Iraqis, the death of George H. W. Bush has brought back bitter memories of the 1991 Persian Gulf War and the harsh U.N. economic sanctions that followed.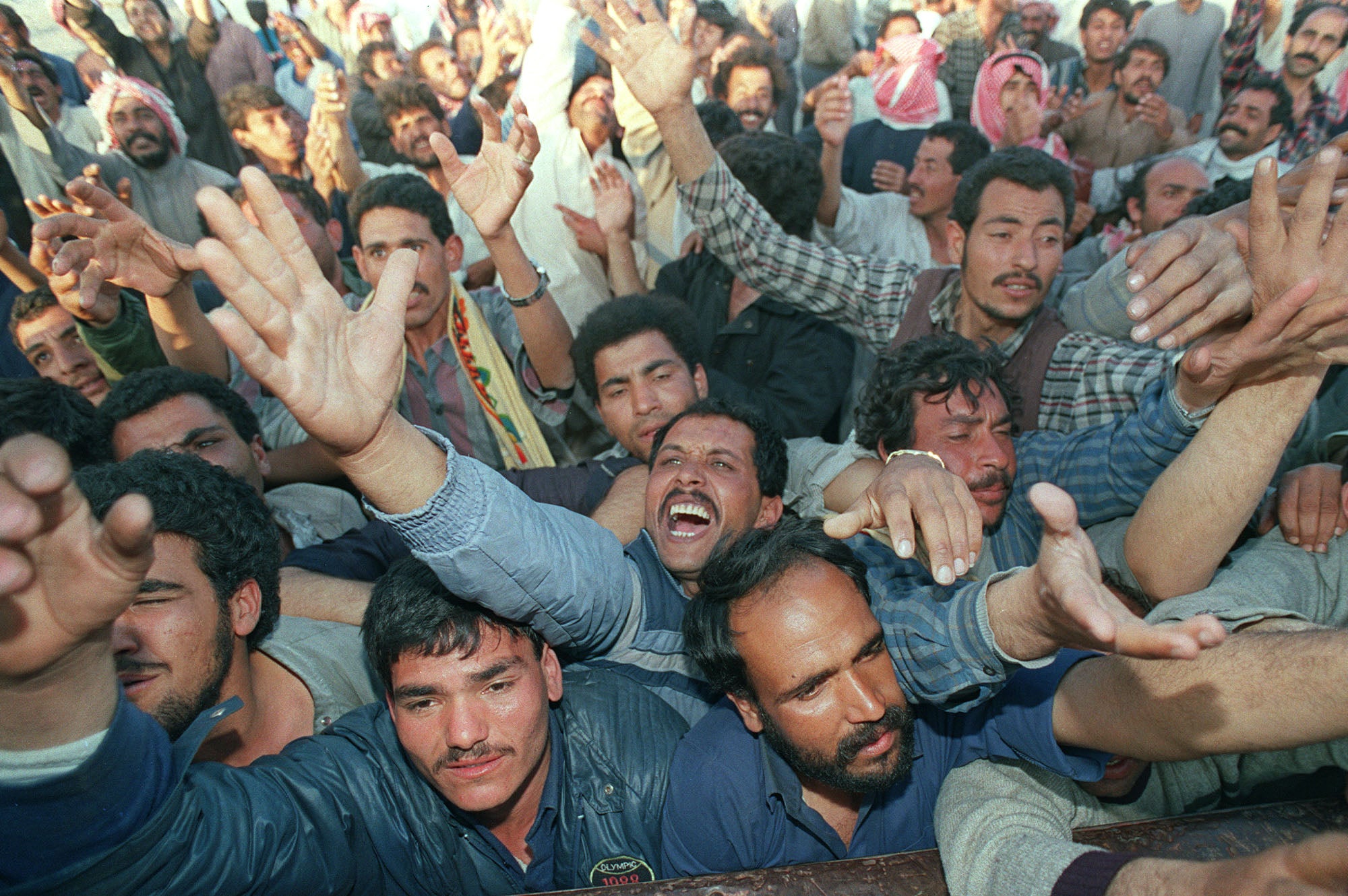 Then, the U.S. led a coalition to drive Saddam Hussein's army from neighboring Kuwait in an operation, dubbed "Operation Desert Storm," when missile attacks and airstrikes hit almost all Iraqi cities for more than a month.
Artist Abdul Jabbar al-Niaami posted a picture on his Facebook page of Bush picture lying in a bed and wrote "To hell!." One person commented, "May Allah curse him for demolishing our country."
Some Iraqis, including bookshop owner Mohammed Zaid, blame Bush for not removing Hussein in 1991.
In 2003, Bush's son ordered an invasion of Iraq that overthrew Hussein.
Gulf Arab nations allied with the U.S. have offered their condolences over the death of President George H.W. Bush.
Bush's death at the age of 94 takes on greater importance in the region over his actions in the 1991 Gulf War that saw Iraq expelled from Kuwait.
Leaders in the United Arab Emirates on Saturday offered condolences to both President Donald Trump and former President George W. Bush for the elder Bush's death.
Dubai's ruler Sheikh Mohammed bin Rashid Al Maktoum, who also is the UAE's prime minister and vice president, tweeted that Emiratis remember Bush as "a firm ally and friend."
Oman's Sultan Qaboos bin Said similarly offered condolences.
Iran has noted the death of President George H.W. Bush. A scrolling news bar on state television described Bush as being "like other U.S. presidents who wished to see the collapse of the Islamic Republic."
State television on Saturday morning announced Bush's death, citing international reports.
Iran remained suspicious of Bush despite his pledge of "good will begets good will." Iran leaned on Lebanon's Shiite militants to help win the release American hostages like Terry Anderson of The Associated Press, but relations went no further.
One of Bush's last acts as president was pardoning former Defense Secretary Caspar Weinberger and others for their role in the Iran-Contra scandal, an offshoot of those hostage crises.