Wolf, Pa. Legislative Black Caucus pledge to reduce gun violence
The new effort offers $1.5 million for distribution to community groups around the state working to prevent or respond to gun violence.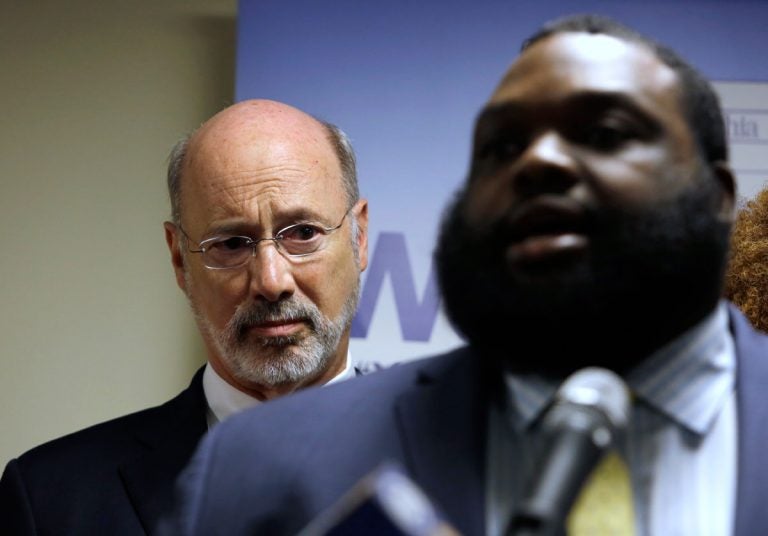 Flanked by members of the Pennsylvania Legislative Black Caucus, Gov. Tom Wolf  visited Philadelphia's Grays Ferry neighborhood Tuesday to announce an initiative to  reduce gun violence.
State Rep. Jordan Harris, who chairs the black caucus and represents Grays Ferry, started the morning off with a grim reminder of an all-too-familiar image.
"Far too often, young people walking to school have to walk by teddy bears and candles, which if you live in these neighborhoods, you understand that means that someone has lost their life to gun violence," he said.
A city with more than 300 homicides last year must treat gun violence like a public health crisis, Harris said.
"The same way we put an emphasis on opioids in our community is the same way we should put an emphasis on gun violence in our community," he said.
The new effort offers $1.5 million for distribution to community groups around the state working to prevent or respond to gun violence. Communities of more than 500,000 people will be eligible for grants of $500,000 or more; areas with a population between 250,000 and 500,000 people will be eligible for $250,000 grants.
This is just a first step, said Harris and Wolf.
Acknowledging that $1.5 million isn't nearly enough, Wolf said, "I think what we're trying to talk about here is we're committed to actually solving this issue."
The idea is to start small and show some results so that the program can be looped into the budget cycle, said  Derin Myers, acting executive director of the Pennsylvania Commission on Crime and Delinquency.
"I know that getting your foot in the door when it comes to resource allocation is really important, so, hopefully, this is that," said Myers, whose group is working with the governor's office to administer the funding.
Evidence-based programs with proven track records or strong data indicating their approach to preventing violence works will get priority, said Myers. Small organizations working closely with communities most affected by violence will have a chance to access funding.
The state already receives an annual allocation through the federal Victims of Crime Act; this year, Pennsylvania received $120 million to dole out to groups working with survivors of violence and their families. Among the awardees were Temple University's crisis intervention team, which received $1 million. The Children's Crisis Treatment Center received more than  $250,000, and $650,000 went to Mothers in Charge, which connects the families of homicide victims with services.
Dorothy Johnson-Speight founded Mothers in Charge after her 24 year-old son, Khaaliq Jabbar Johnson, was shot seven times and killed over a parking space in 2001. Johnson-Speight said her group had applied for funding for three years before getting a grant this year. She said she thinks it's great to see a public commitment from the governor.
"You don't have to have lost  a loved one to violence to get involved with this work. There needs to be more outrage and more commitment to our community to end violence," she said.
Harris underscored the importance of supporting groups that respond to violence, such as those funded through the Victims of Violence Act.
"For every one that got killed, there's 10 of 'em that got shot," he said. "And just because our doctors have mastered how to save people's lives, doesn't mean that people are any less shot."
The $1.5 million Wolf announced Tuesday will help fund violence-prevention programs, said Myers.
"Maybe where we're getting involved with young people at an earlier age, teaching them different skills, teaching different methods for handling crisis or conflict," he said.
In addition to the funds, Wolf also promised to push for laws requiring background checks for all gun purchases — specifically legislation that would close loopholes for purchasing assault rifles without a background check.
WHYY is your source for fact-based, in-depth journalism and information. As a nonprofit organization, we rely on financial support from readers like you. Please give today.