With his legacy and Democrats' plans to thwart Trump at stake, Menendez to begin corruption trial
Listen
4:56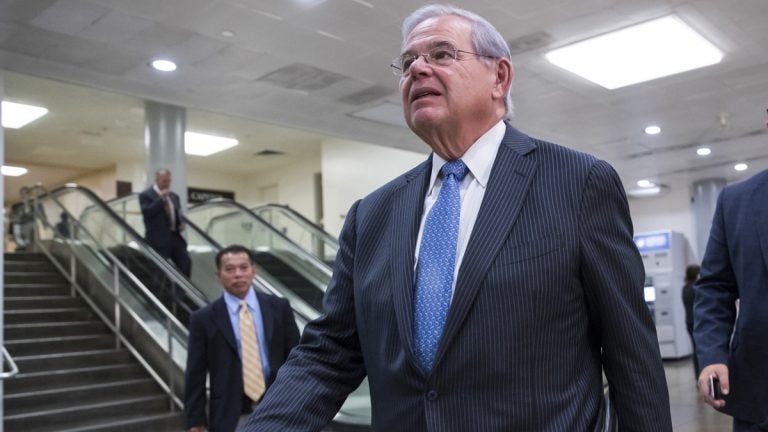 Opening arguments begin Wednesday in the federal corruption trial of U.S. Sen. Bob Menendez, a case that could alter the future of President Donald Trump's agenda and the legacy of one of New Jersey's most prominent Latino politicians.
The Democrat faces a dozen counts of bribery, conspiracy and fraud charges in a corruption probe involving one of his closest friends.
Prosecutors at the Justice Department accuse Menendez of accepting lavish gifts in exchange for using his political influence to help friend and Florida eye doctor Salomon Melgen.
But Menendez denies the charges, claiming he was only doing what he would do for any constituent.
"I'm angry and ready to fight," he said after the indictment was handed down in 2015, "because today contradicts my public service career and my entire life."
Federal prosecutors say Melgen flew Menendez around on his private jet, paid for luxury trips to Paris and the Dominican Republic and donated hundreds of thousands of dollars in political contributions that benefited Menendez.
In exchange, the government alleges Menendez intervened on Melgen's behalf to sort out a shipping contract, secure immigrant visas for Melgen's girlfriends and settle a multimillion-dollar Medicare billing dispute involving Melgen's ophthalmology practice.
The corruption case is a major political stumble for a man who made his name fighting public corruption and became the first Latino to chair the influential Senate Foreign Relations Committee.
"He's a great role model," said Rep. Albio Sires, a Democrat who represents New Jersey's eighth district. "Today, many of the people who are running for different offices in the area or in New Jersey — they can thank Bob Menendez for opening those doors."
A legacy on the line
The son of Cuban immigrants, Menendez has become something of a local hero. Union City, where Menendez grew up and later became mayor, is in a part of Northern New Jersey home to so many Cubans it's been nicknamed "Havana on the Hudson."
In 1981, Menendez testified against his political mentor William Musto, the former mayor of Union City. Musto was on trial for bribery charges and had connections to organized crime.
"I received death threats. I wore a bulletproof vest for a month," Menendez recalled at his own indictment in 2015.
As a U.S. Senator, Menendez was one of the most vocal critics of former President Barack Obama's attempt to normalize relations with the island nation.
Supporters say standing up for Cubans has earned Menendez some enemies.
"There are a lot of people who wanted to get rid of him, to be done with him. He doesn't deserve this," said Union City resident Sergio Gonzalez, who left Havana more than thirty years ago. "He's a good man, a man that has always done for Cubans, and fought for Cubans."
For his part, Gonzalez said Menendez once helped him with his citizenship papers.
New Jersey attorney Donald Scarinci, who has been friends with Menendez for more than 40 years, called the indictment "insulting."
"Sal Melgen's not a stranger. Sal Melgen's not a contributor or somebody he met as a U.S. Senator," Scarinci said. "Sal Melgen's a personal friend. And happens to be a really nice guy."
If Menendez were forced to vacate his seat in the Senate, Scarinci believes New Jersey would lose a powerful voice in national politics.
"In Washington, they say there are workhorses and there are show horses," Scarinci said. "He's a workhorse. He's the guy who reads the bill."
But Rutgers University political science professor Ross Baker said prosecutors have some strong evidence Menendez crossed an ethical line.
And Baker points out that's nothing new in New Jersey, which has seen its share of public officials mixed up in corruption.
"We have unfortunately have a very melancholy history in terms of the rectitude of our public officials," he said. "And that extends up to members of Congress."
Impact on national politics
The charges against Menendez come at a bad time for Democrats.
If Menendez is convicted and resigns before January, Republican Gov. Chris Christie would get to appoint the senator's replacement before leaving office himself at the end of his second term.
That could cripple Democratic efforts to block President Trump's agenda going forward. For example, Trump's recent push to scrap the Affordable Care Act failed by only one vote in the Senate.
It would also give Menendez's temporary replacement a head start in campaigning for a full term in the Senate.
"That person would have a good long time to serve, develop high public visibility, be able to travel around the state and get known and so on," Baker said. "That's the real nightmare for Democrats."
The trial begins Wednesday at the federal courthouse in Newark, New Jersey.
WHYY is your source for fact-based, in-depth journalism and information. As a nonprofit organization, we rely on financial support from readers like you. Please give today.