Wilmington civil rights leader recognized for Supreme Court fight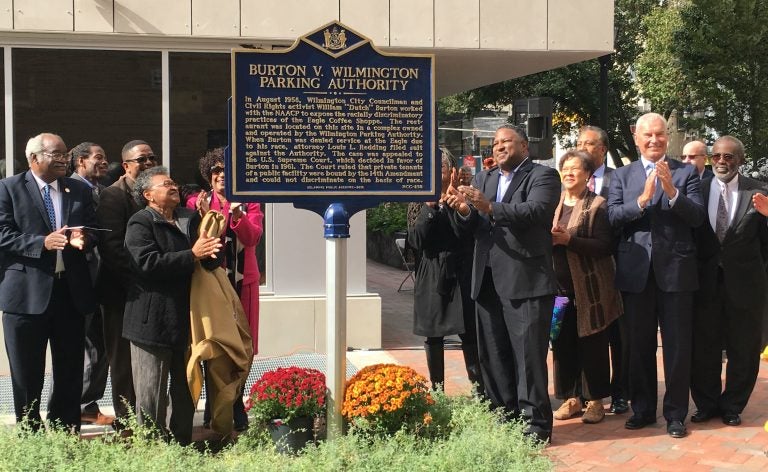 In August 1958, Wilmington Councilman William "Dutch" Burton was denied service at the Eagle Coffee Shoppe in the Wilmington Parking Authority's midtown parking garage. He wasn't the first African-American to be refused service there. Several Chrysler workers had been thrown out of the café before Burton.
In response, Burton contacted Louis Redding, the first black man admitted to the Delaware State Bar Association. A few years earlier, Redding had helped litigate the landmark Brown v. Board of Education case which eventually desegregated American schools.
With Redding's help, Burton sued the Wilmington Parking Authority. And while the Delaware Supreme Court ruled in favor of the WPA, the U.S. Supreme Court sided with Burton, saying the restaurant was required to serve all customers because it was leasing space in a public facility.
On Friday, city leaders including state Rep. Stephanie Bolden unveiled a historical marker honoring Burton at the former site of the cafe near Ninth and Shipley streets in downtown Wilmington.
"He understood the problem, and he took action because he knew that change begins with an individual step," Bolden said. "In a time when the principles of our democracy and our rights are being challenged daily, it is important to remember Dutch Burton's example. We cannot simply just sit around and hope that something accidentally will change."
The Supreme Court's decision eventually led to abolishing Delaware's discriminatory accommodation laws. Retired state Superior Court Judge Charles Toliver credited the courage of Burton and Redding with paving the way for African-American men to succeed.
"But for Councilman Burton, Louis Redding, and a number of other people, I would not have been able to serve on the Delaware Superior Court, I would not have been able to be a member of the Delaware Bar, and it's something I will be forever grateful," Toliver said.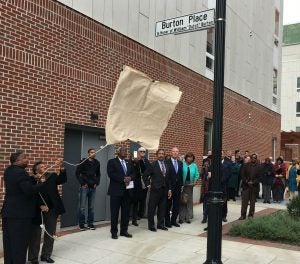 Several years ago, the parking garage structure was torn down to make way for a new underground parking garage and two apartment buildings constructed by the Buccini/Pollin Group. In addition to unveiling a historical marker telling Burton's story, the street between the two apartment buildings connecting Orange and Shipley streets has been renamed in his honor.
City Councilman Nnamdi Chukwuocha read a poem he wrote to mark the day: "Today we move forward so that our children and our children's children will know what happened here. That is the way we ensure that such a thing will never ever happen again.
"When we believe in our country's creed that all men and women are truly created equal, we truly begin to move forward."