WHYY acquires local news site Billy Penn
WHYY has acquired the digital news startup Billy Penn from Spirited Media. Public media companies have snapped up several such sites in recent years.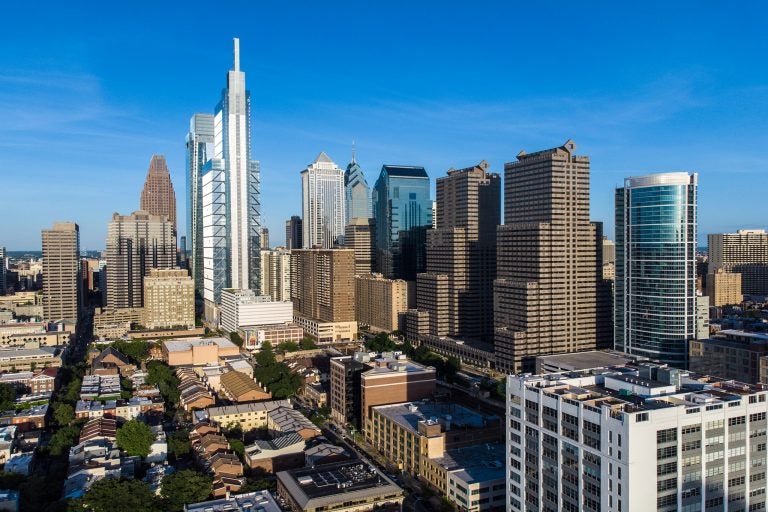 WHYY announced Monday it has acquired the digital news startup Billy Penn from its founding owner, Spirited Media.
"WHYY has consistently grown its journalism capacity to fortify the local news ecosystem. Research affirms that WHYY's news and information services are second to no other in terms of trust," said WHYY President and CEO Bill Marrazzo. "With the addition of Billy Penn, we've taken yet another step to grow our next generation of public media consumers."
"The exact terms of the sale are confidential, but include a limited amount of future revenue considerations," said Art Ellis, WHYY's vice president of communications and member relations.
The asset transfer is effective April 15.
Founded in 2014, Billy Penn was conceived as a "mobile-first" site that would package local Philadelphia news for millennials. Spirited Media later started a similar project in Pittsburgh, The Incline, and acquired Denverite, a third site out of Denver.
Colorado Public Media purchased the Denver site last month, and the Pittsburgh site sold to Whereby.us.
Billy Penn's sale ends Spirited Media's management of independent media sites.
"Personally, there's a certain symmetry to it being the last site out, but that doesn't make it any less bittersweet," said Spirited Media CEO Jim Brady in a statement. "It does make me incredibly happy that a brand as iconic as WHYY saw the value that we've worked so hard to create for almost five years, and I can't wait to see where they take Billy Penn."
Billy Penn generated buzz for its approach to local news — which included branded events and pithy headlines on news like "We translated the gov debate into Emoji so you don't have to."
But that buzz didn't translate quickly enough into a sustainable business. While pivoting to a membership model, Spirited Media announced layoffs in late 2017.
'We ran out of runway'
Last month, Spirited Media said it would sell its three local news sites and reorient itself as a consultancy for existing media companies.
"There is more money out there for companies like ours to earn helping others do what we do via consulting than continuing to raise money to expand into new markets," wrote Chris Krewson, Spirited Media's VP of strategy, in a March blog post on the Denverite sale.
Krewson said in an interview that all three sites would have been profitable within the calendar year, but that the company didn't have the capital to make it that far.
"It's just that we ran out of runway," Krewson said.
WHYY operates a public radio and television station in Philadelphia, as well as a website, WHYY.org. The company serves the Philadelphia region, including the city and suburbs, South Jersey, Delaware, and Pennsylvania. It launched its own digital news product, "Newsworks," in 2010, focusing on hyperlocal news. The company dropped that moniker during a website redesign in 2017.
WHYY's evolving digital-first presence includes the 2015 purchase of PlanPhilly, a website devoted to transportation, housing, and other urban issues.
Acquiring Billy Penn "with its punchy, engaging brand fortifies our already thriving collaborative newsroom," said Sandra Clark, WHYY's Vice President for News and Civic Dialogue, in a statement. "Combining the best of both newsrooms is a win-win for expanding our coverage and impact, growing and diversifying our audiences and members, and serving our communities better."
Billy Penn said its readers "shouldn't notice any changes, especially at first," according to a press release. It's expected to maintain its own home page and social media accounts, as PlanPhilly already does.
The release said Billy Penn will operate "independently within the larger WHYY structure."
"We're thrilled to have found a new home that is also a member-supported newsroom," said Billy Penn Editor Danya Henninger. "One whose strengths are perfectly complementary to ours."
WHYY has 122,000 members and hosts about 75 events each year, according to Ellis. Billy Penn has roughly 600 members, said Ellis.
'The rewards are aligned'
Public media companies have snapped up several digital-first, local news sites in recent years. Gothamist, LAist, and DCist all migrated to public radio stations in their respective hometowns, while NJ Spotlight found a new home at WNET.
The mergers make sense, said Jeff Jarvis, a journalism professor The City University of New York and an expert in online media, because sites like Billy Penn can give public media companies a through line to younger audiences. That could, in theory, help public media companies add younger members.
"For public media to have a variety of voices is good for public media," said Jarvis.
Jim Brady, CEO of Spirited Media, said the company's nascent membership model made the transition to public media a natural one.
"The rewards are aligned," said Brady. "Everybody's trying to get members."
Ultimately, Brady said, Spirited Media made too many "missteps" to survive, headlined by the fact that it waited too long to launch its membership program. He also thinks the company grew too quickly, and that future iterations of Billy Penn will have to be "small in size and big in impact."
"There's absolutely a path forward for digital local media," he said. "But you can't afford to misstep."
Billy Penn emerged shortly before The Philadelphia Daily News and Inquirer merged newsrooms, and it promised to be a new voice in the city's shrinking news market. Billy Penn's acquisition — along with the demise of the City Paper and contraction of City and State PA — leaves fewer independent media sites in Philadelphia's local news landscape.
Brady hopes and believes Billy Penn will maintain its distinctive tone under new ownership.
"I'd like to think it's going to maintain that independent voice," he said.
When Colorado Public Media bought Denverite, one of Spirited Media's former sites, it reportedly received more than $350,000 in foundation support to shepherd the transition. Gothamist's move to WNYC also came with an undisclosed amount of money from two anonymous donors.
WHYY did not receive foundation support as part of the Billy Penn transition, Ellis said.
All of Billy Penn's current employees — one editor and two reporters — will move to WHYY as part of the deal.
WHYY is your source for fact-based, in-depth journalism and information. As a nonprofit organization, we rely on financial support from readers like you. Please give today.