Why is it so hard to stop eating chocolate? Drexel scientist's bittersweet research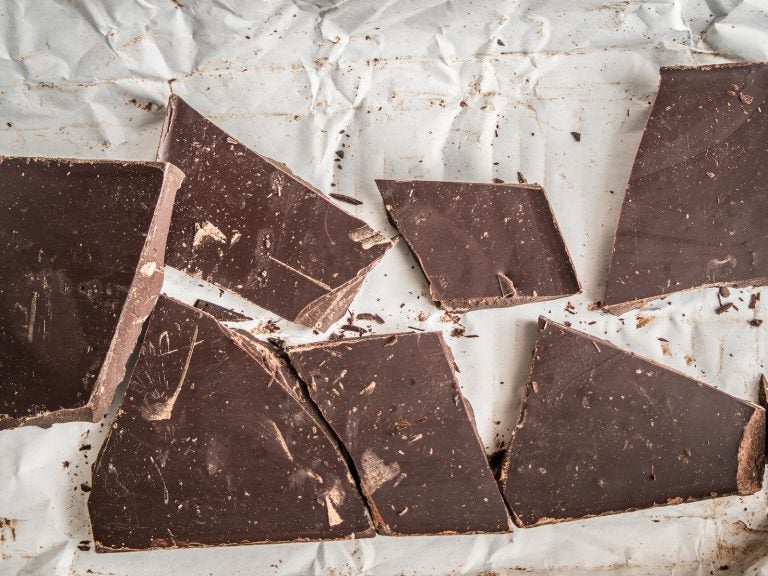 Jennifer Nasser, an associate professor of nutrition sciences at Drexel University, noticed something you may have seen too: "People will say, 'Oh, I love chocolate, if I eat one piece, I can't stop.' "
She partnered with a research biologist at the U.S. Department of Agriculture to find out why.
They designed a recently published study in which people ate chocolate, then filled out the same questionnaires used to measure responses to an addictive drug such as morphine.
"My study does not say that eating a high-sugar-based food is the same as using an addictive drug," Nasser said. "My study says that sugar can momentarily tap into the same pleasure system as addictive drugs."
Momentarily being the key word.
When you eat a piece of chocolate, your brain responds, but the response only lasts for a few minutes. Your brain's response to something like morphine would last for hours.
When you look at the score scientists use to measure how strong the response is, the reaction to chocolate is four times weaker than the reaction to morphine.
If you eat chocolate with more sugar in it, the reaction does get stronger.
Nasser's research partner, Shanon Casperson at the Department of Agriculture, said she eats chocolate almost every day, but she prefers dark chocolate to milk chocolate. She added that it's possible their conclusions might change if they did the experiment with people who have different tastes, say those who prefer dark to milk chocolate.
If you're worried about eating too much chocolate, Nasser said, the study's findings mean you can try choosing a kind that has less sugar, but still makes you feel good.
"It shouldn't be that you need to …  have to walk around eating tasteless, unpleasurable food to be healthy," she said. "There should be a breaking point where you can have your pleasure but still keep the control of how much you eat and promote your health."
Nasser and Casperson's new research paper cites a 2015 paper on which foods might be addictive. Ashley Gearhardt, the author of that 2015 paper and an associate professor of psychology at the University of Michigan, said the new research paper does a good job of tackling "what I would argue is the biggest question we have in this field — to what degree is an addictive process playing a role in some of our problematic eating behaviors? … What foods are maybe problematic? And what about those foods specifically might be starting to mimic the effects of traditional drugs of abuse?"
Gearhardt said she would expect similar brain responses to other highly processed foods that are high in refined carbohydrates and fat — ice cream, pizza, and french fries, for example.
"What is unique about these foods is that they have ingredients that our brains have evolved to find very rewarding — we are from evolution designed and engineered to find really highly calorically dense ingredients rewarding," she said. "I always think of it in the example of a low-alcohol beer versus … a shot of whisky; the dose is much higher in these foods."
This is a line of research Gearhardt said she is continuing to pursue. She's studying what happens to babies and young children, who are targeted by processed-food manufacturers from an early age, and why it's hard for us to try and eat less of these foods even though we try to.