White House to present wreath at President Cleveland's tomb in Princeton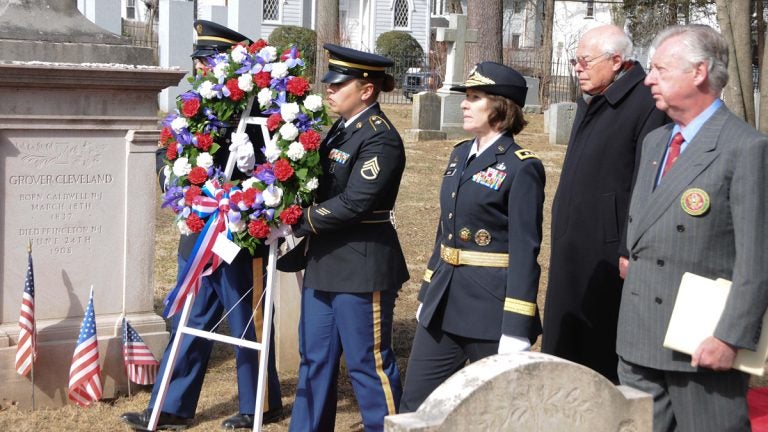 Although Princeton's four-month stint as the nation's capital in 1783 was short-lived, the town has many ties to U.S. presidents.
President Grover Cleveland (1837-1908) lived in Princeton for over ten years after serving his second term at the White House, and was buried in Princeton's Presbyterian cemetery.
On March 18 at 11 a.m., the local community will assemble for a wreath-laying ceremony marking the President's 178th birthday. Cleveland was born in Caldwell, N.J. in Essex County. The ceremony is open to the public and will last about 45 minutes.
Hosted by New Jersey's 99th Regional Support Command, the ceremony will include an invocation by Chaplain Scott Riedel, a performance by the army band and speeches from various community members, including Princeton Mayor Liz Lempert and Assemblywoman Donna Simon (R-Flemington).
"I think it's great to remember this piece of history in an area that's already steeping in a lot of its own history," said Sergeant Shawn Morris, a member of the Support Command.
Wreath-laying ceremonies across the country are coordinated by the White House Military Office (WHMO), honoring past presidents, other prominent Americans and historic memorials.
"The preparations are pretty streamlined," Morris said of the ceremony, adding that the WHMO initially helped coordinate the program but no longer has direct contact with the regional support command. "We know the mission and we just move ahead to accomplish it."
Who provides the ceremony's centerpiece? In Princeton's case, the ceremonial wreath is delivered by Monday Morning Flowers. The local business receives detailed instructions from the White House on how to prepare the wreath says co-owner Georgianne Vinicombe.
Every year, the wreath must include a polka-dotted design with blue irises, red carnations and white carnations, Vinicombe explained, with a particular number of flowers.
"There's nothing more exciting than getting a call from the White House," Vinicombe said, adding that the WHMO usually sends a letter and a white card to attach to the wreath. "The fact that they have let us do it for so many years in a row really does make me proud."
Cleveland is the only President buried in New Jersey.
Cleveland was inducted into New Jersey's hall of fame last year, and was the only U.S. President to serve two nonconsecutive terms (1885–1889 and 1893–1897), Morris noted. Cleveland was trained as a lawyer, but managed to secure the presidency three years after entering politics. He was first elected the Mayor of Buffalo in 1881 and became the Governor of New York before representing the Democratic Party as President in 1884.
He was also the only president to marry while in the White House, uniting with 21-year-old Frances Folsom when he was 49 years old.
"He was an amazing man, and the more you learn about him the more interesting he becomes," Princeton Mayor Liz Lempert said of the President in a phone interview. "He has a very special relationship with Princeton."
Cleveland visited Princeton in a very difficult period of his presidency, Lempert said, as he was not very popular with the American public at the time. The country was facing an acute depression, and Cleveland's policies were generally unpopular. During his visit to Princeton, Cleveland gave a speech for the town's 150th anniversary celebration, and was cheered by a local parade.
"It really moved him and he just fell in love with the town," Lempert said, adding that Cleveland was a very active community member. Princeton University students gathered at his mansion on Hodge Road, "Westland," to cheer him on his birthday every year.
"It's an honor to have a former President be buried in your town," Lempert said. "Every year we all learn something a little bit more about him."
The Princeton cemetery lies close to Westland and a memorial honoring the Battle of Princeton. "I encourage anyone who can spare the time to join us and learn a little bit more about their local history and President Cleveland," Morris said.