West Philly residents plan, in the hopes they won't get planned for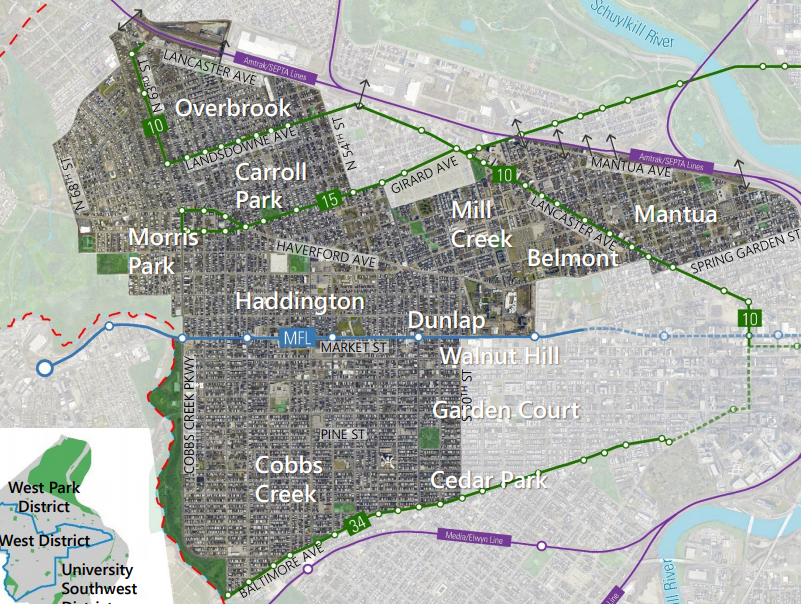 On Tuesday night, at West Philadelphia High School, a committed core of community leaders and civic activists came together to vote on the priorities for the West District plan.
The citywide district planning process began in 2013 and is part of a Philadelphia City Planning Commission's effort to give citizens a voice in how city resources are allocated and how local zoning maps are rewritten.
The West District, which covers much of West Philadelphia beyond University City, is one of the final corners of the city to undergo the process. Back in June, the first meeting attracted an unprecedented turnout for district planning meetings, with almost 300 residents packing the high school to pore over maps and voice their priorities.
At this second meeting, the Planning Commission staff narrowed down that mass of feedback into a few possible geographic areas of concentration and asked attendees to "dot vote" — placing brightly colored stickers on a variety of options — to demonstrate their preferences.
. At the first West District planning session, PlanPhilly witnessed residents confused about the goals of the session, how much power the Planning Commission has, and what their input would actually do. In an attempt to avoid similar confusion last night, the meeting began with a presentation from Donna J. Carney, director of the Citizens Planning Institute, a city program that teaches city planning to residents.
"We are inviting you here tonight to share your voices and be part of this process," said Carney. "The planning staff here tonight are not developers. I'm sorry to say we don't have any money to invest. But we can influence those in the city who do make decisions about public investments. We only make recommendations to many of the city agencies that actually have the budget and money to do things."
The Planning Commission staff unveiled their focus areas, which included the district's commercial corridors, Cobbs Creek Parkway, and especially the Market Street and its attendant heavy rail line. Then De'Wayne Drummond gave a speech about the successfully passed zoning remapping of Mantua, which his civic association drafted and promoted for three long years.
"This is my favorite, this is my baby," said Drummond. "I got a couple grey hairs on my head over this one."
The Mantua plan downzoned much of the neighborhood from multi-family residential to single family residential in an effort to stem the construction of apartments aimed at Drexel students. Drummond said the remapping would give the community some power over which projects moved forward.
Councilwoman Jannie Blackwell, who represents much of the district, has been extremely reluctant to enact zoning remapping of any kind. It is a testament to the tenacity of Drummond and his allies that the bill passed.
"It's not always the plan that fails," said Drummond. "Sometimes we just fail to plan. West Philly, all I have to say is plan or be planned for."
Going last in the planning process seems to be not without its benefits. The president of the Cobbs Creek Civic Association, Monica Allison, said it compared favorably to her experience of earlier district planning meetings — she moved to Cobbs Creek a few years ago and actively participated in University City's earlier planning process.
"These are more orderly and have engagement from residents who usually don't feel part of the process," said Allison. "Both [West District] meetings, but especially this one, had conversations around the concerns of residents. It afforded them the opportunity to be heard, as well as connect."
Afterward, the crowd jammed into the hallway lined with posters and advocated for the priorities they would most like to see the city focus on.
"One of my major issues is bus shelters, making sure we get them in front of senior centers and on major roadways, like 52nd Street," said Ted Smith, a committeeman in the Cobbs Creek area.
In addition to the sticker voting system, post-its were provided for comments. These ranged from calls to install historic streetlamps west of 52nd Street on Baltimore Avenue to a demand for fewer curb extensions. The posters about bike infrastructure in West District generated a post-it war, as supporters described it as "dreamy" and opponents decried any intrusion on car travel lanes.
"Who screwed up the traffic lane in UCity? Put it back," read one. "Adds 15 minutes to commute."
There was less acrimony over suggested improvements to Market Street. Development was the principal priority around the 46th Street Market-Frankford line stop, adjacent to the abortive attempt to move the police headquarters to West Philadelphia, which landowner PIDC has been recently shopping around to developers. At the 52nd Street stop, where residents often bring their own folding chairs to the intersection, street furniture was in demand. At 63rd Street, more lighting and street safety were the paramount issues.
At the end of the long line of posters sat a pair asking residents to lay out their fears and hopes for their neighborhoods.
Most of the fear comments revolved around displacement, gentrification, and getting "pushed out of our homes." The hope poster elicited wishes for less crime, level sidewalks for the elderly and, quixotically, "trees with no sap."
Residents can still participate and weigh in about priorities online until Friday, October 27th.