Weekly Entertainment Guide – Year of the Rooster
Robin Bloom offers 15 things to do this week in the Philadelphia region!
What's Happening
One Book, One Philadelphia
The 2017 One Book, One Philadelphia featured reading selection is "The Curious Incident of the Dog in the Night-Time" by Mark Haddon. The literacy initiative from the Free Library of Philadelphia and the Mayor's Office celebrates 15 years and kicks off January 25 through March 23 with nearly one hundred related events including book discussions, craft workshops, and the musical premiere and panel discussion with former One Book authors, Wednesday, January 25, 7:30 p.m., Parkway Central Library, 1901 Vine Street, Philadelphia. Photo by Clare McNamee.
Welcome the Year of the Rooster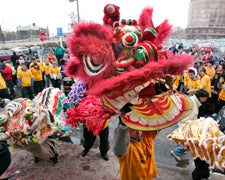 Follow the Philadelphia Suns lion dancers as they bestow good luck and good fortune with a Midnight Lion Dance Parade, Friday, January 27, 11:30 p.m., with firecrackers, martial arts performances, and more, 10th and Race Streets. Watch the lion dance parade featuring the Philadelphia Suns on Sunday, January 29, 11 a.m. at 10th and Spring Streets. The Philadelphia Chinatown Development Corporation partners with the Reading Terminal Market for a Chinese New Year celebration, Saturday, February 4, 8 a.m. – 6 p.m., with demonstrations, performances, activities, food and more. Pictured: Revelers dance with dragons to celebrate Chinese New Year in Philadelphia. (AP Photo/George Widman).International House Philadelphia's 17th Annual Lunar New Year Celebration takes place Friday, January 27, 7 p.m. Enjoy traditional musical and dance performances and a sampling of traditional Chinese cuisine, 3701 Chestnut Street, Philadelphia.Independence Seaport Museum's annual Lunar New Year celebration is Saturday, January 28, 11 a.m. – 3 p.m., with craft activities such as creating your own Chinese lanterns, dragon puppets and rooster drums, calligraphy classes and storytelling, Penn's Landing, Philadelphia.Delaware Art Museum hosts a Chinese New Year celebration Saturday, February 11, 11 a.m. – 3 p.m., with traditional Chinese art activities, demonstrations, dances, and more, 2301 Kentmere Parkway, Wilmington.
"Orchid Extravaganza" at Longwood Gardens
Longwood Gardens' annual Orchid Extravaganza is underway, celebrating one of the first plant collections by founder Pierre S. du Pont and his wife, Alice. Take in the range of color and fragrance of more than 4500 orchids, through March 31. Enjoy the Mediterranean Garden, Estate Fruit House, the award-winning Orchid curtain featuring 625 purple Phaleanopsis and Cattleya orchids in bloom, and new this year, 100 'V3' orchids will be suspended in six 24-inch baskets above the Center Walk. Also, special events include talks, tours and OrKID Days (select days when children can learn firsthand about the beautiful blossoms at discovery stations), and concerts including Arabian flamenco jazz performer Farah Siraj, Saturday, January 28, 8 p.m. Check out the rare blue-poppies that bloom in the month of March, Route 1, Kennett Square, PA. Photo by Larry Albee for Longwood Gardens.
Fire & Ice Festival
The annual Fire & Ice Festival returns to downtown Mount Holly, New Jersey Saturday, January 28. Over a dozen professional and amateur ice carvers from up and down the east coast will transform 300 pound blocks of ice into beautiful crystalline works of art beginning at 10 a.m. and concluding at 3 p.m. when judging ends. Plus a professional chili chef competition, a cupcake decorating contest, craft beer tent, and many more family activities and entertainment. Free. Pictured: 1st Place 2015 Rich Daly, Mastic Beach, NY.
Onstage
Walnut Street Theatre's "Laughter on the 23rd Floor"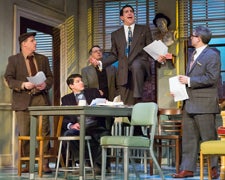 Treat yourself to Walnut Street Theatre's Laughter on the 23rd Floor, the madcap comedy based on Neil Simon's own experience working on the Sid Caesar show with characters based on Caesar and his co-writers Mel Brooks and Carl Reiner. The raucous production is directed by Frank Ferrante with a talented cast including Davy Raphaely, Steve Perlmutter, Tony Freeman, Anthony Lawton, Jesse Bernstein, Leah Walton, Ellie Mooney, and Scott Greer, through March 5 at 825 Walnut Street, Philadelphia. Photo by Mark Garvin.
"Surviving Twin" at People's Light
Renowned singer-songwriter Loudon Wainwright III makes his People's Light debut in the regional premiere of Surviving Twin. Created and performed by the Grammy Award-winner as a "posthumous collaboration" with his late father (writer and Life Magazine columnist), the candid performance features songs, stories, and artifacts that span four generations of the Wainwright family, through February 5. Directed by Daniel Stern (making his People's Light debut), 39 Conestoga Road, Malvern Pennsylvania. Related programs and events include Scoop on Wednesdays: History, Context, and Gossip. Photo by Mark Garvin.
Art Appreciation
"Andy Warhol: The Pop Image Subverted" at Haverford College
Opening Friday, January 27 at Haverford College's Marshall Fine Arts Center is Andy Warhol: The Pop Image Subverted, celebrating several of the artist's most iconic works from the museum's permanent collection. 15 prints will be on display including eight from the Flowers series, seven "Marilyn Monroes," a Grace Kelly tile, and a Brillo Soap Pad. The pieces provide insight into how the artist transformed pop culture images into Pop Art and will be shown alongside related material and other source photographs, including Gene Korman's 1953 still photograph of Marilyn Monroe used in the publicity for the film Niagara. Photographs and prints by Haverford alumnus and illustrator Maxfield Parrish (Class of 1892) will also be exhibited, through April 23. Parrish and Warhol were both from Pennsylvania with a background in commercial art, worked from photographic inspiration, used magical colors, and were both important influences on pop artists, 370 Lancaster Avenue, Haverford, Pennsylvania. Opening reception Friday, January 27, 5:30 p.m. Pictured: Marilyn Monroe (Marilyn), 1970, Screen print on paper, Image: 36 5/16 x 36 5/16 in. (92.2 x 92.2 cm).
"RAIR: Filthy Rich" at Moore College of Art & Design
Challenge your perceptions of trash with a new exhibit opening at the Galleries at Moore College of Art & Design on January 28. RAIR: Filthy Rich features 25 projects including sculpture, photography, video and performance and process documentation, created with waste material gathered at the Revolution Recovery construction waste recycling center in Northeast Philadelphia. RAIR (Recycled Artists in Residency) interrupts the waste stream in order to promote and support sustainable practices in art and design and offers artists, community groups, educators and industry partners access to over 350 tons of materials per day including demolition debris, wood, plastic, metal, cardboard and miscellaneous rubble. Artists include Jaime Alvarez, the Dufala Brothers, Martha McDonald, Monument Lab, Jeff Williams, and Bryan Zanisnik, through March 11, 20th Street and The Parkway, Philadelphia. Related events include an opening reception, Friday, January 27, 5:30 p.m., panel talks, performances, Fashion Lab and more.
Music
"Divas & Queens" at the Philadelphia Museum of Art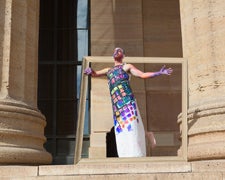 Experience a "de-tour" led by burlesque performer Kate Nyx as part of the Philadelphia Museum of Art's Divas & Queens, Friday, January 27, 5 p.m. – 8:45 p.m. Nyx will guide visitors through the collection focusing on the history of burlesque and the representation of the body in art. Then, enjoy two in-gallery performances by The Bearded Ladies, Philadelphia's premiere cabaret troupe, who pay tribute to Barbra Streisand and the 50th anniversary of her performance at the museum, "Color Me Barbra." Also, Red 40 and the Last Groovement performs, 2600 Benjamin Franklin Parkway, Philadelphia. Photo courtesy of the Philadelphia Museum of Art.
Gaelynn Lea at Burlap and Bean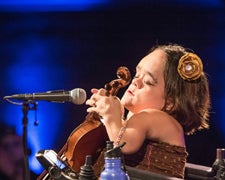 Classically trained violinist and songwriter Gaelynn Lea, winner of NPR Music's Tiny Desk Concert, performs at Burlap and Bean Coffee with Sarah Blacker, Friday, January 27, 8 p.m., at the Shops at Springton Pointe, 203 South Newtown Street Road, Newtown Square, Pennsylvania. All ages. Photo courtesy of Gaelynn Lea.
Infamous Stringdusters at World Café Live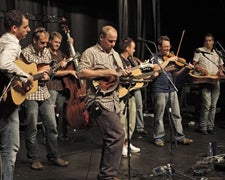 "Newgrass-jam" acoustic bluegrass quintet the Infamous Stringdusters stop in Philly on their brand new "Laws of Gravity" tour, Saturday, January 28, 8 p.m. (doors open at 7 p.m.), with The Brothers Comatose opening, World Cafe Live Philadelphia, 3025 Walnut Street, Philadelphia. Photo by Darwin Davidson.
Music in the White House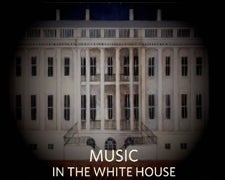 Singing City and Lyric Fest offer an eclectic program of Music in the White House, reflecting the development of the American spirit and tastes of the person who has occupied the highest and most honored position in the country. Music in the White House features narration and song that presents a lens for viewing the history of our nation and the presidency with performances Saturday, January 28, 7:30 p.m., St. David's Episcopal Church on the Main Line and Sunday, January 29, 3 p.m. at the Church of the Holy Trinity, Rittenhouse Square, Philadelphia.
Each week, the Entertainment Guide spotlights interesting local arts offerings happening now, including music, dance, theater, museums, special exhibitions and other arts events from across the region.
To submit an event to be considered, email Robin Bloom at artscalendar@whyy.org.
WHYY is your source for fact-based, in-depth journalism and information. As a nonprofit organization, we rely on financial support from readers like you. Please give today.