Weekly Entertainment Guide – Wilde Tales
Looking for something to do this holiday season? Robin Bloom shares her picks.
What's Happening
Quintessence Theatre Group's "Wilde Tales"
Immerse yourself in Wilde Tales, Quintessence Theatre Group's mix of short stories by Oscar Wilde. Adapted and directed by Jeremy Bloom with original songs by David Cope, the holiday show is centered on the story of a selfish giant who builds a wall around his beautiful garden to prevent the local children from playing in it. Starring Ashton Carter, Ife Foy, Michael Gamache, Terence Gleeson, Mattie Hawkinson, Aneesa Neibauer, Vanessa Sterling, and Hannah Wolff with puppetry by Marina Plag through December 31 at the Sedgwick Theater, 7137 Germantown Avenue, Mt. Airy. Talkbacks with the cast and director take place December 15 and 18. For all ages. Photo by Shawn May.
Holiday Happenings
A Longwood Christmas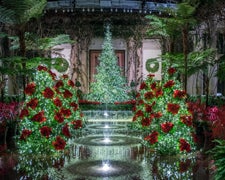 This Christmas, experience the spectacular both indoors and out at Longwood Gardens with A Longwood Christmas, and living floral displays, opulent ornaments, stunning trees, musical performances, organ sing-alongs, garden railway, and much more. Take in more than 50 trees adorned with icicles and frosty glass ornaments in the conservatory. The musically inspired 18-foot revolving Fraser Fir, decorated with musical instruments, is featured in the grand Music Room, and enjoy the 30-foot tree with more than 1300 poinsettias, ivy, and orchids. Three fire pits are placed around the gardens to keep you warm as you gaze at the night sky, watch colorful fountains dancing to holiday music, view a half-million lights. Outdoor lights come on at 3:30pm each day, through January 8, on Route 1, Kennett Square, PA. Photo by Harold A. Davis/Longwood Gardens.
Reading Terminal Market Holiday Railroad
The Reading Terminal Market Holiday Railroad returns with a third of a mile of track running 17 working trains steaming through miniature scenery depicting Center City Philadelphia, a Christmas Village, and other seasonal displays, open daily at 10 a.m. through December 31 (closed on Christmas Day), 12th and Arch Street, Philadelphia, free. Photo courtesy of Reading Terminal Market.
Gingerbread House Competition & Display at Peddler's Village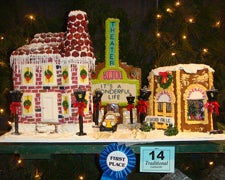 Peddler's Village hosts the annual Gingerbread House Competition and Display, a show of confections in several categories through January 1, in the gazebo, Routes 202 and 263, Lahaska, Bucks County, PA. Free admission and free parking. Photo courtesy of Peddler's Village.
The Center for Architecture and Design's Gingerbread Architecture Challenge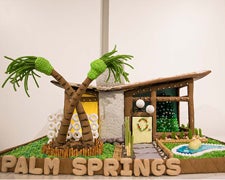 The Center for Architecture and Design hosts the first annual Gingerbread Architecture Challenge. Vote for your favorite house by December 31 and visit the free, annual, family-friendly exhibition, Constructing Play: Classic + Modern Building Toys, 1218 Arch Street, Philadelphia. Photo courtesy of Chris Kendig Photography.
Adventure Aquarium's annual Christmas Celebration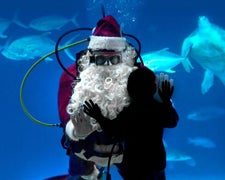 Look for Scuba Santa swimming alongside sharks, sea turtles, and stingrays in the 760,000-gallon Ocean Realm exhibit at Adventure Aquarium's annual Christmas Celebration. The building is transformed into an underwater winter wonderland with larger than life decorations, twinkling lights, glowing trees and gently falling snow, through December 31, 1 Riverside Drive, Camden, NJ. Photo courtesy of Adventure Aquarium.
Visit with Santa from the depths of the ocean to the top of One Liberty Observation Deck. Spot your Spot with Santa offers children the opportunity to see 360 degree views of Philadelphia with Santa 57 floors above the city, Saturday, December 17 and Sunday, December 18, 11 a.m.-2 p.m., 1650 Market Street, Philadelphia.
Latkepalooza
Latkepalooza (pictured) returns to the Gershman Y, Sunday, December 18, 2 p.m.-4 p.m., offering gourmet latkes from Philadelphia chefs as well as family fun including music by the Plants, Hanukkah crafts and children's activities, 401 South Broad Street, Philadelphia. Photo by Mario Manzoni.
Every Christmas Story Ever Told (And Then Some)
Casabuena Cultural Productions presents Every Christmas Story Ever Told (And Then Some), all of your favorite holiday classics told in a fast-paced hour and a half, with Jim Broyles, Kyle Paul Dandridge, Teresa Nutter, and Brian Weiser, directed by Mariangela Saavedra, December 16-23, Stagecrafters Theater, 8130 Germantown Avenue, Chestnut Hill. Photo by Mariangela Saavedra.
"Russian Christmas" with Bravo Brass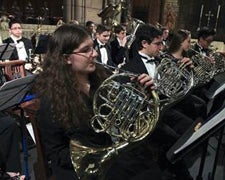 Bravo Brass, the all-brass ensemble of the Philadelphia Youth Orchestra, performs Russian Christmas, music of the season. Conducted by Paul Bryan, Director of Bravo Brass and Dean of Faculty and Students of the Curtis Institute of Music, the program includes selections by famous Russian composers like Tchaikovsky, Rachmaninov, and Shostakovich, at the Church of the Holy Trinity, Saturday, December 17, 7:30 p.m., 1904 Walnut Street, Philadelphia. The PYO is in its 77th year as one of the nation's oldest community music education and youth orchestra performance programs. Photo by Mark Garvin.
Black Nativity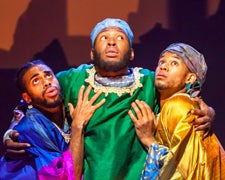 New Freedom Theatre opens its 50th anniversary season with Black Nativity: An African Musical Play, a new take on the classic Langston Hughes' tale, through December 18. Set in conflict-ridden Darfur, the production was written, directed, and choreographed by New Freedom Theatre's new artistic director Rajendra Ramoon Maharaj and combines gospel music, African music and traditional carols, Broad and Master Streets, Philadelphia. Photo by Brian Hunt.Black Nativity is onstage at Crossroads Theater Company in New Brunswick, New Jersey, the retelling of the classic Nativity story with an entirely black cast, through December 18, 7 Livingston Avenue.
"Murder for Two: Holiday Edition" at Bucks County Playhouse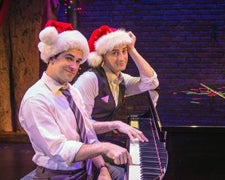 Joe Kinosian and Kellen Blair are back, blending music, mayhem and – of course – murder in Murder for Two: Holiday Edition at Bucks County Playhouse. The two performers play the roles (and the piano) in an homage to old-fashioned murder mysteries in an all-new world premiere production, extended through December 31, 70 South Main Street, New Hope, Pennsylvania. For all ages. Photo by Daniel T. Gramkee.
"Murray the Elf" at Act II Playhouse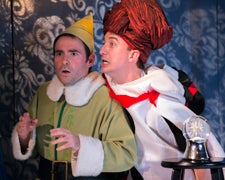 The fifth and final Murray the Elf mystery comes to Act II Playhouse. Murray the Elf and the Case of the Horrible Heist opens December 17-29. The world premiere new play, written by Act II's Bill D'Agostino and directed by Matt Silva, mixes mystery with comedy for an exciting and fun story for the whole family. Starring Will Dennis as Murray and Andy Shaw, who plays all of the other characters including Mrs. Claus, Candy Kane, the Easter Bunny, a lightning-fast Gingerbread Man, and a millennial elf named Jingle. Designed for children ages four and older. Also onstage, This Wonderful Life, a one-man version of the classic movie It's a Wonderful Life starring Tony Braithwaite as all of the residents of Bedford Falls, 56 East Butler Avenue, Ambler, PA. Photo by Bill D'Agostino.
Yuletide at Winterthur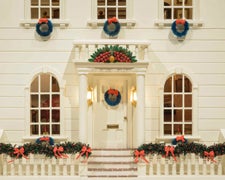 Yuletide at Winterthur returns with a glimpse at winter holidays past, exploring the holiday traditions of Henry Francis du Pont and his family. This year, Winterthur focuses on the holidays as experienced by children from 1850 to 1950 with the central attraction being a dollhouse (pictured) recently gifted to the museum by Jack D. McDaniel. His wife, the late Nancy B. McDaniel, had the fully-electrified, 18 room dollhouse built in England and it houses over 1000 objects – including over 100 pieces of sterling silver – and is fully decorated for the holidays. The exhibit also features museum room displays that include Winterthur's own collections of miniature objects. Look for the dried flower tree, Winterthur's signature showpiece, and the exhibit Lasting Impressions: The Artists of Currier & Ives, through January 8, Winterthur, DE. Photo by Jim Schneck/Winterthur.
"A Christmas Story" at Media Theatre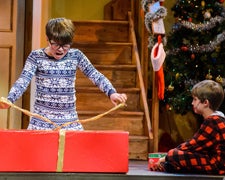 Onstage at Media Theatre is A Christmas Story: The Musical, based on the classic holiday comedy film based on the short stories of author Jean Shepherd. The two-act production features a live orchestra and is directed and choreographed by Dann Dunn. The role of Ralphie is double cast, featuring Ben Petersen and Tim Woodward, through January 8, 104 E. State Street, Media, Pennsylvania. Photo by Maura McConnell.
A Charlie Brown Christmas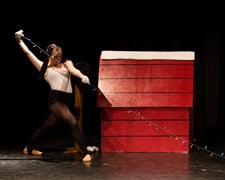 The Eric Mintel Quartet offers the annual "A Charlie Brown Christmas" holiday concert, Thursday, December 15, 7:30 p.m., The Colonial Theater, 227 Bridge Street, Phoenixville, Pennsylvania.Ballet 180 performs "A Charlie Brown Christmas," Friday, December 16, 7:30 p.m., and Saturday, December 17, 3 p.m., a jazzy ballet set to the classic Vince Guaraldi holiday soundtrack, Rotwitt Theater at Rosemont College, 1400 Montgomery Avenue, Rosemont, PA. Photo by Bicking Photography.
A Christmas Carol, the annual tradition
Hedgerow Theatre's "A Christmas Carol"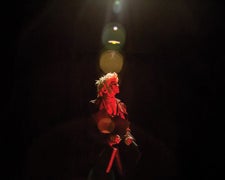 Hedgerow Theatre presents the 24th annual production of Charles Dickens' A Christmas Carol. The holiday staple is adapted and directed by Artistic Director Jared Reed with Zoran Kovcic returning as Scrooge through December 24 at "America's first repertory theater," 64 Rose Valley Road, Rose Valley, PA. Photo by Wide Eyed Studios.
McCarter Theatre's "A Christmas Carol"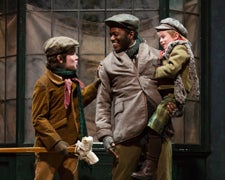 McCarter Theatre Center has reimagined its production of Charles Dickens' A Christmas Carol. Adam Immerwahr directs a new production, adapted by David Thompson with period-specific music composed by Michael Friedman. Look for a 21st century design and special effects. Greg Wood, who plays Scrooge, is joined by a cast of professional actors as well as ensemble members chosen from the greater Princeton community, through December 31, 91 University Place, Princeton, NJ. Special services for patrons include visual and audio impairments at no additional charge on December 17-18. Photo by T. Charles Erickson.
"A Christmas Carol" at Delaware Theatre Company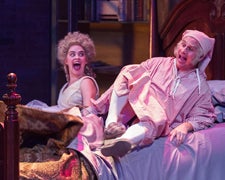 Seven actors bring some of Charles Dickens' most beloved characters to life with A Christmas Carol, onstage at Delaware Theatre Company. The new adaptation by Patrick Barlow is directed by Steve Tague through December 30, 200 Water Street Wilmington, Delaware. Catch a pre-show "Viewpoints" on Wednesdays, December 21 and 28. Post-show talkbacks are held on Thursdays, December 15, 22, and 29 immediately following the evening performance. Photo by Matt Urban, Mobius New Media.
Holidays in Delaware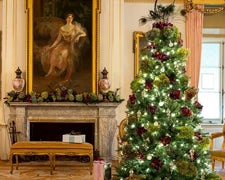 Nemours Mansion (pictured) is decorated for the season with historical artifacts, Christmas trees, hand-painted ornaments and decorations from the early 1900s to the present, and more, through January 8, 850 Alapocas Drive, Wilmington.Tales and Traditions: Holidays at the Read House offers tours of the Read House and Gardens, as the twenty-two room, 14,000-square-foot home of George Read II, son of a Delaware signer of both the Declaration of Independence and the Constitution, is decorated for Christmas with a holiday dinner setting, tree decorated with fruit and nut garlands and trinkets, and more, through December 31, 42 The Strand, on the waterfront in New Castle. Take a candlelight tour of Rockwood Museum for free, Friday, December 16 and Saturday, December 17, 6 p.m.-9 p.m. and enjoy the sights and sounds of 19th century holiday traditions, 610 Shipley Road, Wilmington.
Take advantage of free meter parking in Philadelphia after 11am on Saturdays through New Year's.
Each week, the Entertainment Guide spotlights interesting local arts offerings happening now, including music, dance, theater, museums, special exhibitions and other arts events from across the region.
To submit an event to be considered, email Robin Bloom at artscalendar@whyy.org.