Weekly Entertainment Guide – Having Our Say
Celebrate Sgt. Pepper, science, and the ability to have your say. Robin Bloom shares her picks for what to check out this week.
What's Happening
New installation of "The Kiss" at Rodin Museum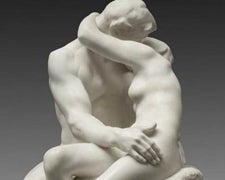 To mark the centenary of Auguste Rodin's death, the Rodin Museum opens a new installation focusing on "The Kiss" and related works, following a month-long reinstallation. Built in 1929 to house the greatest collection of works by the French sculptor outside of Paris (assembled by philanthropist Jules Mastbaum), Auguste Rodin is known for changing the face of figurative sculpture and bringing it into the modern era, 2151 Benjamin Franklin Parkway, Philadelphia. Pictured: Rodin's "The Kiss," 1929 Henri Gréber (detail), Marble. After Auguste Rodin, Bequest of Jules E. Mastbaum, 1929.
Hands-on Science
Frogs: A Chorus of Colors at the Academy of Natural Sciences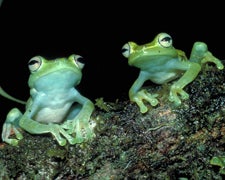 It's "Froguary" at the Academy of Natural Sciences of Drexel University with Frogs: A Chorus of Colors, opening Saturday, February 4 and featuring 15 different species of visually stunning frogs from around the world. The interactive display offers an array of live frogs plus crafts, amphibian specimen displays, interactive activities, and more, through May 14. Created by Clyde Peeling's Reptiland in Allenwood, Pennsylvania. Visit the permanent Butterflies! Exhibit to see the poison dart frogs and the green tree frog in the Outside In exhibit, 1900 Benjamin Franklin Parkway, Philadelphia. Photo courtesy of Clyde Peeling's Reptiland.
Philly Materials Science & Engineering Day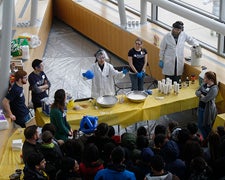 Philly Materials Science & Engineering Day offers hands-on workshops that give participants an in-depth look at how materials science is applied to solving some of today's pressing problems, Saturday, February 4, 10 a.m. – 3 p.m., focusing on hands-on activities for all ages and special small group workshops geared to kids ages 10 to 17 where participants will work on teams exploring how specific materials impact their world, Drexel University's Bossone Research Center, 3140 Market Street, Philadelphia. Free and open to the public. Photo courtesy of Philly Materials Science & Engineering Day.
Wagner's Winter Wonderland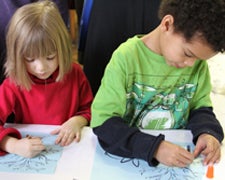 Wagner Free Institute of Science hosts Wagner's Winter Wonderland, Saturday, February 4, 12 p.m. – 4 p.m., an afternoon of storytelling, winter-themed arts and crafts, scavenger hunts, hands-on activities, and the opportunity to explore the natural history museum. Geared toward children ages 6-12, 1700 West Montgomery Avenue, Philadelphia. Free with registration encouraged. Photo courtesy of Wagner Free Institute of Science.
Onstage
Alvin Ailey American Dance Theater
Alvin Ailey American Dance Theater returns to Philadelphia to kick off Black History Month with a powerful program that features works connected to the African American experience. The internationally acclaimed dance company launches a 19 city North American Tour with new works and beloved masterpieces in three performances at the Merriam Theater, February 3-4, 250 South Broad Street, Philadelphia (Kimmel Center for the Performing Arts). Works include the Philadelphia Premiere of company member and former PHILADANCO dancer Hope Boykin's r-Evolution, Dream., inspired by the speeches and sermons of Dr. Martin Luther King, Jr. with new music by Ali Jackson (of Jazz at Lincoln Center), and historic and original writings recorded by Tony Award winner Leslie Odom, Jr. (of Hamilton). The program will also feature the three-part work Untitled America by MacArthur Genius Kyle Abraham about the impact of the prison system on African American families, and Ailey's classic Revelations (pictured). Photo by Paul Kolnik.
InterAct Theatre Company's "Marcus/Emma"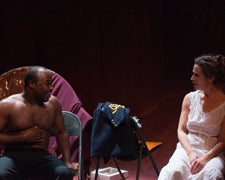 InterAct Theatre Company asks what is means to be radical with the provocative production Marcus/Emma. Mary Tuomanen mashes together two iconic American activist leaders – Black Nationalist Marcus Garvey and Jewish anarchist Emma Goldman – in a poignant and darkly funny play that takes on subversive ideas surrounding tensions of race, gender, sexuality, culture, capitalism and socialism, relating to our current political climate. The production stars Akeem Davis and Susan Riley Stevens through February 12 at The Drake, 302 South Hicks Street, Philadelphia. Related events include post-show discussions with the audience, Speaker Sundays, Coffee Conversations, and more community-based events designed to inspire and encourage activism. Photo by Kathryn Raines/Plate 3 Photography.
"Driving Miss Daisy" at Bristol Riverside Theatre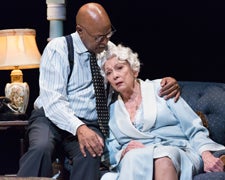 Onstage at Bristol Riverside Theatre is Driving Miss Daisy through February 12. Alfred Uhry's Pulitzer Prize-winning, unforgettable play about the relationship between a Jewish widow and her African American chauffeur in the old Deep South premiered Off-Broadway in 1987 and was then was adapted into a film that won the Academy Award for Best Picture in 1990. Directed by Amy Kaissar and starring Marvin Bell, Michael Samuel Kaplan, and Lucy Martin, 120 Radcliffe Street, Bristol, Pennsylvania. Special events include Wine Down Wednesday, Thirsty Thursday, and Theatre Theology. Photo by Mark Garvin.
"Having Our Say" at Philadelphia Theatre Company
Onstage at Philadelphia Theatre Company is Having Our Say, The Delany Sisters' First 100 Years by Emily Mann. Adapted from the 1993 best-selling book of oral history written by the two Delany sisters with New York Times reporter Amy Hill Hearth, the play premiered on Broadway in 1995. Two centenarians, who have always been opposites, are daughters of a former slave who grew up in the Jim Crow South. They lived in Harlem during its renaissance and had professional careers. Together, they share their story of the last century as they lived it through stories of racial injustice and personal strife, while unified by faith, family, and time, through February 19, Suzanne Roberts Theatre, Broad and Lombard Streets, Philadelphia. Directed by Mary B. Robinson and featuring Perri Gaffney and Cherene Snow as the sisters. Free community engagement events are offered inviting audiences to "have their say" including People's State of the Union Action, First Person Arts and the PNC Story Sparked Story Booth Project, and an exhibit in collaboration with Mt. Airy Art Garage on display in the second floor lobby. Photo by Mark Garvin.
EgoPo Classic Theater's "Seagull"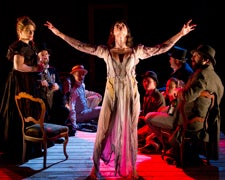 EgoPo Classic Theater transports you to a summer evening party in a Symbolist approach to Anton Chekhov's Seagull. The theater company, known for revitalizing the great classics of theater and literature, continues its Russian Masters festival season with this classic. Lane Savadove directs a cast including Andrew Carroll, Anna Zaida Szapiro, Ed Swidey, Melanie Julian, Stephanie Iozzia, Dane Eissler, Aaron Cromie, Kirsten Quinn, Mark Knight, Eric Kramer, and Nick Ware, through February 19 at the Latvian Society Theater, 7th and Spring Garden Streets, Philadelphia. Photo by Dave Sarrafian.
"Any Given Monday" at Stagecrafters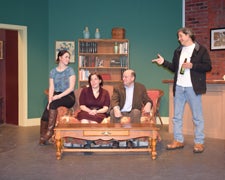 Bruce Graham's Any Given Monday, winner of the 2010 Barrymore Award for Best Play, takes to the stage at Stagecrafters, February 3-19. The erratic, politically incorrect comedy about the curveballs life throws at you is directed by Barbara Mills and features Joe Herman, Lenny Grossman, Jen Allegra, and Julie Roberts, 8130 Germantown Avenue, Chestnut Hill. Playwright Bruce Graham will discuss his play at the 'meet the director and cast" Q&A after the show on February 10. Photo by Sara Stewart.
"Clybourne Park" at Steel River Playhouse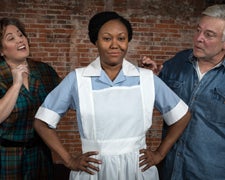 Opening Friday, February 3 at Steel River Playhouse is Clybourne Park by Bruce Norris. The Pulitzer Prize and Tony Award-winning drama about race and real estate in a fictional Chicago neighborhood was derived from Lorraine Hansberry's play A Raisin in the Sun. Directed by Rebecca May Flowers and featuring Marc Schule, Allison Fisher, TiaChanel Allen, Christopher Waters, Jerry McGrier, Joe Donley, Lauren Salvo, and Zachary Clark, through February 19, 245 E. High Street, Pottstown, Pennsylvania. The production contains adult language and mature themes. Photo courtesy of John Daggett.
Music
Sgt. Pepper Celebration at the Kimmel Center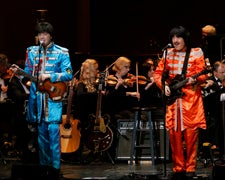 The Philly Pops host a Sgt. Pepper Celebration, in honor of the 50th anniversary of the Beatles' groundbreaking album Sgt. Pepper's Lonely Hearts Club Band. The show features the Classical Mystery Tour, a group of four musicians who resemble the Fab Four in look and sound, performing the Beatles' music with the 65 piece Pops orchestra. Shows take place on Friday, February 3, 8 p.m. with WMMR's Pierre Robert hosting a free pre-concert conversation on the Plaza Stage at the Kimmel Center at 6:30 p.m., Saturday, February 4, 3 p.m. with WMGK's Andre Gardner hosting a free pre-concert conversation on the Plaza Stage at the Kimmel Center at 1:30 p.m., and Sunday, February 5, 3 p.m. with pre-concert entertainment on the Plaza Stage at the Kimmel Center at 1:30 p.m. Michael Krajewski conducts all performances in Verizon Hall, Kimmel Center for Performing Arts, Broad Street, Philadelphia. Photo by Jaime Escarpeta.
International Guitar Night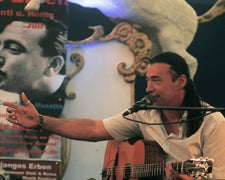 Catch International Guitar Night, the mobile guitar festival, featuring internationally acclaimed guitarists from around the world including Gypsy jazz legend Lulo Reinhardt (pictured), Debashish Bhattacharya (India), Luca Stricagnoli (Italy), and Christiyan Dozza (Brazil), with San Francisco "guitar poet" Brian Gore (the program's founder) as host, with two performances in our region: Friday, February 3, 7:30 p.m. hosted by Crossroads Music at Calvary Church, 801 South 48th Street at Baltimore Avenue, Philadelphia and Tuesday, February 7, 7:30 p.m., Sellersville Theatre ST94, 24 West Temple Avenue, Sellersville, Pennsylvania. Photo courtesy of the Herschel Freeman Agency.
Piffaro's Recorder Festival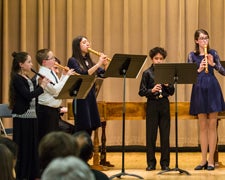 Piffaro, the Renaissance Band, hosts the biannual Recorder Festival, a concert with student performers who won the 2016 National Recorder Competition, Middle School Division. Each will each perform a solo and then play pieces together, followed by a light reception, Saturday, February 4, 7:30 p.m. Settlement Music School, Mary Louise Curtis Branch, 416 Queen Street, Philadelphia. Free with registration requested. Photo by William DiCecca.
Uri Caine at Swarthmore College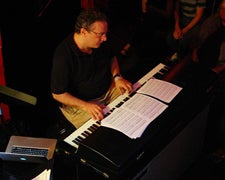 Classical/jazz crossover pianist and composer Uri Caine holds a master class on Friday, February 3, 4 p.m. – 7 p.m. and a performance on Saturday, February 4, 8 p.m. at the Lang Concert Hall, Swarthmore College, 500 College Avenue, Swarthmore, Pennsylvania. Photo courtesy of Patrick Jarenwattananon/NPR.
Each week, the Entertainment Guide spotlights interesting local arts offerings happening now, including music, dance, theater, museums, special exhibitions and other arts events from across the region.
To submit an event to be considered, email Robin Bloom at artscalendar@whyy.org.
WHYY is your source for fact-based, in-depth journalism and information. As a nonprofit organization, we rely on financial support from readers like you. Please give today.