Weekly Entertainment Guide – Constellations
Women, science, art, and dance collide in this week's Entertainment Guide. Robin Bloom shares her picks.
What's Happening
Doug Varone and Dancers at the Prince
Doug Varone and Dancers return to Philly with two premieres and his masterpiece "Possession," set to Philip Glass' Concerto for Violin and Orchestra, January 18-22, as part of NextMove Dance at the Prince Theater. The award-winning choreographer and director for opera, theater, dance, fashion and film presents his newest work, "Folded," set to the music of Philadelphia-born composer and MacArthur Fellow Julia Wolfe. Also on the program is "Recomposed," a full-company work inspired by the artwork of abstract expressionist American artist Joan Mitchell. Related events include a master class Friday, January 20, 1 p.m., post-performance chats after the Thursday 7:30 p.m. and Saturday 2 p.m. performances, and a short chat with Varone precedes each performance, 1412 Chestnut Street, Philadelphia. Photo by Grant Halverson.
Onstage
"Informed Consent" at Lantern Theater Company
Lantern Theater Company continues its ongoing exploration of science and art and the ways in which they reflect humanity's most pressing concerns with Informed Consent by playwright Deborah Zoe Laufer. Commissioned by the Alfred P. Sloan Foundation, the Philadelphia premiere was inspired by a landmark court case involving the Havasupai tribe of the Grand Canyon. Cast includes Samantha Bowling, Justin Jain, Maria Konstantinidis, Lindsay Smiling, and Kittson O'Neill, who plays an ambitious geneticist who races to solve scientific mysteries that could save both an ancient people and her own family. Directed by Kathryn MacMillan through February 12, St. Stephen's Theater, 10th and Ludlow Streets, Philadelphia. Related programs and events include "In Conversation" with Ezekiel Emanuel, January 24, a "Pub Night," and post-show discussions with the artists following select performances. Photo by Mark Garvin.
"Constellations" at Wilma Theater
Onstage at Wilma Theater is the cosmic love story Constellations by Nick Payne. Directed by Tea Alagić, the show stars real-life married couple Sarah Gliko and Jered McLenigan star as Marianne, a theoretical physicist, and Roland, a beekeeper, whose love story unfolds across time and space as every choice sends their relationship on an entirely new course, through February 5, 265 South Broad Street, Philadelphia. Related programs and events include post-show discussions, Young Friends pre-show reception, Coffee Chat, and open captioning performances. Photo by Alexander Iziliaev.
Art Appreciation
Louise Belcourt at Locks Gallery
On display at Locks Gallery is a selection of paintings by Louise Belcourt (b. 1961). The Canadian artist's works explore the intersections between the built and natural world with bold colors, radiant light, and dynamic perspectives, inspired by the outdoors, through February 4, 600 Washington Square South, Philadelphia. A reception with the artist will be held on Friday, January 20, 5:30 p.m., along with a walk-through discussion with Clint Jukkala, Dean of the School of Fine Arts at the Pennsylvania Academy of the Fine Arts (PAFA). Pictured: Cliff Flower #7, 2016, oil on canvas, 76 x 85 inches.
"Rural Modern: American Art Beyond the City" at Brandywine River Museum of Art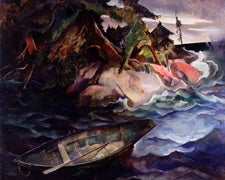 It's the last chance to visit Rural Modern: American Art Beyond the City, on display through January 22 at the Brandywine River Museum of Art, before it travels to Atlanta. The exhibit provides an innovative view of avant-garde art from the 1920s through the 1940s, exploring the surprising contribution of artists working outside major urban centers in the expansion and acceptance of modernist styles in the United States. The exhibit features more than 60 works by iconic artists like Andrew Wyeth, Charles Demuth, Georgia O'Keeffe, "Grandma" Moses, and more, drawn from renowned private and museum collections such as the Albright-Knox Art Gallery, the Hirshhorn Museum and Sculpture Garden, and Whitney Museum of American Art, 1 Hoffman's Mill Road, Chadds Ford, Pennsylvania. Pictured: N.C. Wyeth (1882-1945), The Drowning, 1936, Oil on Canvas, 42 x 48 1/8 in., Brandywine River Museum of Art, Bequest of Carolyn Wyeth, 96.1.40.
"Innovation and Abstraction" at Zimmerli Art Museum
Zimmerli Art Museum examines the formal innovations and burgeoning feminist consciousness of eight artists in the early 20th century with the exhibit Innovation and Abstraction: Women Artists and Atelier 17. The legendary printmaking studio Atelier 17 was relocated from Paris to New York at the start of World War II and provided a workspace for hundreds of artists, nearly half of whom were women. Artists featured include Louise Bourgeois, Minna Citron, Worden Day, Dorothy Dehner, Sue Fuller, Alice Trumbull Mason, Louise Nevelson, and Anne Ryan. Works have been lent by the Metropolitan Museum of Art, the Museum of Modern Art, the Whitney Museum of American Art, the Brooklyn Museum, Washburn Gallery, Susan Teller Gallery, Cheim & Read, and the Dorothy Dehner Foundation and had previously been exhibited at the Pollock-Krasner House and Study Center in East Hampton, New York. This exhibit offers eleven additional works, primarily drawn from the museum's own collection, through May 31, 71 Hamilton Street, New Brunswick, New Jersey. Also see Guerrilla (And Other) Girls: Art/Activism/Attitude, which spotlights women artists whose works shed light on gender inequality and inequity in the art world for the past 30 years. Pictured: Minna Citron, Men Seldom Make Passes, 1946, Color etching and aquatint, Collection Zimmerli Art Museum at Rutgers, Gift of the artist's estate, Photo Peter Jacobs.
"Jay Walker: Archetype" at Rowan University Art Gallery
Rowan University Art Gallery presents 2017 artist-in-residence Jay Walker: Archetype, an exhibit that explores the iconic clothed figure and how we see archetypes as manifestations of ourselves, January 23 through March 4. The Philadelphia-based multi-disciplinary street artist has exhibited around the region and utilizes colored tape and wood stencils to create bodiless clothed forms that have been "emptied" both literally and figuratively. The exhibit is accompanied by a short animated film that captures the artist's process, projected alongside the installation. A reception and gallery talk takes place on Thursday, February 2, 5:30 p.m. – 8 p.m., 301 High Street, Glassboro, New Jersey. Pictured: Theotokos21.
Music
High & Mighty Brass Band at World Café Live at the Queen
The High & Mighty Brass Band brings their blend of New Orleans Funk, R&B, Afro-Beat and Hip Hop to World Café Live in Wilmington, Thursday, January 19, 9 p.m. (doors open at 8 p.m.), Upstairs, 500 N. Market Street, Wilmington, Delaware. All ages. Photo by Michael Weintrob.
Dar Williams at the Tin Angel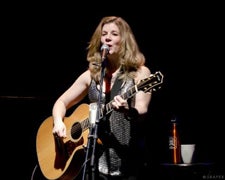 Acclaimed singer songwriter Dar Williams stops in Philadelphia at the Tin Angel on her Mortal City 20th Anniversary tour, Friday, January 20, 8 p.m. (doors open at 7:30 p.m.), 20 S. 2nd Street, Old City, Philadelphia. Photo by Howie Grapek/GPO.
Pat Metheny at the Keswick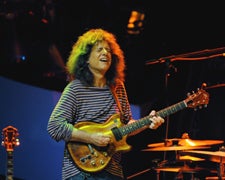 Grammy Award-winning jazz guitarist and virtuoso Pat Metheny stops in the Philadelphia area on his national tour, Saturday, January 21, 8 p.m., Keswick Theatre, 291 N. Keswick Avenue, Glenside, Pennsylvania. Photo by Mark Van Manen.
Sara and Her Sisters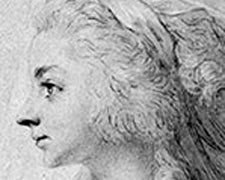 Tempesta di Mare Chamber Players pay tribute to female patrons of Baroque and Classical era with Sara and Her Sisters. Four German-Jewish siblings, Sara (pictured), Bella, Fanny, and Zippora Itzig, had a significant and lasting influence on music of the 18th and 19th centuries with direct and personal connections to many composers and musicians including members of the Bach family, a young Wolfgang Amadeus Mozart, and Felix Mendelssohn, who sparked the Bach Revival in the mid-19th century. Tempesta di Mare's Chamber Players' co-directors Gwyn Roberts (recorder and flute) and Richard Stone (lute) present music of those composers whose lives were touched by the Itzig sisters, including J.S. Bach, Quantz, Janitsch, Mozart, Wendt, and more, Saturday, January 21, 8 p.m., the National Museum of American Jewish History (with a pre-performance talk at 7 p.m.) and Sunday, January 22, 4 p.m., Presbyterian Church of Chestnut Hill (with a pre-performance talk at 3 p.m.), Philadelphia.
Each week, the Entertainment Guide spotlights interesting local arts offerings happening now, including music, dance, theater, museums, special exhibitions and other arts events from across the region.
To submit an event to be considered, email Robin Bloom at artscalendar@whyy.org.
WHYY is your source for fact-based, in-depth journalism and information. As a nonprofit organization, we rely on financial support from readers like you. Please give today.