Waterfront agency, advocacy group review projects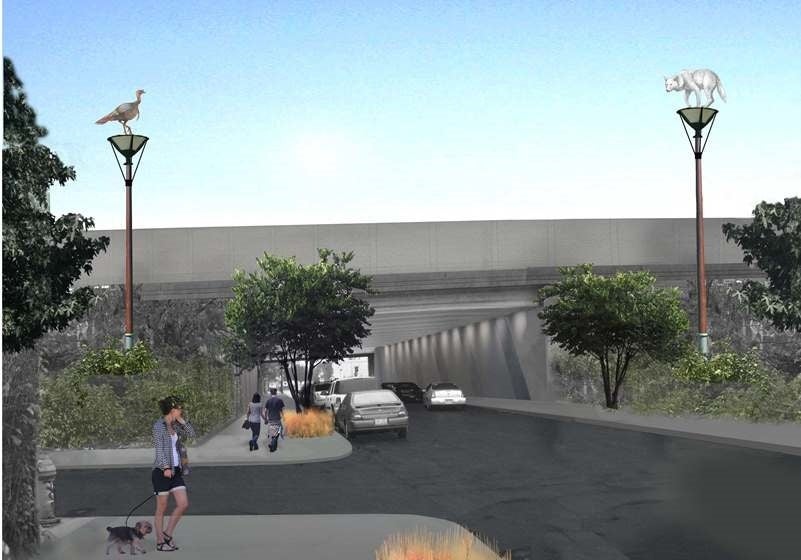 Both the Central Delaware Advocacy Group and the Delaware River Waterfront Corporation spent much of their first meetings of 2014 reviewing the status of on-going waterfront projects.
DRWC is the quasi-city agency that oversees the Central Delaware Master Plan and manages the public land on the Delaware River and work being done by private developers. CDAG is comprised of representatives of waterfront neighborhood civic groups and other organizations created to advocate for the Master Plan – which means they spend much of their time analyzing the work done by both DRWC and developers.
At its January meeting last Thursday, CDAG members sounded largely pleased with both. The group praised the DRWC's progress on parks and trails, and future projects that will also include private development.
CDAG members also made note of several private projects, including two townhouse developments – one group of 38 recently built on the 400 Block of Front Street in Rivers Edge by developer David Perlman and another soon-to-be-under construction community of 75 townhouses by US Construction at 735 S. Columbus Boulevard in Queen Village. They said both would help realize the city's goal of extending neighborhoods down to the waterfront.
"Sometimes, I think projects of that scale don't get the recognition they really deserve," CDAG Vice Chair Joe Schiavo, who lives in Old City, said of the Rivers Edge town homes. "It's very much in keeping with the intention of the master plan of bringing the scale of the Philadelphia neighborhood to the river."
That's not to say that CDAG didn't have some concerns.
Marsha Bacal, who represents Society Hill Towers, had earlier Thursday heard a presentation to the Design Advocacy Group on a huge master plan project – the redevelopment of Penn's Landing, including, among other things, capping part of I-95 to directly connect Society Hill to the riverfront. Bacal said Hargreaves' Mary Margaret Jones presented more details than were aired at the public meeting on the project held in October, and Bacal was concerned that the project would move ahead without additional public input.
The Penn's Landing project and Hargreaves study was a topic at Friday's DRWC meeting, as well. Planner and Project Manager Karen Thompson said Hargreaves is "entering into the final phase of their study" and is "looking to be substantially complete in February."
Thompson said there will be another public meeting, but just when is uncertain.
Board member and Deputy Mayor Alan Greenberger summed up why: "The only hesitation you're hearing is that we have to get the financial planning and the design planning to come to the same place at the same time," he told PlanPhilly.
"I think the real issue in front of us is going to be nailing down financing," Greenberger, who is on DRWC's planning committee and chairs the city planning commission, told the board. "We have to nail it down. We have to have a lot of conversations."
When asked last year about the logistics of a large park covering a major highway, PennDOT officials also said securing the financing that would be the hard part. See previous story here.
More project updates:
New place in an old space
DRWC Vice President Jodie Milkman said the first Winterfest at the Blue Cross Riverrink proved very popular. She noted a complete sell-out of all skating sessions on New Year's Day. While the holiday light shows are over, the skating season continues, she said. And the lighted landscaping, fire pits, and pop-up restaurant also will remain throughout the season.
Milkman said the experience really showed DRWC how "some landscaping, furniture and some programming can really transform a space. I mean, this space has been with us for 20 years, and it felt completely different this year."
"It sets the stage for the potential of what we can do with the Art Place grant in the summer around the marina," Milkman said.
Columbia Avenue Connector
Thompson noted that Studio Bryan Hanes did conceptual designs for portions of Columbia, Marlborough and Shackamaxon Street – streets that tie Fishtown to the river and which are also involved in PennDOT's I-95 project. The form liners beneath the overpasses, with Hanes' designs imprinted in the concrete, are "partially complete," she said. The streetscaping from the underpasses to Delaware Avenue are part of the GR3 phase, which PennDOT is just now starting, she said. Artist Donald Lipski has begun casting the bronze turtles that will hold up light posts between the bridge and the river, she said. See previous coverage here.
Spring Garden Connector
The design to enliven the I-95 underpass and nearby area at Spring Garden is "leaning toward finalization," Schiavo reported. See previous coverage here.
Pier 53
DRWC Planner and Project Manager Lizzie woods reported that the art commission recently gave final approval to the public art for the new park at what was Philadelphia's Ellis Island. See story. "We are still on track to open this summer."
Water taxis
Docks, gangways and other pieces are ready to go, said DRWC Vice President for Operations Joe Forkin. They will be installed "as soon as we have a little less ice on the river," so, probably in February or March.
FringeArts Headquarters
The theater portions of the project has already hosted performances. The restaurant is expected top open in spring or summer of this year. "They are negotiating with a Philadelphia-based restaurateur to manage the restaurant," CDAG's Schiavo said.
Penn Treaty Village
Schiavo and CDAG Chairman Matt Ruben, who is also president of the Northern Liberties Neighbors Association, both spoke of the ongoing Core Realty project, Penn Treaty Village. At Delaware and Brown streets, Core's Michael Samschick has opened one residential building and is working on a second, both fashioned from former storage facilities.
Further north between Frankford and Poplar, Samschick's intentions to build a multi-venue entertainment complex have been on hold. He received the zoning relief he needed from the ZBA for parking and restaurant and assembly uses, but near neighbors have appealed in court. First District Councilman Mark Squilla introduced legislation that eliminates the extra parking requirements, and restaurant and assembly restrictions, and city council passed the bill in December.
Core's property includes the jiggity joggity Canal Street. Ruben said NLNA's zoning committee has had extremely preliminary discussions with Samschick about his plans for that part of the project, but he expects the developer will be meeting with the zoning committee relatively soon. After the meeting, Ruben said he expects the development would include residential units and some commercial space as well. Samschick could not be reached for comment.
Pier 68
A design-build contract to transform Pier 68 into a recreational wetlands park anchored by small boat use and fishing was awarded to a team lead by Studio Bryan Hanes. See previous coverage here. "DRWC expects it will open in late summer 2014," Schiavo said. "That's really a fast track project."
Member Tammy Leigh DeMent, who represents the Pennsylvania Horticultural Society, said a public input session is expected to take place in late January or early February. PHS isn't leading this session, but has lead civic engagement on the Pier 53 park project.
Pier 9
DRWC completed a feasibility study of Pier 9 in 2013, focusing on how stable the pier is and the condition of the existing structure. See earlier coverage. "DRWC is now focusing on the market feasibility of re-purposing the existing structure. They are working toward finding a potential tenant or developer," Schiavo said.
Schiavo noted, as DRWC board members have in the past, that egress is perhaps the biggest issue. If the pier, which has a structure on it, is to be used for assembly, there needs to be a way to get people out of the structure and off of the pier in an emergency.
Southern Wetlands Park
DRWC has acquired Piers 64 and 70, but to complete the wetlands park as the master plan imagines it, "additional lands are required from the southern edge of Pier 63 to Pier 64," Schiavo said. "Negotiations are on-going, and they are going well, but they are not complete."
"That's an awful lot going on, and all of these are substantial projects," Schiavo said.
"It proves we were all right 9 years ago" when the waterfront planning process began, said CDAG Member and Rivers Edge representative John Scorsone. "We know what good planning and community involvement can do. The Delaware waterfront has come alive."
CDAG noted two exceptions to all the progress: Residential developments proposed by Ensemble Real Estate for Piers 34 and 35 South (see previous coverage) and 230 N. Columbus Ave. (previous coverage) received zoning approvals in 2012, but "no further progress is in evidence," Schiavo said.
WHYY is your source for fact-based, in-depth journalism and information. As a nonprofit organization, we rely on financial support from readers like you. Please give today.