'Waiting for Godot,' and finding first-rate talents (Quintessence Theatre Group)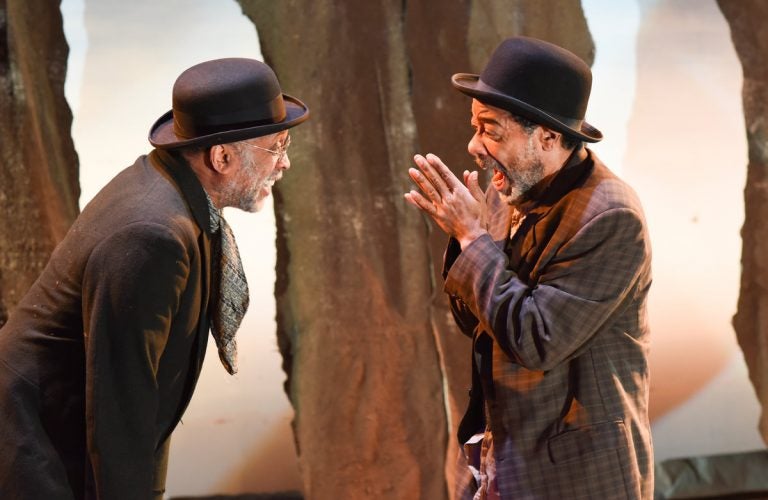 It's no surprise that the current Quintessence Theatre production of "Waiting for Godot" offers such a realistic picture of life's little cracks and deep fissures. It stars two veteran Philadelphia-based actors –Frank X and Johnnie Hobbs Jr. – who give Samuel Beckett's masterpiece a heaping dose of poignancy.
They also dish out its humor, especially in the second half of Ken Marini's staging of this absurd play that first appeared in Paris in 1953. In Beckett's day, his two main characters were called tramps or hobos. Today the play is less absurd, partly because its main characters are more visible in real life. They are the homeless.
They wait and wait for the useless Godot, for whatever reason. Will he come? Ever? That may seem like the play's big question, but the real question — answered in the warp and weave of a normal day — is: What do you do in the meantime?
For this, we have Beckett to give us some ideas and, in this case, Frank X and Johnnie Hobbs Jr. to demonstrate them. Vladimir – also called Didi – is played by Hobbs with a touch of desperation and a lot of determination. Even if Godot doesn't come, he'll clearly continue to wait. Estragon – also called Gogo – is portrayed with resignation and a sense of curiosity by Frank X, whose velvety voice serves the character well. As a team whose psyches are inextricable, they make for world-class pals.
Their isolation, and everything else about their plight, may seem all the more fragile because these two actors, in their bowler hats and grubby dress-up clothes designed by Jane Casanave, are black men. That didn't make a bit of difference to me. Beckett's play about two people who have nothing to do but amuse themselves while they constantly wait for some form of deliverance – what form, they don't know – may be one of theater's most diverse stories: It can fit any of us, identifying as any gender, sitting on SEPTA playing our video games, returning to our e-mail feeds hour after hour, repeating the same stories about ourselves and moving through the same routines.
"We wait 'til we can get up, then we go on," one of them says. For his part, Vladimir echoes: "We always find something — eh Didi? – to give us the impression we exist." Sometimes, something finds them, as in a servant boy (Lyam David-Kilker) who tells them his boss, Godot, will not appear today. Or the blustery character called Pozzo, who crosses their path and – if you believe him – owns the stark land where they spend their days. (Stark, for sure, on a set designed by James F. Pyne Jr.)
Pozzo's servant is the unfortunate Lucky, who answers every order Pozzo barks and must behave like a robot. (Watching the two of them this time around, I thought of the way we speak to Google's Alexa.) Pozzo is given a fine turn by Gregory Isaac and Lucky is a decrepit looking J. Hernandez, who rapidly delivers a vexing monologue when he's ordered to think. Beckett more or less orders us all to think, in his portrait of ennui that touches on God, love, connection and even hope. And this well-considered production gives us a wide opening to do it.
—
"Waiting for Godot," produced by Quintessence Theatre, runs through Feb. 18 at the Sedgwick Theater, 7137 Germantown Ave. (between Mount Airy Avenue and Durham Street). 215-987-4450 or qtgrep.org.