Vow to close bar where shooting claimed football star's life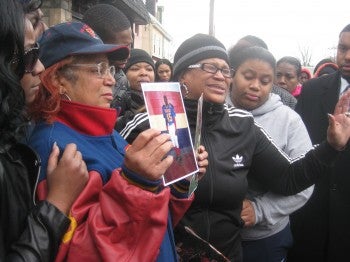 Early Saturday morning, Christopher Spence died. The 20-year-old former Frankford High School football player was shot once in the chest after a scuffle inside T&T bar at Margaret and Hawthorne streets.
His friends, family and former teammates gathered outside the bar this afternoon, which the owner has closed temporarily, to honor Spence and take action.
"They killed my boy," Spence's mother, Javese Phelps-Washington, sobbed over and over, standing at the corner outside the bar. Bundled in coats, hats and gloves, the crowd grew larger as more came to comfort Phelps-Washington. "Chris was a special kid, she moaned into the shoulder of her mother, Shirley Phelps-Pollard, who sported Spence's Frankford jacket. "Chris loved Frankford."
Though scheduled to appear, District Attorney Seth Williams and Mayor Michael Nutter were not at the hour-long event. Councilwoman Maria Quinones-Sanchez and colleague Jason Dawkins met with the family, and each spoke about the fight to keep something like this from happening again.
Spence, whose chest bore a "45" tattoo — his number from his high school days, died just two hours after he was shot after being transported from Aria Health-Frankford to Aria Health-Torresdale.
Phelps-Washington asked that the bar be shut down. Dawkins vowed to make that happen. The bar shut down twice in the last year, Dawkins said. Once for L&I violations like underage drinking and weapons possession. The last incident at the bar — a shooting outside — didn't warrant a shut-down because the shooting did not take place in the establishment.
Spence is likely to be the sacrificial lamb, as his mother referred to him during the press conference. His fatal shooting inside the bar could be the final nail in T&T's coffin.
WHYY is your source for fact-based, in-depth journalism and information. As a nonprofit organization, we rely on financial support from readers like you. Please give today.