Villanova basketball star has Delaware roots
Listen
1:19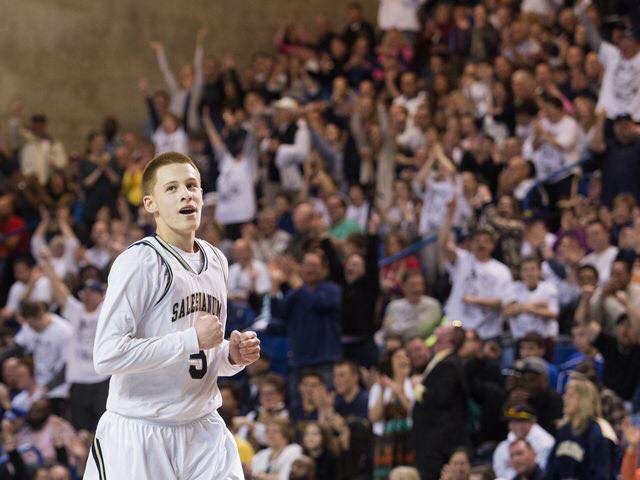 Donte DiVincenzo is now a household name after Villanova's convincing NCAA championship win Monday night. But Delawareans have long known who DiVincenzo is — and what he can do.
"A lot of us have seen that Donte before, and that's what was so exciting … Now we get to share him with the world," said the Rev. Chris Beretta, principal and assistant basketball coach at Salesianum School, the all-boys Catholic school in Wilmington DiVincenzo graduated from in 2015.
"We are just delighted that one of ours, one of our Salesian gentlemen, is doing something with his gifts and talents that made a lot of people happy last night," Beretta said. "That makes us just thrilled."
"It was awesome, but we had seen it before in terms of his incredible athleticism and ability," said head coach Brendan Haley. "It was just kind of our secret that got shared to the rest of the country last night, that this kid is just a special talent."
Under Haley, DiVincenzo led Sallies, as the school is affectionately called, in back-to-back state titles in 2014 and 2015. Basketball was the only sport in which the school had never won a championship before.
Haley spoke with some of DiVincenzo's former teammates after Villanova's commanding win Monday night.
"We were kind of all thinking the same thing, that he just had that same look in his eye, kind of like, 'You know what? I got this, and just give me the ball,'" said Haley, with a laugh. "I've always been proud of him and how he carries himself, that's the most important thing."
Because of his success, many at first expected DiVincenzo to be arrogant, including Villanova Coach Jay Wright.
Wright "assumed, which I think a lot of people do, that he is going to be this cocky kid because he's from Delaware, where he's the man – he's the big fish, small pond — so he's going to have to knock his ego down a little bit," Haley said. "And that really isn't him at all. Donte's a very grounded, solid kid."
"For as much swagger as he has on the court, off the court he's really not like that," Beretta said. "His confidence, his overt confidence, you see it on the court, but he's a little more reserved off of it. And just an all-around very, very nice kid."