University of Delaware's barrier-breaking provost cites opportunities, challenges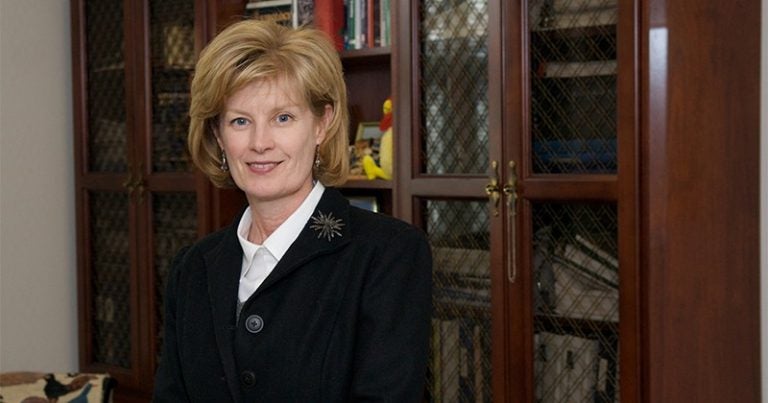 Robin Morgan is well aware she is making history as the first woman to become the permanent provost at the University of Delaware — the school's No. 2 post.
Morgan, who has her doctorate in biology, began her UD career 33 years ago. She has taught, been dean of the College of Agriculture and Natural Resources, chaired the Department of Biological Sciences and been interim provost since September.
After seeing women increase their footprint at the university, she realizes she represents all of them.
"I am grateful for this opportunity — but am also mindful of the many people who have supported women on this campus, including me, and of the women who have been in leadership roles on campus for many many years,'' she said Friday, the eve of UD's commencement exercises.
But Morgan stressed that she's more focused on enhancing UD's offerings for students and addressing the challenges at the school with enrollment at a record 22,000.
She talked about her delight in being able to help guide the development of the STAR technology campus on the site of a former Chrysler auto plant, which she likened to a "blank palette" where government, university, and businesses can collaborate with students to help move the state and country into the future.
She's leading the creation of a separate graduate college to better serve those 4,000 students and attract even more. And she wants to see more integration of disciplines, so students taking chemistry and biology, for example, can see how they correlate.
'A very long way to go'
But she's also cognizant of the school's challenges, such as renovating old buildings even as sparkling new ones like those at the STAR campus are under construction and a new athletic center is being planned.
She wants the school to create a climate where no student fears they will be sexually abused.
And she knows the school needs to increase the percentage of black undergrads; that number has gone up, but it stills stands at 5 percent in a state where 21 percent of the population is black.
"UD has worked very hard, and they've made great progress with the diversity of their student body, but there is a very long way to go. We know that,'' she said. "And diversifying our faculty, the same thing is true. Everyone benefits from that, and we need to work as hard as we can to make UD be a welcoming place for all people."
UD has never had a permanent female president, although Nancy Targett was interim president for 14 months until Dennis Assanis took over in September 2016.
Assanis, who announced Morgan's appointment this week, said that after a national search "yielded a number of first-rate candidates," she "emerged as a clear leader."
Morgan was appointed as interim provost in October after Domenico Grasso stepped down for what Assanis termed "personal reasons" in a letter to the university community.
"Over the last seven months, Robin has assembled an impressive record as interim provost," Assanis said in a news release. "Before working closely with her, I knew Robin as a highly respected educator and scholar, but after watching her in action, I am equally impressed with her abilities to lead, to inspire and to effect change.
"Her energy, integrity, analytical mind and innate knack for bringing people together, combined with her dedication and loyalty to UD, are great assets."