University of Delaware starts work on new athletic complex
Listen
1:10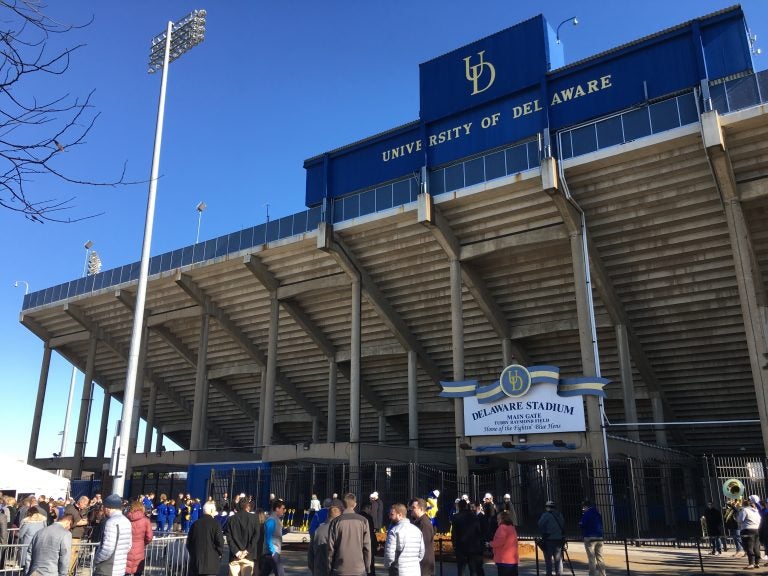 Football season is over for the University of Delaware Blue Hens, but the work is just beginning at their home as Delaware Stadium undergoes a major overhaul.
University leaders put shovels in the dirt outside the stadium in Newark, marking the start of a $60 million project to revamp Delaware Stadium and construct a new athletic complex
Built in 1952, UD's football stadium has hosted thousands of fans who cheered the team on to five national championships. The Blue Hens' last title was in 2003, but with improved facilities, UD President Dennis Assanis wants to get the Hens back to the top.
"This year we made playoffs, next year we'll go deep into the playoffs, and you've got one more year to win the championship," Assanis playfully told UD football coach Danny Rocco.
To support that effort, Assanis and other officials broke ground for a new athletic center. The new center will support athletes in all sports at UD with a 10,000 square foot strength and conditioning area, "hydro-therapy tubs," plus a student success center for tutoring and other academic support to help athletes maintain a focus on their studies.
UD athletic director Chrissy Rawak says the center will help draw student-athletes to Delaware. "All of this is for the students and the student-athletes. Every day we are relentlessly striving to be a national model for student-athlete success. A national model, not regional, a national model," Rawak told a crowd of athletes, students and alumni outside Delaware Stadium Monday morning.
The athletic center will be named after 1980 UD graduate Ken Whitney and his wife Elizabeth, who donated $10 million to help fund the construction. Ken Whitney said their donation is reflective of the important role college sports has played in his life over the years to build connections and friendships that have endured since he graduated nearly 40 years ago.
"You develop this common bond with your fellow students, with alumni, and most importantly you develop a lifelong commitment to the university, I know that's certainly true of us," Whitney said. He added that maybe the most important reason they donated the money was to support Assanis and his mission to raise the status of UD on the national stage.
Construction should be finished in time for the 2020 football season.