University City District measures five years of The Porch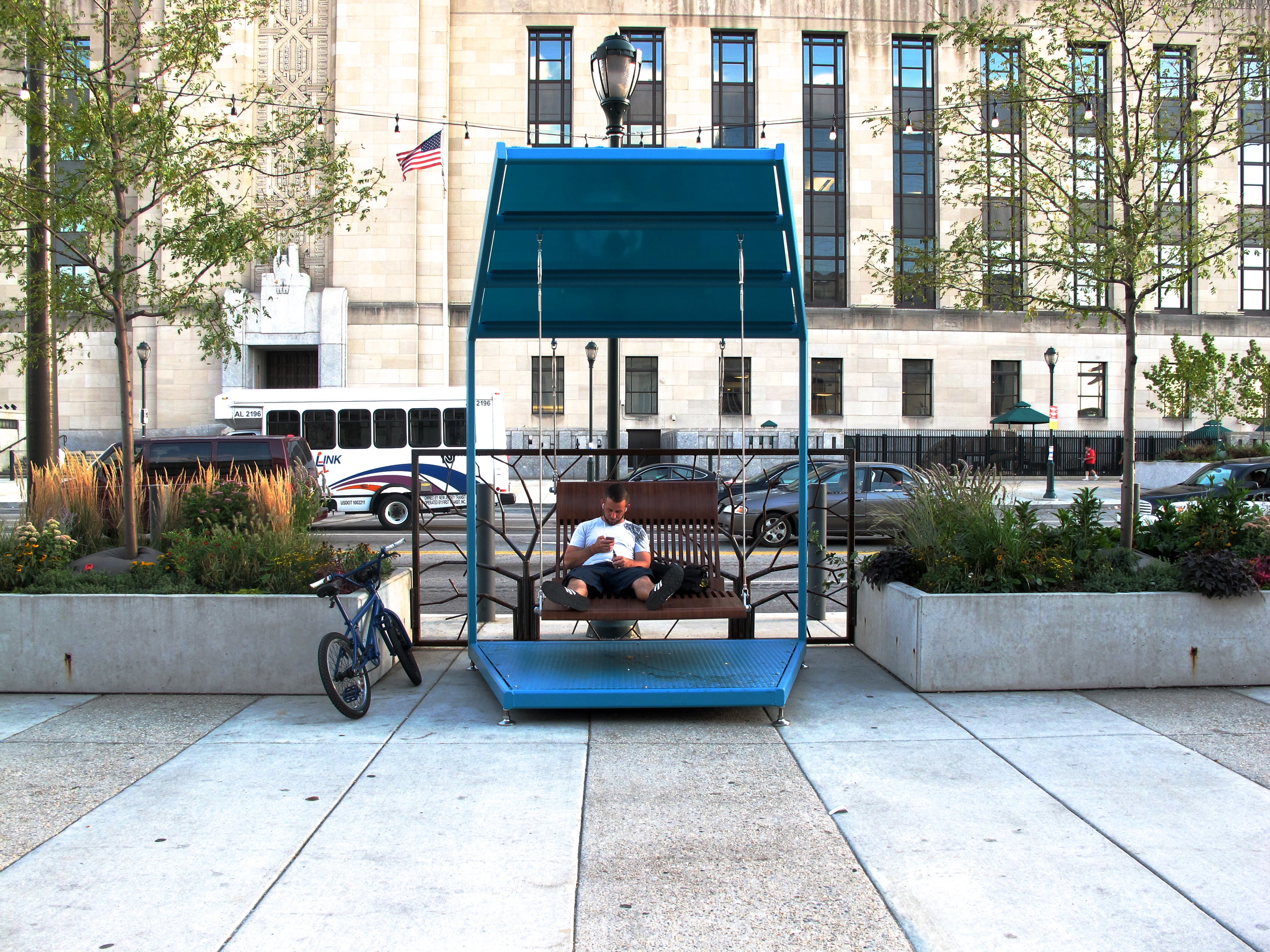 The University City District installed the Porch at 30th Street Station in 2011. Back then it seemed like a quixotic attempt to insert public space into a bleak, auto-dominated corner of Philadelphia. Five years later it's clear to all but the most jaded that The Porch is a success. Even when largely devoid of people, the 30,000 square foot stretch of park is undeniably better in every single way from the 33 parking spaces that previously occupied the space. The third busiest Amtrak Station deserved a better gateway and now we can all enjoy one. During The Porch's days of peak use, in the spring and autumn, every swing seats an occupant and every food truck enjoys a steady stream of customers.
The Porch first opened in November 2011, and after five years of public space experimentation and study, UCD offers "The Porch at 30th Street Station: 5 Years, 5 Lessons"
In November 2011, UCD presented the original barebones version of The Porch. At that time the moveable furniture stood out as the most innovative feature. Naysayers said it would be quickly stolen, but the planners felt it would make visitors feel at home. (Five years later their faith in Philadelphia proved justified.) Then came a series of experiments in programming and placemaking, including the addition of food trucks and porch swings of various sizes.
"What's really exciting to us we didn't know how this was going to go when we started it," says Alissa Weiss, Director of Strategic Initiatives and Communications for UCD. "Its power is showing how placemaking can really transform communities. It shows that other communities in Philadelphia and else elsewhere can do this too."
Beyond revisiting these basics, UCD also owns up to some of The Porch's programming failures. While naysayers were wrong to say people wouldn't want to hang out next to six lanes of traffic, it turns out there are some activities that aren't made for such a space. Farmers markets and yoga practices have not proved popular offerings next to the din and pollution generated by heavy automobile traffic (despite the vegetation screening users). And Michael Schulson's short-lived restaurant, which UCD offered last year, didn't experience the same success as the rotating food trucks—which have now been restored to their rightful place.
"The Porch has always been a place where we experiment with ideas to active the space, some of them work very well and others don't," says Andrew Stober, Vice President of Planning and Economic Development. "Could you drive traffic at The Porch by pairing one of the most successful restaurateurs with the food truck concept? It didn't work well because customers liked diversity. Even if your favorite restaurant is next to the office you don't eat there every day."
In the coming months The Porch will be expanding its food truck offerings, with breakfast trucks on Tuesdays, lunch trucks on Fridays, and a few other more specialized offerings.
It is worth remembering what a small amount of money–$375,000–went into the initial pilot to transform an auto-centric wasteland into a mini-pedestrian paradise. Further changes have been similarly cost effective while resulting in significant upticks in patronage. The 2015 renovations, which included the swings, a lot more plants, and the Schulson venture, brought a 33 percent increase in visitors from the previous year. Last year, 150,000 visitors spent time on The Porch, not to mention the many thousands more whose travel to 30th Street station was made more pleasant and less dangerous.
UCD's data does seem to confirm that The Porch's main visitor base consists of office workers. Daily visitation spikes between noon and 1:00, with the number of people who stop and enjoy the scenery dropping off dramatically during non-lunch hours. Similarly the months with the largest visitor numbers seem to be late spring and autumn, when the weather is just right and most people aren't on vacation.
The office worker-centric visitor base is easily explained by The Porch's geographic location. The eastern reaches of University City are beginning to sprout apartment and condo dwellings, but there simply aren't that many housing units in the area. There are, however, throngs of office workers and university employees close by.
The report also describes the birth of Green City Works, a landscaping business of UCD's that expands on the work of the West Philadelphia Skills Initiative (WPSI). These programs are representative of the ways in which the business improvement district and the institutions that support it—chiefly the University of Pennsylvania and Drexel University—have chosen to try and spread a bit of the wealth generated by the University City boom. WPSI is a pipeline to connect unemployed residents of West Philadelphia to job training and, hopefully, employment.
The job sites are, in many cases, in the eastern West Philadelphia-based institutions or with companies, like Green City Works, that serve them. (This allows for shorter, sometimes even walkable, commutes that can be a boon for workers whose other options are often in the suburbs or exurbs.) The beneficiaries have to be from one of five West Philadelphia zip codes, which are overwhelmingly black, working class, and disconnected from the growth of University and Center cities.
The Green City Works program sprouted from the voluminous amounts of foliage UCD is using to populate The Porch. The report says that the program offers "good wages and benefits, full-time positions and advancement opportunities," although exact numbers are not included. Stober says wages are about $13 an hour and rising, with the same benefits that UCD employees get, and year-round 40-hour workweeks (as opposed to the more irregular hours and cyclical layoffs that are normal in the landscaping industry). There are currently ten employees.
"We were spending a lot of money on outsourcing our landscaping," says Stober. "Green City Works is insourcing with the goal of using the revenue saved to reinvest in the workforce and employ un-and underemployed West Philadelphia residents, many of whom have been formerly incarcerated."
UCD told PlanPhilly it received 2,058 applicants for 120 West Philadelphia Skills Initiative spots in 2016.
The cranes bristling across the burgeoning skyline west of the Schuylkill are a testament to the enormous economic potential of the institutions that reign on this side of the river. The Porch is emblematic of how this new central business district tries to differentiate itself from staid and stuffy ideas of urban design in a commercial space. It's a successful public space, privately managed, in an age when that is often the best we can hope for.