UCD breaks ground on Portal Gardens at 40th Street trolley stop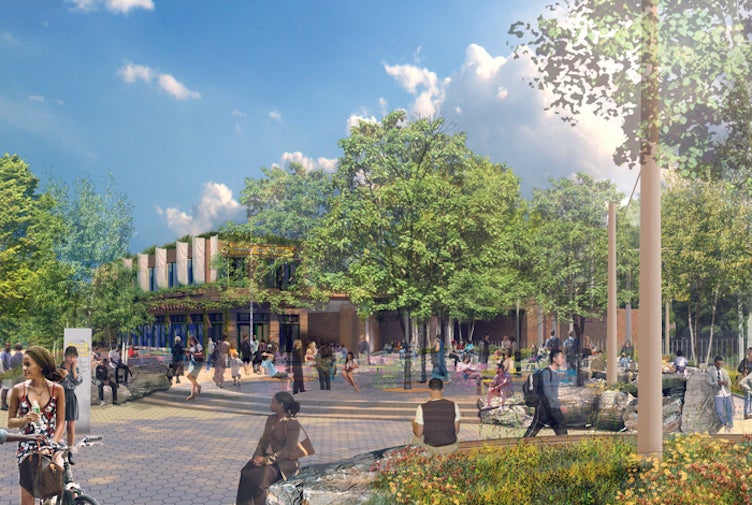 Soon, waiting for a trolley in University City won't seem so bad.
University City District (UCD), along with SEPTA, city officials, developers and neighborhood residents, broke ground on the Trolley Portal Gardens at 40th Street and Baltimore Avenue to great fanfare on Tuesday: In addition to the obligatory shot of elected officials sticking shiny shovels in some dirt, there were donuts, music, hot chocolate… even a Jolly Trolley made an appearance.
The project will transform the 40th Street trolley station's cold concrete landscape into a stormwater-collecting and butterfly-attracting garden space, replete with a new restaurant with movable outdoor seating and a liquor license. Construction will actually begin in the spring, and is set to wrap up by the end of summer 2017. By next autumn, the 5,000 commuters who get on and off trolleys every day will have a more inviting space to wait between trips.
"In so many ways, the trolley portal has been of, by, and for the community," said UCD President Matthew Bergheiser. "The impetus for this work came from the neighborhood—so many people dreamed this place could be better, a place to connect and linger rather than one to hurry through or avoid, that it could be a community asset rather than an eyesore."
Tuesday's groundbreaking was a long time coming. Planning to reimagine the space around SEPTA's portal began in 2012, and that was actually the second attempt to rethink the trolley station. Officials described the planning effort as a community-led collaboration between UCD, Spruce Hill Community Association and other neighborhood stakeholders.
The lengthy gestation period produced plans that addressed neighborhood concerns, said State Sen. Anthony Hardy Williams. Williams described the Portal Gardens as a "bridge" between new and old residents in the West Philly neighborhood, a place for neighbors to meet and get to know one another.
UCD hopes the Portal Gardens will become a model for other community groups to transform their own transit loops to create more inviting community spaces through placemaking.
Befittingly, the restaurant will be developer Ken Weinstein's third trolley car concept restaurant, joining the Trolley Car Cafe in East Falls and the Trolley Car Diner in Mt. Airy. Trolley Car Station will be a large, 200-seat restaurant with two floors, outdoor seating and a liquor license.
(Andropogon / Group G)

(Andropogon Associates/UCD)
The project is estimated to cost $4.5 million. UCD raised $2.1 million for the new landscaping and safety improvements around the trolley portal through contributions from community residents, the William Penn Foundation, Drumcliff Foundation, and PECO Green Region Open Space Program, along with both city and state funds. Weinstein and other investors will cover the costs of building and operating the new, 200-seat restaurant.
Andropogon Associates and Group G. are the project designers and Domus is the contractor.
A smiling crowd of around 50 stakeholders gathered for the groundbreaking Tuesday, listening in chilly patience through a half dozen congratulatory invocations. Mayor Jim Kenney kept his short and honest, "On January 4th, 2017, I'll [have been] Mayor for a year. This goes on a list of things I take credit for that I had nothing to do with. It's nice to cut ribbons when you didn't do anything."
As the elected officials, builders, and planners laughed and clapped through the speeches, other realities intruded on the celebration.
"I know, as you know, that I live in the best neighborhood in any city in the country," began State Rep. Jim Roebuck, as an ambulance's wails grew louder and louder, forcing him to yell. "West Philadelphia is a great place to live, raise your kids, to work."
As the ambulance raced down Woodland Avenue some in the crowd covered their ears to block out the piercing siren, a reminder of the city beyond this soon-to-be bucolic patch on Baltimore.
(Andropogon Associates/UCD)

(Andropogon Associates/UCD)
WHYY is your source for fact-based, in-depth journalism and information. As a nonprofit organization, we rely on financial support from readers like you. Please give today.