Two Wilmington boys found dead
Police are investigating the death of two young children at a home in Wilmington.
For several hours on Monday, investigators were on the scene at a home on the corner of 8th and Adams streets.
White blankets were hung outside the home as nearby residents gathered behind the barricade tape.
Wilmington Police say officers arrived at the scene after 8:30 a.m. and made contact the
mother of the children, who had called 911 and reported their deaths.  Officers found the children while searching the home.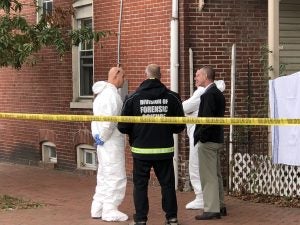 The mother is currently being interviewed, police say.
Neighbors said they didn't know the woman personally, but sometimes saw her walking to and from her home.
"It's sad, it's really sad, and I have a grandson and granddaughter, 9 and 6," said Bernadette Sturgis.
The fire department was also called out for concerns of a gas leak at the resident. Sturgis said she was told by police to get back in her home for safety.