Two Latina candidates aim to make history in Delaware Legislature
About one in 10 Delawareans is Latino; slightly more than half of that population of nearly 1 million is female.
Listen
1:46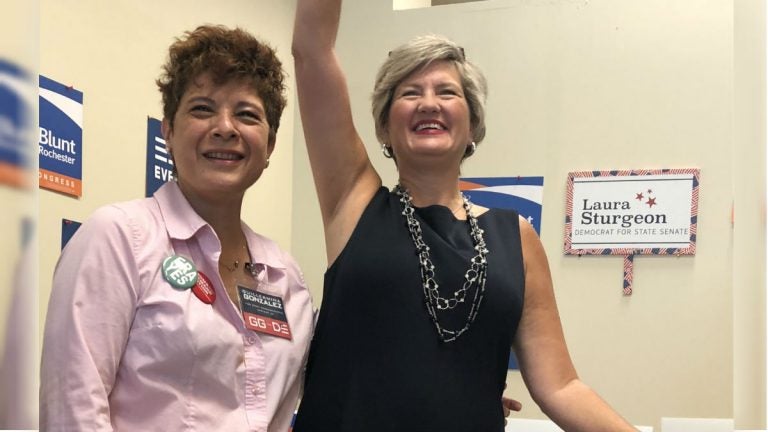 Guillermina Gonzalez recently introduced herself at a gun control rally in northern Delaware while stumping for votes.
"Hello, how are you doing?" she called out to a cheering audience. "Well, I'm here to reflect that I'm an immigrant Delawarean and an American by choice. I think that says a lot."
The native of Mexico is a veteran corporate and nonprofit executive. And she's fresh off a resounding victory in the Democratic primary for a vacant state House seat.
Also at the rally was another upstate candidate, Senate hopeful Laura Sturgeon. She's a high school Spanish teacher whose parents emigrated from Argentina to the United States.
Both are running for General Assembly seats in a state that has never had a Latino woman in the Legislature. There are two Latino men in Dover — Republican Rep. Joe Miro, who is not seeking re-election for the seat Gonzalez wants, and Republican Sen. Ernie Lopez.
About one in 10 Delawareans is Latino; slightly more than half of that population of nearly 1 million is female.
Gonzalez and Sturgeon, who are Democrats, stress that they are running on their qualifications and experience but realize they could break a barrier.
"I am fully cognizant that I will be the first Latina in the House of Representatives which is a nice thing," Gonzalez said. "It gives an outlet to the Latino community. So I appreciate the background that I have because clearly what I am is very much associated with my background, which I am profoundly proud of. It's not the reason why but it's the cherry on the cake."
Gonzalez is running in the 22nd House District seat in the Pike Creek area, where she faces another political newcomer, Mike Smith, for the vacant seat. Smith is director of strategic initiatives at the University of Delaware.
Sturgeon, who looks exactly like the white professional woman she is, says her candidacy could dispel preconceptions of Latinos.
"It helps people to learn that Latina is not a race, it's an ethnicity," Sturgeon said. "There are Latinos who are brown, who are black, who are white, and what bonds is we all speak Spanish. We all grew up in Spain or Latin America. We don't fit any stereotype because it's not a race."
Sturgeon is taking on Senate Minority Whip Greg Lavelle, a financial consultant who unseated a Democrat eight years ago for the 4th Senate District seat. Lavelle had been a member of the state House from 2000 to 2012, rising to House Minority Leader.
Although Republicans currently hold both seats, the Democrats have a slight registration edge in both districts. Unaffiliated voters, which comprise at least 25 percent of those registered in both districts, will likely decide both races.
Meghan Wallace, who runs a PAC that supports pro-choice Democratic women, says the seats are winnable for the Latina candidates.
"It's always a big deal when you can bring in a new perspective in an otherwise 80 percent male and mostly white, male legislature," said Wallace, founder of Mary Ann's List. "I think we all need to do what we can to bring diversity of experience to the General Assembly so the laws of our state reflect those experiences."
Gonzalez says it's essential that Legislative Hall has men and women from a wide variety of backgrounds.
"I want it to be a lot more inclusive. It seems that people tend to select the same kind of individuals," she said. "It is about bringing a diversity and a different point of view that might be helpful for the decision-making processes of our state."
WHYY is your source for fact-based, in-depth journalism and information. As a nonprofit organization, we rely on financial support from readers like you. Please give today.