As Trump speaks to electrical contractors in Center City, protesters take to the streets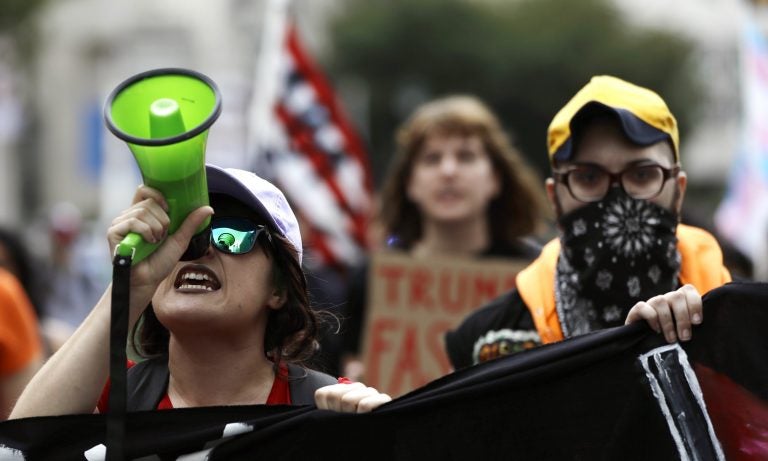 Updated: 4:30 p.m.
—
President Donald Trump is highlighting what he calls an "economic revival" while speaking in Center City Philadelphia at a convention of electrical contractors.
"The job you do is incredible," he told the crowd with The National Association of Electrical Contractors, later adding, "You have a friend and an ally in the White House."
The group criticized Trump's tariff on solar panels last year, but more recently the group joined in a commitment to developing  job training and apprenticeship programs. The association's political committee has contributed to Republican candidates, including U.S. Senate candidate Lou Barletta, an avid Trump supporter who was in the audience for the event at the Pennsylvania Convention Center.
Trump said Tuesday that the stock market has hit more than 100 record highs since he was sworn into office and that it will soon be announced that the country has created more than 640,000 manufacturing jobs since January.
"We're in the midst of a manufacturing renaissance," he said.
Trump was speaking to the National Electrical Contractors Association Convention a day after celebrating a new North American trade deal. Trump calls the agreement "USMCA," for U.S.-Mexico-Canada Agreement, saying he doesn't want to use the previous name, NAFTA that deal cost American jobs.
"Like YMCA or U.S. Marine Corps with an A at the end," he said.
Protesters in front of Penn Convention Center @WHYYNews pic.twitter.com/OVHtWlnqDN

— Jarrett Lyons (@preXistingQueer) October 2, 2018
Outside the convention center, roughly 150 demonstrators marched, chanted, and sat in the roadway, protesting a range of issues from Trump's immigration policies to his treatment of women.
Sarah Silverman, from philly, came to the protest because "We can look historically what happens when people sit and see what happens. Our current administration does not reflect the beautiful diversity that exists in this country." @WHYYNews pic.twitter.com/vDoIDwtWBE

— Taylor Allen (@TayImanAllen) October 2, 2018
Daisy Confoy, a temple student, skipped class to be a part of this because "some things are more important. We're here because our government doesn't look like us. It's extremely important to be involved right now. " (Taylor Allen/WHYY)

Sarah Mceneaney says she's disappointed with the current federal immigration policies. "I made a sign to encourage people to vote because that is what is going to make change ." (Taylor Allen/WHYY)

The police have blocked off the street at 12th and Arch (Taylor Allen/WHYY)

Anti-Trump protest by Refuse Fascism put a cage out with children's toys to symbolize the federal government's immigration policy that detained children (Taylor Allen/WHYY)

Beyonce's "Formation" blasting at a Trump protest on Broad and Arch. (Jarrett Lyons for WHYY)

Trump protesters shut down traffic at Broad and Arch streets (Jarrett Lyons for WHYY)