Trump speaks to electrical contractors in Philadelphia
President stays on message in a speech to the National Electrical Contractors Association.
Listen
1:02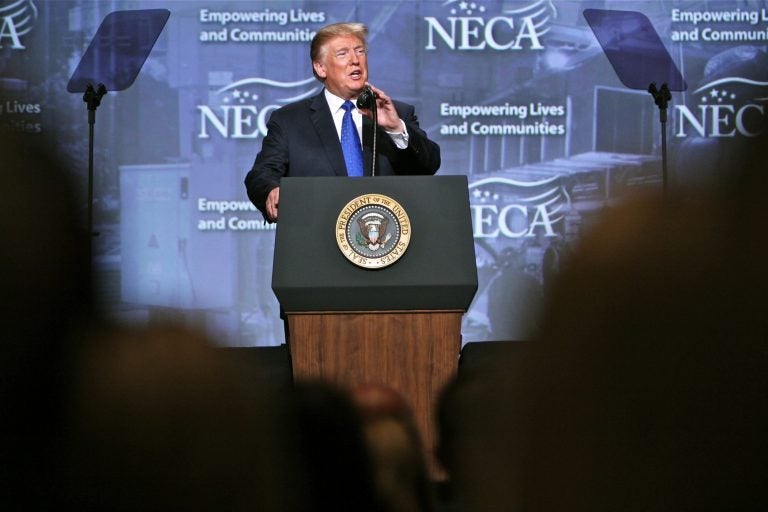 President Donald Trump gave a speech to an electrical contractors' convention in Philadelphia Tuesday, and he managed to do it without wading into the Brett Kavanaugh nomination or other controversies.
Trump touted his tax overhaul, the roaring stock market and falling unemployment rate — and he promised to put $1 billion into vocational education and craft apprenticeship programs.
John Long, president of the National Association of Electrical Contractors, said he invited Trump speak at the group's annual convention after they agreed over the summer to focus on job training.
"Right now, we have 40,000 apprenticeships in America and we want 75,000," Long said in an interview. "The president can help us with that by making it cool again to be an apprentice."
More specifically, Long said he wants more federal grants to support apprenticeship programs and cooperation from the Department of Labor in updating standards.
Trump said he believes in giving vocational education a more prominent role in American schools.
"I had people who went to school with me," Trump said, "and, in some cases, they weren't great students, but they could take apart an engine blindfolded and put it back together 15 different ways. They were so much more talented than the A student."
Trump praised the contractors and their employers, saying they're "making America greater."
"We honor grit. We honor craftsmanship," he said. "We honor the men and women who turn dreams into reality with their own two beautiful hands."
Most of the audience of about 3,000 cheered Trump enthusiastically — but not Jonathan Ostrow of Worcester, Massachusetts. He owns an electrical contracting business and is a regional leader of the association, though he emphasized he was speaking for himself.
"There are many Boston-area and central-Massachusetts contractors that were not comfortable at all with bringing a president in to address us who has such a racist and misogynist and anti-labor record," Ostrow said.
He said he was also troubled that the association had issued a statement in July calling for Kavanaugh's confirmation to the Supreme Court.
About 150 protesters demonstrated outside the convention center.
WHYY is your source for fact-based, in-depth journalism and information. As a nonprofit organization, we rely on financial support from readers like you. Please give today.