Trenton's restaurant revival is hidden to most outsiders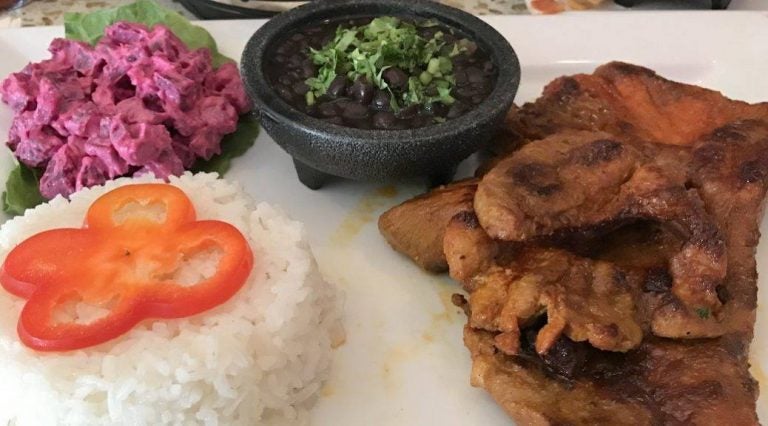 Trenton's emerging restaurant scene offers inexpensive Caribbean, Guatemalan, and soul food, succeeding the Italian restaurants that, a generation ago, drew diners to the Chambersburg area.
"After years of starts and stops, neglect and difficult times, there are significants signs of movement in Trenton," said Tom Gilmour, executive director of the Trenton Downtown Association, whose goal is to re-establish the city as "the place to be: to work, to live, to own a business, to raise a family, to go to school and, of course, to play."
And to eat. Visitors who come to Trenton for cultural events at the Passage Theatre, the War Memorial, the New Jersey State Museum, the Trenton City Museum and Artworks have a menu of new options before or after a show.
At Health is Wealth (242 East State Street), vegetarian and vegan options include fried tofu in coconut and palm oil, bean balls, vegan wraps, and stir-fried noodles with avocado and greens. Raw juices are promoted as having the ability to alleviate colds, headache, depression, hangovers, and varicose veins, among other ailments.
The Dapper Chef (254 North Clinton Avenue) offers Jamaican and American style food that proprietors say are compatible with diets for diabetes, high blood pressure and food allergies. The menu includes jerk and chicken curry, goat curry, stuffed snapper with callaloo and fried escovitch. Among the sides are fried plantains, yams, rice and beans, and stuffed fritters.
At Ila Mae's (313 Market Street), breakfast, lunch and dinner are available. Sandwiches can be had with fish, vegetarian, poultry or beef options, and dishes include an "Ethiopian Delight" with flounder and vegetables, "Nairobi" with salmon, and "Yeshua" with turkey sausage. Billing itself as Mercer County's premier soul food restaurant, Ila Mae's serves up fish and grits, Nubian wings, barbecued ribs, collards, black-eyed peas and, of course, mac and cheese.
At the Smoke House (11 West Front Street), where the slogan is "you can't beat our meat," a baker's dozen wings with a choice of sauces from Sriracha Bourbon and Reaper to Brown Sugar Harlem Shake and Parmesan Garlic can be had for $11.50. A collard green spring roll is $2, and pulled pork with fries costs $8.95, as does a vegetarian black bean burger.
Studio B Bakery and Bistro (439 South Broad Street) started with a crowdfunding campaign and has a New Orleans theme. The chef/owner, a Louisiana native, offers crawfish beignets for brunch, "Orleans Scramble" and "Madame Croque'd" with grilled andouille. There's also a Munchkin Menu with smores and Peter Pans (three mini pancakes). Vegan and gluten-free options are available.
La Cabana Bakeshop and Restaurant (3 Dayton Street) offers cuisine from Costa Rica for breakfast, lunch and dinner, and is also a coffee shop. You can start the day with huevos rancheros, and for lunch or dinner enjoy the authentic Costa Rican Casado Platter, with your choice of chicken, steak, pork or fish alongside black beans, fried egg, sweet plaintain, avocado, rice and salad — all for $11.55.
Casa de Luna (800 Chestnut Avenue) is Trenton's only Venezuelan restaurant. You can get an arepa, like a thick tortilla with a variety of fillings. At Tikal (501 Morris Avenue), named for the ancient Mayan city, chefs hail from Guatemala, Costa Rica and the Dominican Republic. And Settimo Cielo (17 East Front Street), though now closed on weekends, is considered the city's best spot for Northern Italian cuisine.
"More than $65 million leaves Trenton to be spent outside of the city," said Eric Maywar, a used bookstore owner who started the Trenton Eat Local Club more than five years ago. "This is at least partly because people don't know some of the great spots in Trenton."
The Trenton Eat Local Facebook page has more than 2,000 followers, and on average, 15 to 20 show up for the monthly dinners. On Feb. 15, the group will meet at Health is Wealth.
Each year, the club names its favorite restaurant, and the pick for 2017 was Sabor Latino Bar & Restaurant (293 Ashmore Avenue). The Caribbean menu includes empanadas, tostones, maduros, ceviches, Cuban sandwiches, Dominican sausage, and seafood soup.
Trenton Eat Local's favorite new restaurant for 2017 was The Big Easy (111 South Warren Street), and Blue Danube (538 Adeline Street), a runner up, has been serving Eastern European classics such as wiener schnitzel, Hungarian been goulash, stuffed cabbage, sauerbraten, and paprikash since 1990.
If so many options lead to confusion, the Trenton City Museum is offering an event to help diners sample the diversity of flavors. On the evening of Feb. 17, Adrian Miller, author of Soul Food: The Surprising Story of an American Cuisine, One Plate at a Time, will present a talk on the history of soul food for A Taste of Trenton Soul at First Presbyterian Church (120 East State Street). The evening includes a smorgasbord from Trenton restaurants: 1911 Smokehouse, Thomasina's, Ila Mae's, Studio B Bistro, Big Easy, Seafood Delight, and Health Is Wealth, with desserts from Bonnye Randolph of BJ's Sweets n Eats and Terry Jones of Dijaeatyet? Tickets are $75 each and include beverages, wine, and signature cocktails.
Not only are new restaurants popping up to lure visitors to the city, but after holding the distinction of being one of only four state capitols without a Starbucks, Trenton welcomed its own to Warren and East Front streets at the end of last year. Locals remain loyal to Trenton Coffee House and Roasters (750 Cass Street). In true Trenton fashion, the microroaster uses a mobile coffee cart to roast its beans. In addition to supplying local restaurants with small batch roasted coffee, the mobile café, equipped with a manual espresso machine and milk frother, serves coffee in unexpected locations throughout the city.