Town joins in celebrating story firing up Phoenixville's resurgence
Revelers dance dressed in folklore costumes in front of the burning phoenix at the 14th Annual Firebird Festival in Phoenixville. (Emily Cohen for WHYY)

Volunteers make some last minute adjustments for the big bird burn later in the evening at the 14th Annual Firebird Festival in Phoenixville, Pennsylvania. (Emily Cohen for WHYY)

About a thousand spectators gather in the snow to watch the 30-foot-tall wooden phoenix set ablaze at the 14th Annual Firebird Festival in Phoenixville. (Emily Cohen for WHYY)

About a thousand spectators gather to watch the 30-foot-tall wooden phoenix set ablaze at the 14th Annual Firebird Festival in Phoenixville. (Emily Cohen for WHYY)

A fire spinner performs atop the wooden phoenix at the 14th Annual Firebird Festival in Phoenixville. (Emily Cohen for WHYY)

A girl and her father share a laugh after a visit with Santa at the 14th Annual Firebird Festival in Phoenixville, Pennsylvania. (Emily Cohen for WHYY)

Revelers visit the street festival of the very snowy 14th Annual Firebird Festival in Phoenixville, Pennsylvania. (Emily Cohen for WHYY)

The crowds watch in awe as they watch the phoenix catch fire at the 14th Annual Firebird Festival in Phoenixville, PA December 9th 2017. (Emily Cohen for WHYY)

The phoenix catches fire at the 14th Annual Firebird Festival in Phoenixville, Pennsylvania. (Emily Cohen for WHYY)

Spectators check out this year's phoenix before it's set ablaze at the 14th Annual Firebird Festival in Phoenixville. (Emily Cohen for WHYY)

Families purchase souvenirs to support the annual Firebird Festival in Phoenixville. (Emily Cohen for WHYY)

Scarlet Rogers, 6, dances as a phoenix/butterfly as the wooden phoenix burns behind her. (Emily Cohen for WHYY)

Revelers dance and drum dressed in folklore costumes as they watch the phoenix burning at the 14th Annual Firebird Festival in Phoenixville. (Emily Cohen for WHYY)

Spectators are entertained by fire spinners while waiting to watch the 30-foot-tall wooden phoenix set ablaze at the 14th Annual Firebird Festival in Phoenixville. (Emily Cohen for WHYY)

Firefighters keep a close eye on the phoenix as it burns at the 14th Annual Firebird Festival in Phoenixville. (Emily Cohen for WHYY)

Violeta Comanuic tries to stay warm as she sells her knit goods at the 14th Annual Firebird Festival in Phoenixville, Pennsylvania. (Emily Cohen for WHYY)

The Assorted Lunatics perform as the crowds gather for the lighting of the phoenix at the 14th Annual Firebird Festival in Phoenixville. (Emily Cohen for WHYY)

Michael Carlin (left) takes a photo of his wife, Angela Disanto, as she flies around as a phoenix at the very snowy 14th Annual Firebird Festival in Phoenixville. (Emily Cohen for WHYY)

A family watches as Chris Tamburro spins fire on Bridge Street at the 14th Annual Firebird Festival in Phoenixville. (Emily Cohen for WHYY)

Crowds watch in awe as the phoenix catches fire at the 14th Annual Firebird Festival in Phoenixville.(Emily Cohen for WHYY)

A couple gets some funnel cake before the grand finale at the 14th Annual Firebird Festival in Phoenixville. (Emily Cohen for WHYY)
Phoenixville was once a thriving manufacturing center, but when the steel industry left the city, it took with it much of the town's hustle and bustle.
Then, 14 years ago, a group of people decided to embrace the lore behind their town's namesake — the phoenix — and used the story to encourage its revitalization and rebirth.
The mythological Phoenix rises from the ashes, born anew. Bridge Street in downtown Phoenixville offers a vision of that rebirth, with its breweries, restaurants, galleries, and theater.
Businesses were joined by vendors on a cordoned-off block for a very snowy 14th Annual Firebird Festival on Saturday. Beginning in the late afternoon, music and magic and fire spinners entertained hundreds of spectators who bundled up and made it out to the festival's daytime activities in the Chester County town.
The true draw of the festival, though, is the 30-foot wooden phoenix that burns as the grand finale.
Built over the course of 13 weekends with the help of more than 200 volunteers, the wooden bird stood covered in snow as a thousand or so hardy souls filled the Phoenixville city park.
While the organizers made the final preparations for the blaze, revelers took their time visiting vendors offering everything from snacks and hot cocoa to merchandise from the festival to opportunities to learn about how to get clean energy to power your home.
Music from The Assorted Lunatics, a Pink Floyd cover band, played as fire spinners performed around the wooden bird. The music quieted as a drum procession and parade made their way through the crowd.
Drummers and dancers dressed as phoenixes began the ceremony centered around the rebirth of the phoenix, encircling the sculpture as the torches were lit and readied.
Three locals are given the honor each year of setting the phoenix ablaze. One of them, Phoenixville Mayor-elect Peter Urscheler, literally and figuratively received the torch from current Phoenixville Mayor Michael Speck.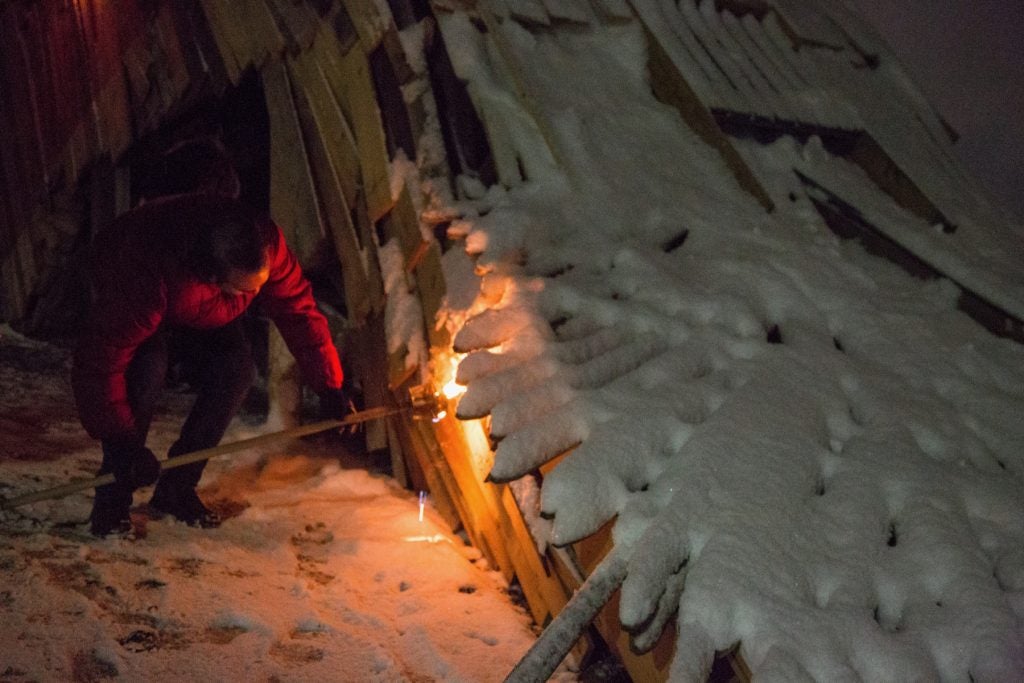 The honorees lit the bird in different spots as the crowd chanted, "Light that bird! Light that bird!"
It took a few minutes, but not even the layer of snow could stop the phoenix from rising in flame. Revelers danced, beat their drums, and looked on as the flames lit the sky.
As the wooden bird became an enormous bonfire, the crowd began to thin out. The music resumed, and festival-goers went back to the vendors as the fire loomed in the background.