Toward a safe and thriving city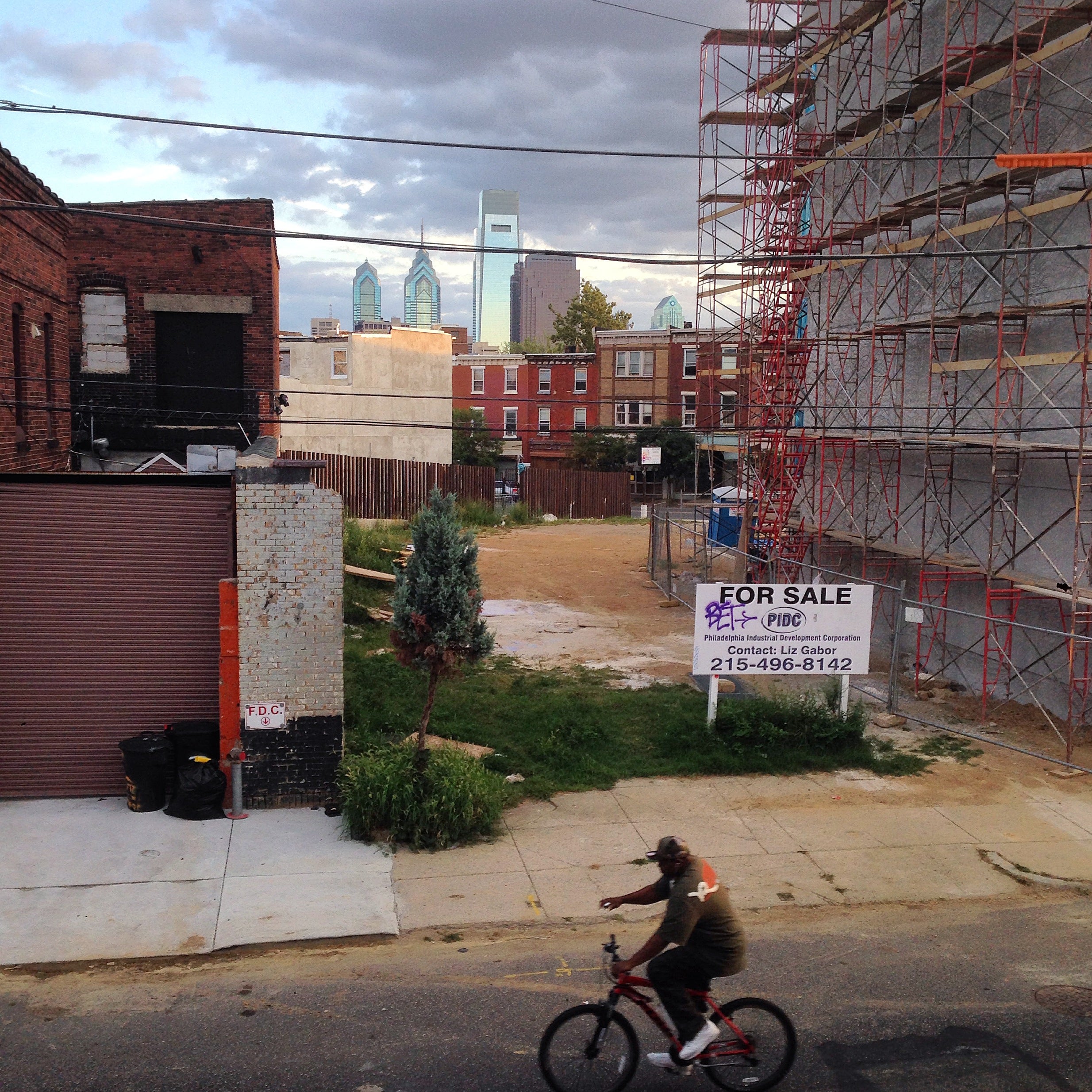 The next mayoral administration will inherit a revamped and strengthened planning and development environment, but architect and Design Advocacy Group Chair Kiki Bolender argues the work is only half done. In this op-ed she argues a clear and efficient development process with strong oversight requires vigilence, transparency, and a firewall betweeen politics and permission.
Mayoral candidates have made scarce mention of the Nutter administration's successes in planning and development. But under Nutter the Planning Commission became more empowered, a new zoning code was developed and implemented, and citywide planning took off. Planning for a healthy, thriving city requires a long-term vision and clarity of purpose.
A high-functioning government is essential when it comes to supporting development, drawing new investment, strengthening neighborhoods, and ensuring our buildings and construction sites are safe. Philadelphia still has room to improve its development processes, inter-agency coordination and oversight.
The Design Advocacy Group aims to be an independent and informed public voice for design quality in the architecture and physical planning of the Philadelphia region.
DAG has released an agenda for design and planning in Philadelphia. You can read it in full here [pdf].
Whatever may have been admirable in the Rendell and Street administrations, the development attitude was "Let's Make a Deal" and planning took a back seat. By contrast the last eight years have found the Planning Commission productive and respected, if terribly under funded. For the next four years, with a new Mayor and (sort of) a new City Council, it will benefit all of us to keep the Planning Commission strong and agile.
While Planning grew more robust under Nutter, we remain bedeviled by building and construction safety concerns. Six killed and fourteen injured on Market Street, on what should have been a peaceful morning of shopping. Two firefighters killed protecting the neighborhood, in a former hosiery factory neglected by its distant owners. No one hurt, but many put at risk, at a yoga gear store when a piece of the adjacent building came crashing through the roof. In the next four years, we have to do better.
Philadelphia's development processes and building safety oversight need to be reformed. But reform proposals have been stymied by mixing up these two very different functions of city government. One is to tend to the well being of the city. The other is to protect the wellbeing of people in buildings.
SAFEGUARDING THE CHARACTER OF OUR CITY AND KEEPING IT STRONG
What Philadelphia looks like and what it feels like to live here are shaped by Planning Commission, Art Commission, Historical Commission, Zoning Department, and Zoning Board of Adjustment, which review development proposals to determine the effect on the character and public spaces of the city. Approvals are also needed from the Streets Department, Philadelphia Water, PECO, and PGW, among others. These agencies all need to be independent of political influence and moneyed interests. City government has a legitimate interest in coordinating these agencies to foster good development and increase the tax base. But there is no excuse for heavy-handed steerage by any public official. If a District Councilperson can make a good case for a development in her area of the city, Council should follow that lead, but ONLY if she demonstrates benefit for the city as a whole.
SAFEGUARDING LIVES IN AND AROUND OUR BUILDINGS
Even greater independence and professionalism are needed for the Department of Licenses and Inspections (L+I), which reviews plans to see if a proposed building complies with building and fire codes, and Streets and Water Departments. Can people exit the building safely in an emergency? Will it be structurally sound? Will occupants have adequate light and good air quality? Will they be safe on the street next to the building? If we are to be safe in and around our buildings, every single application – large or small – that poses those questions must be reviewed correctly and completely, and this requires good technical staff, good leadership and good organization.
Sometimes there are technical judgments to be made by the Board of Building Standards, especially in the renovation of existing buildings, but there is never an instance where an elected or appointed high official should influence those decisions. The design community and the press will be watching for anything that even faintly appears as such.
WHAT'S NEXT?
Protecting the character of our city and protecting lives must remain utterly separate processes if we are to have a safe and thriving city. Voters should expect that by the end of this year, the new Mayor's transition team will be working closely with City Council to design changes to the system that will place a firewall between those processes. Calling on local leaders with deep knowledge of this city, and outside experts from other comparable cities, they can create procedures that tailored to Philadelphia's needs and what it can afford.

Other cities have thought through and offered solutions to the same issues. Seattle, for example, offers a model of user-friendly process. There the Mayor issued an executive order demanding that approving agencies coordinate with one another to rationalize and speed up the permit process. The final step in the development process is to make an appointment to apply for a building permit. It's a streamlined and coordinated process that also ensures good separation of development and building safety.
The structure currently proposed in City Council Resolution 140732 has merit and is a good starting point. It proposes a Director of Planning and Development and Deputy Directors for Zoning / Planning and Housing / Community Development. A third Deputy would help permit applicants navigate the system but would not be in a position to influence L+I technical reviews, or the granting of demolition and building permits, or Streets or Water Department approvals.
Even if the proposal has merit, it should not be enshrined in a charter change before further study. That would be a terrible loss of the opportunity to incorporate knowledge of staff and commissioners who know the roadblocks to development and safety first hand. To be credible with the public, this kind of resolution would need to be accompanied by one making substantive organizational improvements to L+I, to establish that firewall between development services and public safety.
Without real interest and support from the public, staff, and commissioners, government involvement in planning, development, and safety could easily slip back into old style transactional processes that benefit the few. Instead of inspiring everyone to work vigorously and cooperatively, it would give them an excuse for the same old collective Philadelphia shrug. It's his fault. My way was better. Whatever.