Three of six Philadelphia casino applicants want to build near stadiums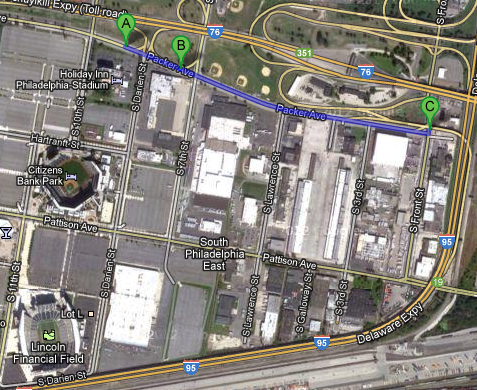 There are now three proposals to build casinos in Lower South Philadelphia, near the sports stadiums. And a proposal to operate one at 15th and Race streets, near the Pennsylvania Convention Center, has disappeared.
Six applicants for Philadelphia's second Category 2 casino license met Thursday's close-of-business deadline to file with the state. Five are identical to those which filed local impact statements with the City of Philadelphia last week.
The Convention Center Casino proposal by North Broad Street Partners is not on the list. But PHL Local Gaming, LLC wants to build Casino Revolution at 3333 South Front St., which is near the intersection of Front Street and Packer Avenue, east of the sports arenas and near I-95 and the Schuylkill Expressway.
The principal of PHL Local Gaming is Joseph G. Procacci of Procacci Brothers wholesale produce distributors, and the 3333 South Front St. address given to the gaming board is the same address as the produce business.
The other Lower South Philadelphia proposals are on Packer Avenue: Stadium Casino, LLC hopes to build Live! Hotel and Casino at 900 Packer Ave. and PA Gaming Ventures, LLC hopes to build Hollywood Casino Philadelphia at 700 Packer Ave.
Stadium Casino is a partnership between the owners of Parx Casino in Bensalem and Maryland Live! Casino complex in Hanover, Md. Their site is currently a Holiday Inn near the Xfinity Live complex. Casino placement in that area takes a bit of measuring – much of the Xfinity complex is too close to Harrah's in Chester. State gaming law says no casino can be within 10 miles of a racino. (The 10-mile rule doesn't apply to SugarHouse, since there's no racing there.)
Hollywood Casino's notification to the city listed the applicant as Penn National Gaming, Inc.. According to their website, Penn National has more than 20 casinos and horse racing facilities in the United States and Canada. This includes Hollywood Casino at Penn National Race Course in Grantville, Dauphin County PA, and the Freehold Raceway in Freehold, NJ., and numerous off-track betting facilities.
The other three applicants:
Bart Blatstein's Tower Entertainment, LLC, which hopes to build The Provence casino complex around the former Inquirer building at 400 N. Broad St. Blatstein is the local developer behind The Piazza at Schmidts in Northern Liberties and many other local and regional developments. Learn more about Tower at this website.
Market East Associates, which hopes to build Casino Philadelphia at 8th and Market Street on a parking lot once the site of a Disney theme park proposal; and Steve Wynn's Wynn PA, Inc., which hopes to build Wynn Philadelphia at 2001 Beach Street and 2001 through 2005 Richmond Street in Fishtown on property owned by Jim Anderson.
The names of the applicants and their locations are the only information the Pennsylvania Gaming Control Board released today, but the applications are quite extensive. PGCB spokesman Doug Harbach said the "ownership structure" of all the proposals will not be available for a week or more, when the PGCB has further reviewed the applications.
"The full public application will be posted online, but that likely will not occur until after the Bureau of Licensing verifies all information and collects any additional information needed," Harbach said. That likely won't be until sometime early in 2013, he said.
The race for Philadelphia's remaining casino license is definitely going to be a marathon. Philadelphia Deputy Mayor Alan Greenberger has estimated it will be at least 18 months before the state awards a license and the city process that could result in a zoning change to allow casinos on that site will be completed.
Both processes will involve public hearings, which are very likely to be jam-packed, contentious affairs.
The six applicants are all vying for the license that had been awarded to Foxwoods Casino. Both Foxwoods and SugarHouse, which is now open in Fishtown, faced a good deal of community opposition. The proposed Foxwoods site, at Columbus and Reed, was also unloved by the city, mainly for traffic concerns.
The PGCB yanked Foxwoods' license, in short, for lack of progress, which the legal team blamed partly on the city and partly on community opposition. Casino Free Philadelphia has already pledged to fight casinos at any of these locations.
Reach the reporter at kgates@planphilly.com.