Three reasons why walkability is essential to Philadelphia's future
In this week's Agenda 2015 op-ed University City District's Daniel Wolf argues that Philly deserves a more walkable future. To get there the Better Mobility Platform calls on the city to adopt a Vision Zero policy and invest in pro-pedestrian infrastructure to make streets safer and more livelier. Wolf explains the stakes:
Just this month a pedestrian was killed in a hit-and-run in Northern Liberties and another was pinned between two cars after a crash on North Broad Street. Pedestrian fatalities and injuries are alarmingly common in Philadelphia: in 2013, 1,792 pedestrians were injured from traffic crashes, and 37 were killed.
If we want a city in which we can feel safe and comfortable walking around our neighborhoods, to school, or to access public transportation, we have to accept that traffic fatalities are not inevitable – as asserted by Vision Zero, which was recently endorsed by all mayoral candidates – and work to make our streets safer for everyone.
Street safety is also just one component of walkability. Here's why that matters:
WALKABILITY HELPS EVERYONE
Philadelphia's most disadvantaged would benefit most from making walking safer and more convenient. In the Philadelphia area, neighborhoods with poverty rates higher than the national average have about 30% more pedestrian deaths per capita. The costs of car ownership also place the highest financial burden on the poor; in Philadelphia, it costs an average of $5,181 per car annually to own a car (not including fuel, maintenance, and repair costs).
In Walkable City, Jeff Speck writes: "With rare exceptions, every transit trip begins and ends with a walk." While only 9% of Philadelphia residents get to work primarily by walking, another 26% take public transportation to work; thus, 35% depend on walking. It should also be noted that commuting only accounts for about 16% of all trips in the US, and walking tends to be more prevalent in non-commuting trips.
Philadelphians with lower incomes are even more likely to walk or use public transportation and less likely to drive alone (see Figure 1). For instance, 47% in the lowest earnings category walk or take public transportation to work, and 41% in the lowest three earnings categories (making less than $25,000 a year) do so.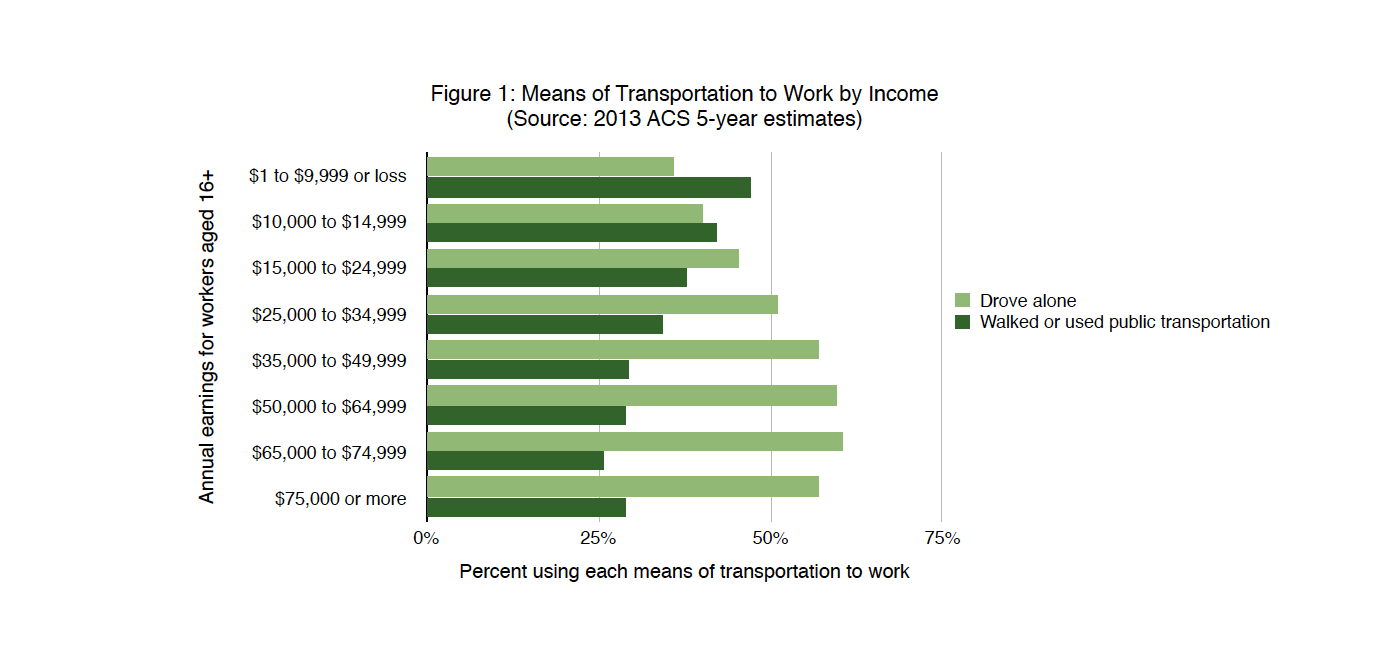 PEDESTRIANS ARE PHILADELPHIA'S MOST VULNERABLE STREET USERS
Pedestrians are the most likely of all street users to die from a traffic collision. In 2013, 4 of every 10 traffic deaths in Philadelphia were pedestrians – a total of 37 that year, up from 32 in 2009.
Furthermore, the likelihood of a pedestrian fatality depends on vehicle speeds. For instance, if a vehicle moving at 40 MPH hits a pedestrian, the pedestrian has an 85% chance of dying (or even higher for children and the elderly). If the speed were reduced to 30 mph, the fatality rate drops to 45%; and at 20 mph, the rate is just 5% (see Figure 2). Through implementing traffic calming measures, targeted to the most dangerous locations in the city for pedestrians, we can significantly improve pedestrian safety. For instance, University City District (UCD) has been experimenting with low-cost measures to increase the safety and comfort of key pedestrian corridors. Baltimore Crossing is a prime example: the five-way intersection of 48th St. and Baltimore Ave. had been a perilous and expansive intersection for pedestrians, where a frequent threat of colliding with cars loomed. In partnership with the city, UCD installed large painted bump-outs at three corners and added a new crosswalk, which cut pedestrian crossing distances roughly in half and made the intersection much less intimidating.
Incidentally, the Planning Commission's 2012 Pedestrian and Bicycle Plan identifies both sections of Delaware Avenue and North Broad Street, where each of the recent pedestrian crashes occurred, as 2 of 48 "pedestrian network focus areas." In these two locations, issues such as speeding, frequent running of red lights, low rates of cars yielding to pedestrians in the crosswalk, and narrow sidewalks warrant pedestrian safety improvements.
WALKABILITY WILL IMPROVE PHILADELPHIA'S ECONOMY AND OUR QUALITY OF LIFE
Walkability can boost neighborhood commercial corridors. A 2014 paper on the "economic value of walkability" presents a few reasons: "Walkable shopping areas are often economically successful, improved walkability tends to increase commercial and residential land values, many want to live within walking distances of commercial services, and…current market trends are likely to increase demand for walkable shopping districts." And "walkability" isn't limited to just having a wide enough sidewalk; if a sidewalk feels more social, it will encourage more people to walk and patronize businesses. In University City, businesses adjacent to parklets reported an average of 20% increase in sales after they were installed.
These market trends play a significant role in Philadelphia. According to census data, 20-24 year olds are the largest 5-year age group and the second fastest growing from 2000 to 2013 (behind 25-29 year olds). This group also has a penchant for walking: 48% walk or use transit while 38% drive to get to work (compared to 35% and 50%, respectively, for the city as a whole). It also appears that a generational shift is occurring, in which millennials are more likely to than previous generations to prefer living in places where they don't need to rely as much on driving to get around.
HOW CAN WE IMPROVE WALKABILITY IN PHILADELPHIA?
Jeff Speck lists walkability's four key components: walking should be useful, safe, comfortable, and interesting. More specifically, a successfully walkable place should ideally be compact and have diverse land uses; it should have streets that calm traffic and protect pedestrians; it should frame the pedestrian realm with trees and well placed buildings; and it should provide a visually engaging pedestrian experience.
Perhaps the most basic and essential component of walkability is safety. The Bicycle Coalition's recent Safer Streets report provides the following recommendations with regard to safety:
"Analysis of pedestrian crash and fatality data reveals that crashes are concentrated in a limited number of locations. These locations fall into two categories: high volume, often high-speed streets and streets surrounding transit stops. In addition to diligently implementing the Complete Streets Policy adopted by Council in 2012, Philadelphia should develop a targeted program to address the most dangerous pedestrian locations to reduce injuries and fatalities by 50% by 2020, which is a stated goal of the City's Pedestrian/Bicycle Plan."
Implicit in these recommendations is the idea that a little bit of data analysis and coordination on the part of the city can go a long way in improving the city's walkability. If we decide to make the essential elements of walkability a priority, our city will be better for it.
Want more? Daniel Wolf will be leading a Jane's Walk on Friday, May 1 at 5:30pm exploring ways to make Baltimore Avenue a place for people. (Free, open to all, rain or shine)
WHYY is your source for fact-based, in-depth journalism and information. As a nonprofit organization, we rely on financial support from readers like you. Please give today.