The political fallout from Trump's dark and Stormy night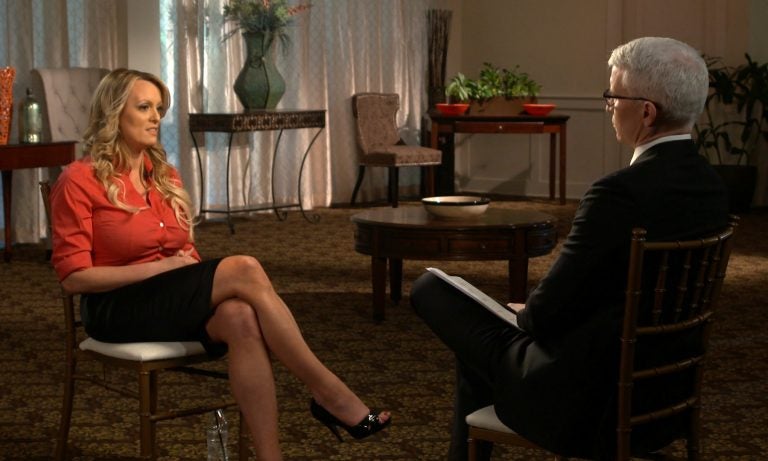 It's easy to dismiss the Stormy Daniels saga as tabloid fodder and to say that her long-awaited "60 Minutes" gig told us nothing we didn't already know about the creep who hits on chicks who remind him of his daughter. But that reaction misses the point.
What matters most — arguably even more than the ramifications of a toadying Trump lawyer paying Stormy to keep quiet on the eve of an election with an apparently illegal campaign contribution — is the political fallout that threatens to imperil the GOP in the November congressional midterms.
Put simply, it's a Harvey Weinstein kind of thing.
Some context: Trump has been steadily shedding support from college-educated white women (his favorability rating with those women is a microscopic 27 percent), and he's burdening congressional Republicans (their thumbs-up rating with those women is now 23 percent). Thanks largely to Trump, they're getting killed in the suburbs — as most recently evidenced by the special Pennsylvania congressional election, the Virginia gubernatorial election, and dozens of state legislative elections that have flipped seats from red to blue.
One big reason for this potential gender-driven blue wave: At a time when women are fed up with men behaving like entitled pigs, not just in Hollywood but in workplaces everywhere, at a time when women are more comfortable than ever vocalizing their disgust and willing to act on it, Trump is Exhibit A.
Stormy Daniels is basically outing Trump as a Harvey Weinstein clone, a powerful man in the entertainment biz who used his status to chase women, then used carrots (a shot at "The Apprentice," a pot of hush money) and a stick (threats, intimidation) for the purpose of covering up his dirtbag behavior. The stick, according to Daniels, was administered in 2011, shortly after she told her story to a magazine. (The magazine killed her story after Trump lawyer Michael Cohen threatened to sue.) In last night's interview, Stormy recalled:
"I was in a parking lot, going to a fitness class with my infant daughter. Taking, you know, the seats facing backwards in the backseat, diaper bag, you know, gettin' all the stuff out. And a guy walked up on me and said to me, 'Leave Trump alone. Forget the story.' And then he leaned around and looked at my daughter and said, 'That's a beautiful little girl. It'd be a shame if something happened to her mom.' And then he was gone … I was rattled. I remember going into the workout class. And my hands are shaking so much, I was afraid I was gonna drop her."
Cohen's lawyer (yes, folks, Trump's lawyers now have their own lawyers) contended last night that Stormy invented that anecdote; Cohen's lawyer said that Cohen "does not even believe that … such incident ever occurred." If you prefer to believe lawyers employed by a serial liar, be my guest. But Stormy's intimidation story should prompt fresh questions about Trump's bullying tactics.
We know that, pre-election, he threatened to sue more than a dozen female accusers and drain their savings. (Ultimately, he didn't.) We know that he has publicly slimed ex-"Apprentice" contestant Summer Zervos as a liar for saying that he sexually assaulted her; she's suing him for defamation, and a judge ruled last week that the case should move forward.
Indeed, Stormy's parking lot intimidation story jibes with an incident reported in 2009, when a high-profile bankruptcy lawyer told police that he was warned to drop a case against Trump — or suffer the consequences. According to the filed police report, the lawyer picked up his phone and heard this: "My name is Carmine. I don't know why you're f—–g with Mr. Trump, but if you keep f—–g with Mr. Trump, we know where you live, and we're going to your house for your wife and kids."
Plus, we have the immortal words of Michael Cohen, telling us what he's willing to do for his master. He said in 2011, "If somebody does something Mr. Trump doesn't like, I do everything in my power to resolve it to Mr. Trump's benefit. If you do something wrong, I'm going to come at you, grab you by the neck, and I'm not going to let you go until I'm finished." Four years later, he told a reporter, "I'm warning you, tread very f—–g lightly, because what I'm going to do to you is going to be f—–g disgusting. You understand me?"
The bottom line, politically, is that Stormy's experience with Trump — which will stay in the news for months, thanks to the slow grind of the legal system — is likely to further fuel the anger of women voters. The gun issue, of course, is a major contributing factor. As evidenced again in Saturday's mass marches, women are infuriated by the GOP's toadying to the gun industry. But Stormy is resonating with women as well; the issue is the power imbalance.
For instance, Shannon Coulter, a prominent consumer activist, tweeted last night: "Many women including myself are interested in the Stormy Daniels story primarily b/c of the playbook of intimidation/silencing tactics being used against her — many of them very similar to those that other powerful public figures such as Weinstein have used. Information is power." And cable host Nicole Wallace, a Republican who worked for former President George W. Bush and Arizona U.S. Sen. John McCain, seconded Coulter's assessment: "Women I've spoken to are disgusted by the bullying, the threats and the president dangling career advancement in front of her."
Basically, Stormy is reinforcing the fervent anti-Trump sentiment. According to analysts who've crunched the numbers of the latest YouGov poll, only 20 percent of "independent women" and, indeed, only 48 percent of college-educated "Republican women," want Trump to run for a second term. Perhaps it's a deal breaker to have a Weinstein in the White House. Perhaps, in this era of #MeToo, Trump and his captive party are simply on the wrong side of history.