The future is now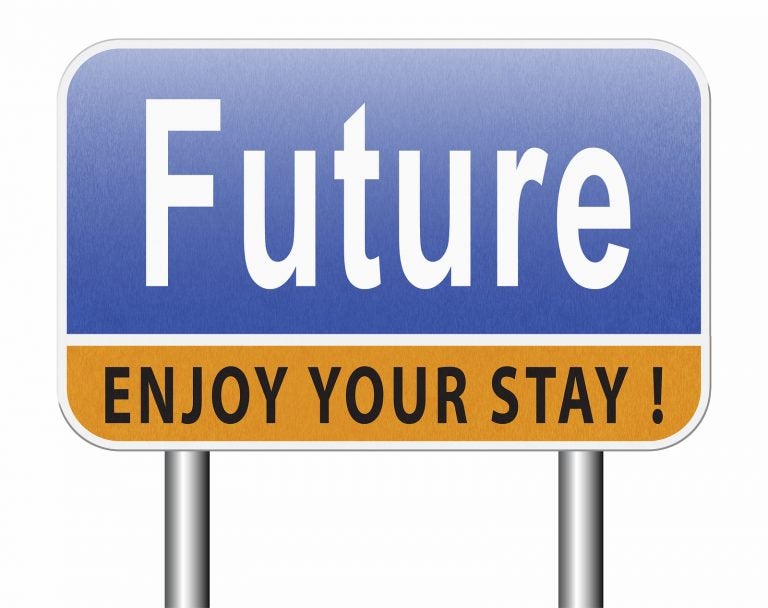 My youngest daughter went through a brief phase last year of constantly reminding us that we were always living in the future. She'd say, again and again, that every single second ticking off the clock was proof there is no such thing as the present. There is only what lies in front of us, nothing but the unknowable future.
Tick, tick, tick. Always, the future.
She'd do this over and over and over and, well, you get the point. It was interesting. And thoroughly exhausting. Thankfully, that phase of hers is in the past. [see what I did there?]
She did and does have a point though, we are living in the future. And I've got the proof right here in the present:
6 Signs We're Living In The Future
1) Schools willingly hand over $500 iPads to children who still suck their thumbs…and sometimes those snot-nosed, slobbery-handed children are allowed to take the iPads home! Personally, I'm still getting comfortable asking my tween daughter to fetch me something off the printer without worrying she'll wrinkle the paper or lose it while walking from one room to the next. School teachers, however, are somehow totally cool with handing over highly-breakable, super-expensive, hi-tech gadgets to small children! The future is crazy.
2) "Hey Google, please turn on the kitchen light". "Alexa, kindly lower the temperature to 66 degrees". "Ok, Google, play Superchunk on Pandora". "Alexa, play the song that has the line 'May All Your Favorite Bands Stay Together' in it". In the future, which is right now…and now….and now…, we ask our lighting fixtures to turn themselves on and off. We politely tell our thermostats how warm or chill we want to be while at
home. We dial up some tunes with nothing more than the sound of our voices. We are talking to our inanimate objects, and NO ONE THINKS WE'RE NUTS! I like the future because at least something, if not someone, is listening to me.
3) It's possible to spill balsamic vinegar from a Caprese Salad on your most favorite shirt while, say, on a Carnival Cruise, not notice it right away, subsequently wash and dry the shirt with the stain while on the ship, cry over thinking that the set-in stain has ruined your favorite shirt, wait a week to get home from vacation, and STILL completely remove the stain with the futuristic, magical, marvelous stain remover pens. That's the very true and harrowing story of the Detroit Red Wings Hockeytown 5K t-shirt I cherish, the one I thought was ruined on day into a seven day Caribbean cruise, and the heavy application of Clorox pen I successfully applied in my laundry room at home a week later. There's strange magic in the future.
4) The protein and energy bar industries have, over the past several years, slowly convinced us that it is 100% okay to basically eat a chocolate brownie for breakfast. But not only is it okay, we've been convinced that we NEED TO BE eating dark chocolate hazelnut almond peanut butter sea salted caramel brownies every morning to get/be/stay healthy. Yum, the future is so chocolatey delicious.
5) Virtual Reality is a thing. A thing that heightens real reality to a point where you and your kids will be spilling all kinds of stuff all over the place while living in your virtual reality world. VR is disorienting, and if that's truly the future, I think I'm going to stay put right here exploring the the real world with my own two unencumbered eyes in the present. Not that there is such a thing as the present, of course.
6) When I get back from dropping my daughters off at school, I plug in my Kia Optima Hybrid. I plug my car into a normal electrical outlet! Could you imagine telling someone that 20 years ago? It's like family cars are just another vacuum cleaner or toaster oven or my trusty electric shaver.
The future is weird and wonderful and delicious and magical, and my daughter is correct, we're living in it right now!