'The Color Purple,' going straight for your heart at Theatre Horizon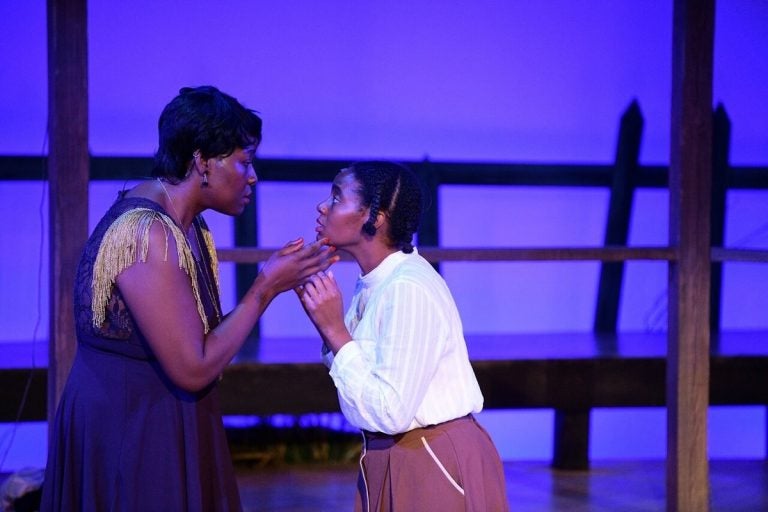 You can search theaters high and low, but you'll have a hard time finding a more luminous production than "The Color Purple" at Theatre Horizon. The show about an impoverished black woman facing a no-exit life in the rural South goes straight for the heart, then captures it. Everything about it, from costumes that reflect decades of changing styles to a simple wooden set with the feel of an old-time traveling show, adds to the production's power. It's wrenching and euphoric, in equal parts.
It also has the buzz artistic directors pray for: Even before opening night Wednesday, "The Color Purple" was extended twice, making it the first show to play Theatre Horizon for seven weeks. If the actors weren't tied to other commitments, it could probably have run into the new year.
The musical is enriched with a fluent staging by director Amina Robinson, a Broadway performer who teaches theater at Temple University and comes at "The Color Purple" with a passion that radiates the enterprise. The show itself has a jagged history, having debuted in a clunky, overdone version in 2005 that was a hit nevertheless, then slimmed down and muscular 10 years later in a rewritten Broadway revival.
That latter version, on display at Theatre Horizon, finally does justice to Alice Walker's hugely popular book that playwright Marsha Norman hugs closely in her stage adaptation. The delightful, inventive score by Brenda Russell, Allee Willis and Stephen Bray fleshes out the characters and it moves — sometimes thrusts — the plot forward. In giving the show life, Robinson's direction adds spirited touches to a spiritual show that begins in church with swelling gospel music and ends … well, I won't say.
Along the way, we're given the story of lives intertwined, driven by the instinct to survive and clouded always by racism that places the characters squarely in the realm of The Other. The plot centers on Celie – played and sung by Jessica M. Johnson in a performance so rich it should carry a calorie count. Celie is barely in her mid-teens when she's borne two children by her father, who's taken them lord-knows-where. She has one real friend in the world, her sister (Jessica Muse Money) but not for long — their father gives Celie over as a wife to a nasty man called Mister (the terrific Tyson Jennette), who tells Celie she's ugly, keeps her almost as a slave and hides the letters Celie's sister sends.
Mister, in turn, has a son with his own mind (Garrick Vaughan), a daughter-in-law who takes no prisoners (Donnie Hammond) and a lady friend named Shug Avery, a singer so liberated and glamorous everyone loves her (the excellent Ebony Pullam). The townsfolk can't stop talking about her when she returns from a Memphis gig, and that includes the women who bound on and off the stage — a trash-talking chorus of tsk-tskers with 'tood (Chelsea-Ann Jones, Candace Benson and Ryane Nicole Studivant).
The supporting players in the 14-member African-American cast are all fine, and for its ensemble work alone, the production shines. That simple wooden set I referred to is by Sara Outing and the costumes reflecting the decades through Celie's life and a segment in Africa are by Elizabeth Ennis. The busy music director Amanda Morton has the cast singing at a feverishly beautiful pitch and Sanchel Brown's choreography makes you want to get up and join the party.
The orchestra's five facile musicians overwhelmed the lyrics a few times on opening night. They are, like the effusive cast, caught up in the passion of their show. Forgive them.
While you're at it, forgive me. A longtime social convention dictates that critics not participate in standing ovations because they already have a platform for their thoughts – doing so is like tipping your hand. It's gauche. Wednesday night, at the opening of "The Color Purple," I was gauche. I didn't give it a second's thought.
—
"The Color Purple" is extended through Dec. 23 at Theatre Horizon, 401 DeKalb St. in downtown Norristown. 610-283-2230 or theatrehorizon.org.