The bike race chronicles: Manayunk's bike culture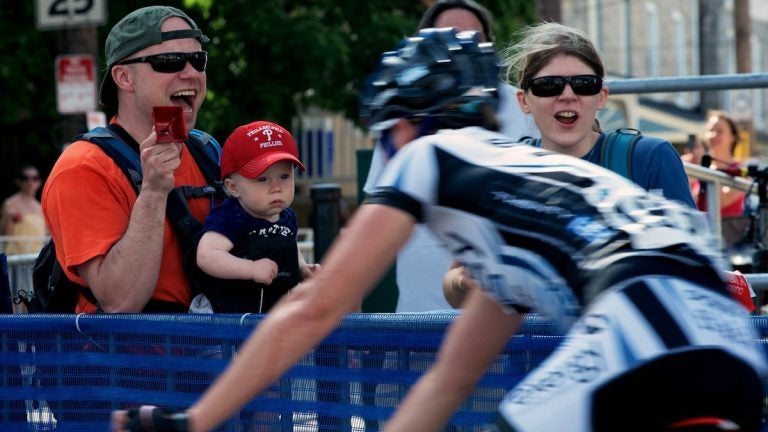 Anyone who has ever lived or visited Manayunk is sure to have seen them: Men and women of all ages — from the young to the simply young at heart — helmeted, jersied and pedaling in droves along Main Street.
Their presence can be spotted any time of the year but during the thawing days of spring through the early weeks of fall, it is undeniable — bike culture takes a leading role in the vibrancy of Main Street in Manayunk.
But who are these people? Is cycling a product of present-day Manayunk, or is present-day Manayunk perhaps a product of cycling?
The verdict is still out, said Jane Lipton, executive director of the Manayunk Development Corporation. Yet there is one thing Lipton can say for sure: 30 years ago Manayunk was not a biking neighborhood. In fact, Philadelphia at-large had practically no biking culture.
Two things have changed in the past three decades, Lipton says. First, there have been the partnered efforts between Philadelphia and the surrounding districts to connect the communities in the Philadelphia area through 750 miles of trail networks, aptly named The Circuit.
The growth of Main Street
"Main Street is the only commercial corridor that is really on the trails." Lipton says. "This is where people get off their bikes to meet up and grab a coffee or have a drink of water with all the same people they've known for years and years and years."
And then, there is that little thing that put Manayunk on the map — the iconic 17 percent grade Manayunk Wall and the international cycling race that goes with it.
"Other people may feel differently," Lipton said, "But there is no doubt in my mind, having been here in the '80s, that all the economic development that ignited and burst open here on Main Street happened because of that bike race."
"Rough" is how Lipton describes Main Street in the early '80s. While not bereft of business, its purpose was purely functional: janitorial services, automotive part distributors, mechanics, plumbers; there was no need to maintain the face of the street.
Kay Sykora, Director of Destination Schuylkill River, a project organized by the MDC in an effort to connect the communities of East Falls, Manayunk, and Lower Merion to the Schuylkill River, has been a long term advocate for the revitalization of Philadelphia's trail systems. She can recall her beginnings as a volunteer in Manayunk.
A bike race comes to 'Yunk
"The race came in not knowing what kind of response they would get. But what happened was the old timers embraced this thing. They came out on the hill and they cheered and they made the race look good," Sykora said. "They weren't the audience you would expect, but they were an amazing audience from the very start. The chemistry just happened… and when the race came back each year, it gave the world a chance to rediscover Manayunk once more."
Today cycling has become synonymous with Manayunk, from the numerous bike shops to restaurants like Winnie's Le Bus and Volo Coffeehouse who cater so generously to the biking community.
"Cycling is a key component to the long range plan for the longevity of this district," Lipton said. "You can't have a healthy residential community without a healthy commercial community, and you can't have a healthy commercial community without a healthy residential community. But there is the third leg to that stool and that is recreation. 'Bike, paddle, discover, explore' has become the new catchphrase for this historic community."
It was the summer of 1985 when the world officially first met the Manayunk Wall, just one short stretch on a much longer course originally designed by local world-renowned cyclist David Chauner and Hill Bicycle Shop owner, Jerry Casale.
In founding the international race, Chauner and Casale hoped to create an iconic event not just for Philadelphia, but for American cycling as a whole. And while the race has had its ups and downs, both on figurative and literal terms, including last year's near-cancellation and eventual reinstatement as the Parx Casino Philly Cycling Classic, on Sunday June 1, as professional cyclists from around the world take their climb up the notorious Manayunk Wall, it is safe to say they succeeded.
This is part one in a five-part series leading up to this year's Parx Casino Philly Cycling Classic in Manayunk. The Bike Race Chronicles will take a look at the people, places and history behind the annual bike race.