The art of the schlemiel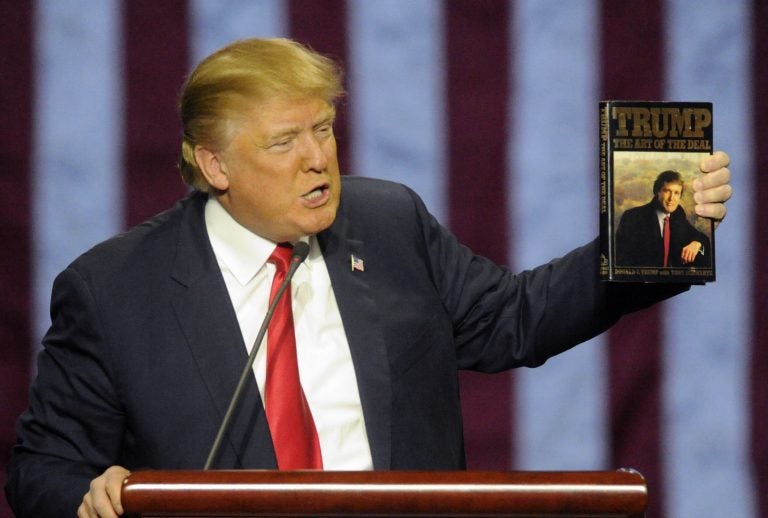 The Yiddish word schlemiel is a synonym for "bungler" or "fool" or "dope." There's a Yiddish saying that "a schlemiel is somebody who often spills his soup."
Which brings us to Donald Trump, the purported master deal-maker who has spent the last 12 months cementing his place in history as American's dumbest schlemiel-in-chief. He's reportedly prepared to sign the bipartisan border security compromise that gives him virtually nothing for his fantasy vanity project. Basically, he has negotiated his way from $25 billion for the wall, to $5 billion for the wall, to $1.4 billion for the wall.
In his words yesterday, "I can't say I'm thrilled" with the pittance now on offer. But he'll probably take it and try to spin it for his cultists as a great victory (he already is: "we're doing things that are fantastic"), because what else can a schlemiel possibly do? And his Republican enablers will massage his eggshell ego until he signs the congressional deal; witness Senator Lamar Alexander calling the pittance "a down payment," and Senator John Cornyn calling it "an incremental win."
But let's look at what has actually happened since February 2018. Let's begin with a passage from Trump's famous tome, "The Art of the Deal." He said: "My style of deal-making is quite simple and straightforward. I aim very high, and then I just keep pushing and pushing and pushing to get what I'm after."
He pushed, pushed, and pushed. And he got squat.
One year ago congressional Democrats agreed to a deal that would've given Trump $25 billion toward a border wall, in exchange for a 10-year path to citizenship for the Dreamers — the children of undocumented immigrants who were brought to America at a young age. That's known as compromise, a traditional Washington arrangement where one side cedes ground in exchange for something it wants, and the other side cedes ground in exchange for something it wants. At least 54 senators — 9 Republicans and 45 Democrats — were already on board when the deal was forged.
Trump blew it up.
Right-wing commentators jerked his leash, game over. Some of the Republicans who wanted that deal actually voiced their displeasure with Trump out loud. They feared — correctly, as it turned out — that the GOP would get hammered in the midterms and lose the House, thus making it far harder for Trump to get anything close to $25 billion for his wall. The aforementioned Lamar Alexander said later that the first deal on the table "solved the (Dreamer) problem, gave the president what he wanted on border security … We better take these opportunities as they come."
Fast forward to December. But first, let's return to "The Art of the Deal," where Trump schooled us with another maxim: "Leverage. Don't make deals without it."
Lacking leverage, he sat down in December with newly empowered Nancy Pelosi and tried to make a deal. Having rejected $25 billion for his wall 10 months earlier, he lowered his demand to $5.7 billion and said that if he didn't get it, he would be "proud" to own a government shutdown. The vaunted great negotiator, apparently oblivious to his party's loss of the House, wound up owning a shutdown that stiffed 800,000 federal workers and tens of thousands of contractors, and disrupted crucial services at airports and the IRS.
The final result: He has "negotiated" his way down to $1.4 billion, for a mere 55 miles of fencing. Either Trump simply signs the deal (ignoring co-President Sean Hannity's complaint that the new deal is "garbage"), or he signs the deal and maybe tries to steal extra wall money from other federal programs via executive action (although the amounts would be relatively tiny). Republicans, who have no appetite for another shutdown, will probably indulge Trump if he scrounges money via executive action (even though they hated executive actions when President Obama went that route).
Whatever ultimately happens, rest assured that Trump's followers will wave their new "Finish the Wall" signs and refuse to recognize that the schlemiel has spilled his soup yet again. They'll continue to believe whatever he says, including these delusional Tuesday night tweets: "Regardless of Wall money, it is being built as we speak! … the Wall is being built and will be a great achievement and contributor toward life and safety within our Country!" (In truth, no new walls have been built or bankrolled by Congress, not since the Trump regime submitted blueprints in 2017. And since then, only 40 miles of existing barriers have been repaired or replaced.)
All of which prompts me to quote another passage from "The Art of the Deal." Trump said: "You can't con people, at least not for long … If you can't deliver the goods, people will eventually catch on." Luckily for him, some people never will.