Thanksgiving doesn't have to be perfect, it just has to be yours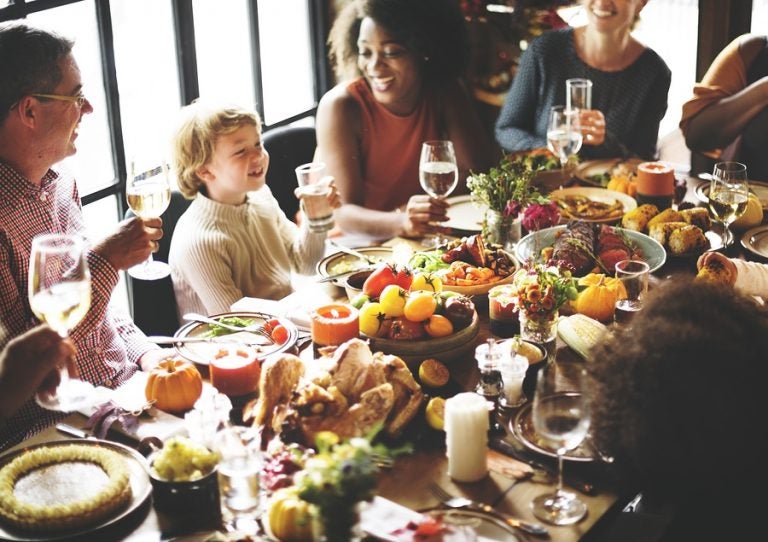 They say that time is elastic — much like the pants we sometimes wear. And sometimes that elastic springs back, pinches us, and wakes us up. That's what happened yesterday when we ​realized that Thanksgiving is just a few weeks away.
Maybe we've been distracted, finishing up all those mini Snickers bars we had stockpiled for the hundreds of trick-or-treaters we were expecting. When only nine kids showed up, someone had to eat all that candy!
In the global sense, time is racing past us. We don't set a kids' table at the holidays anymore, because our kids are 6 feet tall, drive home to be with us, and are old enough to vote. Now we just ask them to please come home for Thanksgiving and tell them that we'll reimburse them for any travel expenses.
We remember our early married years, when we had to alternate holidays and families — Thanksgiving with your family, Hanukkah with mine. But we've been married so long that not only have we stopped keeping track, we're the hosts. Our mothers have passed the baton and the fine china, and everyone gathers at our house. Sometimes we are lucky enough to be invited to someone else's house — and we're grateful — but the memories of where we went last year or what we did the year before run together like the gravy into the mashed potatoes.
When we host, we have the routine down: We get our husbands to bring the folding chairs up from the basement, rinse off the fine china that we haven't used in nine months, and tell our kids that any roommates/partners/friends/temporary dates are welcome.  
But we do have some pressing questions:
How many menu substitutions can we put on the table before people notice and start to yell? We remember the time we served roasted kale instead of creamed spinach, and butternut squash gratin instead of mashed sweet potatoes topped with mini marshmallows. The kids never got over it.
How Martha Stewart-ish should we get? She suggests using the leftover turkey for Vietnamese banh mi sandwiches, which sounds like a good idea to us. She also suggests making a table runner out of fabric, glue and glitter. When we tried that project, we ended up with glitter in the mashed potatoes.
Can the local supermarket's advertised $79.99 take-out dinner for 10 possibly taste as good as it looks on the poster? Who can resist "an all-natural turkey with cider-pomegranate glaze"? If we ordered it, it would mean we wouldn't have to wash out the greasy turkey roasting pan.
We do resist buying the entire feast, but purchasing some side dishes and serving them in our own china bowls is a tradition we welcome. Who would guess that we didn't make the "slow-roasted parsnips, carrots and sweet potatoes with toasted pecans and honey-balsamic glaze" from scratch?
What if we make the turkey but purchase the pies?
What do we take credit for?
The problem becomes obvious when a guest raves about the gourmet takeout dish and asks for the recipe. "Oh, it's not hard; you just chop the onions first," you say, modestly glancing downward. "I'll email you the recipe."
As Turkey Day approaches each year, we start to dream: What if there were no dishes, no clean up, and a waiter to serve us? We're tempted by those ads for classy restaurants that promise to be "just like home" on the big day.
But our families are too noisy to be in a restaurant; we don't want to disturb the other diners, who will also be quizzing their college kids about roommate troubles, listening patiently to their sister's travel plans, and telling their mother-in-law for the third time that, no, Michelle is not engaged yet, just living with him.
In a restaurant, we wouldn't be able to leave the room to check the football scores on TV. Most important, there would be no leftovers. We would miss eating pecan pie and cranberry sauce for breakfast on Friday morning.
We don't like doing the same old, same old, every year. And over the years we've learned to adapt. If one of the kids wants to host in their small apartment, that's great. We'll be there. If a sister can't make it, we'll bring the turkey and pie to her. If some of the siblings want to drive home on Friday and not stay all weekend, that's okay, too.
We're just thankful, once again, that we can all be together.
—
Joyce Eisenberg and Ellen Scolnic, The Word Mavens, are the authors of the "Dictionary of Jewish Words" and "The Whole Spiel: Funny essays about digital nudniks, seder selfies and chicken soup memories."