Temple University students react to arrest in Jenna Burleigh murder case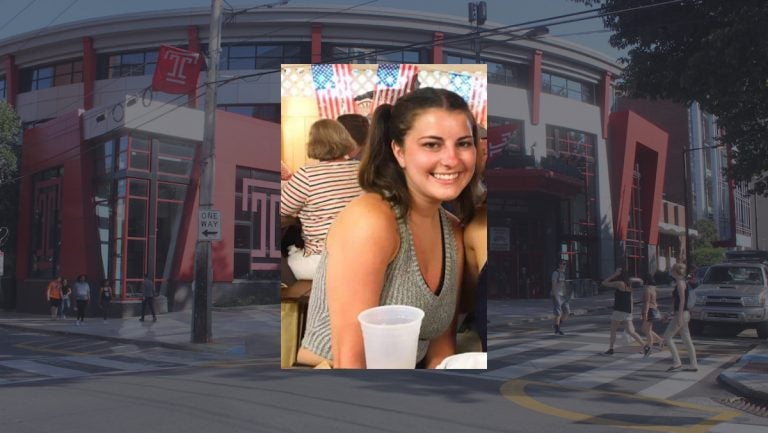 When Natalie Abulhawa found out Josh Hupperterz, her former neighbor, was the suspect in the murder of Jenna Burleigh, it sent a chill through her body.
The first thing that went through her mind when she learned the Temple University student was murdered was how that could have been her. There was one night last February — after Hupperterz repeatedly asked Abulhawa to hang out — where she almost went to hang out with him alone, but changed her mind.
"My thoughts were all over the place because i just spent a year saying 'hey' to this guy," said Abulhawa about the killing. "I was always friendly and it was just a weird feeling."
Jenna Burleigh, a Temple University junior, was transported in a storage bin more than 100 miles after being killed, on likely Thursday morning, according to an NBC10 report.
Burleigh's body was moved after she was likely killed in an apartment on the 1700 block of Cecil B. Moore Avenue, just off the university's main campus.
Joshua Hupperterz, 29, a former Temple student who last took classes in the spring, is charged with murder, abuse of corpse, tampering with evidence and possession of an instrument of crime.
Burleigh, 22, of Harleysville, Pennsylvania, had just begun her first week of classes as a transfer student from Montgomery County Community College. She was studying film and media arts at Temple.
Her cause of death was ruled as strangulation and blunt force trauma, according to the Wayne County Coroner's Office.
According to several reports, Burleigh met Hupperterz Wednesday night into early Thursday morning at Pub Webb, a bar near Hupperterz' apartment. Burleigh was last seen around 2 a.m. Thursday leaving the bar with the suspect.
Investigators believe she was killed in Hupperterz' North Philadelphia apartment on the 1700 block of 16th street. From the apartment, she was transferred in a storage bin to Hupperterz' mother's home in Jenkintown. From there, Hupperterz used Lyft, a driving service, to bring Burleigh's body to his grandmother's home in Wayne County, Pennsylvania.
On Saturday, police found her body, which was in the storage bin, in a shed in the Wayne County property, according to NBC10.
Abulhawa said that Hupperterz would frequently ask her to hang out, or invite her to his place to smoke. "I kept saying no and usually people get it, but it continued throughout the whole year," Abulhawa said.
She remembers witnessing Hupperterz get into an altercation with a woman in September 2016. Hupperterz closed a metal security door on the woman who was screaming at him, but she ripped the door off and went inside. Abulhawa ran outside of her home to take a video.
Abulhawa said the police never came, and later Hupperterz asked her for the video after the event so he could try and get the other woman to pay for a new door.
Abulhawa also said Hupperterz often lied to her. He told her he was in his early 20's, when he is in fact 29. After finding out she played soccer, Hupperterz told Abulhawa that he played for Temple's soccer team, but he was never listed as a player on their website.
He also told a few students in Temple's advertising department that he interned with Ogilvy & Mather, a top New York City advertising agency, this summer. A receptionist at the agency said she saw no record in her emails of Hupperterz interning there.
"Every encounter, I kind of had a bad feeling," Abulhawa said. "I was never scared of him, but it was always something inside of me saying probably don't hang out with this guy."
Temple University President Richard Englert sent out a university-wide email to students, faculty and staff informing them of Burleigh's death. "This is a tragic event, and anyone in the Temple community could be deeply touched by it," Englert wrote.
On campus, some students felt fearful after seeing Burleigh went missing.
Both Ominese Faison and Michelle Mbuthia — who are both Temple students — walked to Pub Webb the night of the killing, but ended up not going into the bar because they forgot their IDs.
"It scared me because I was thinking that that could have been me," Faison said.
Nia Pettis, another Temple student, did go to Pub Webb that night. She doesn't recall seeing Burleigh or Hupperterz, but said overall she doesn't feel concerned about being out late at night or being alone around campus. She also doesn't feel like Pub Webb is unsafe. She did have a lot of unanswered questions about how the night unfolded.
"I wanna know why she ended up going to the guys house," Pettis said. "Did she know him or was she being a silly young college student or where were the friends? Because I don't leave my friends when we go out. We all stick together the whole night and there's nothing to be afraid of."
With President Englert's message, he also wrote that counseling was available through Tuttleman Counseling Services on the university's main campus. After regular business hours, there are psychiatric emergency services 24 hours a day at Temple University Hospital Episcopal Campus in Kensington.
Pettis said additional information other than Tuttleman Counseling Services would also helpful. She said sometimes students have a hard time getting an appointment.
"Maybe they could have some small group offerings like through some people from Tuttleman, but on other parts of campus where people can drop in on random days and times for the next couple weeks or so," Pettis said.
She also added that she thinks it's important to recognize that Hupperterz was a former Temple student, which can instill a sense of trust through that shared connection.
"A lot of people have distrust of locals and 'stranger danger' and somebody with a Temple t-shirt, you relax a little bit," Pettis said. "But you always have to be weary of your surroundings no matter who it is and often times in situations with people being harmed, it is somebody that they know."