Teenage ingenuity on display at Philly school holiday fair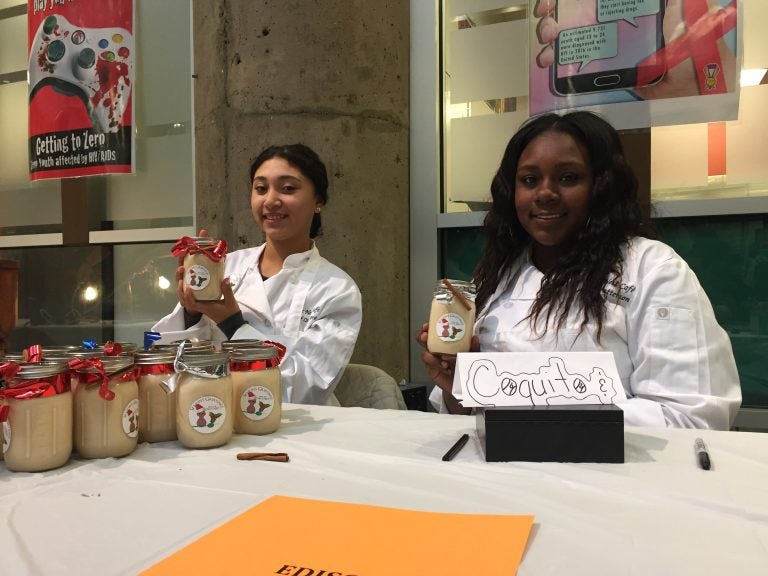 Eclectic doesn't begin to describe Kensington High School's stand at Philadelphia's annual CTE Holiday County Fair.
The engineering students sold pins, placards, and plastic foxes shaped to serve as cell phone holders. Next door, Kensington's computer students displayed homemade ethernet cables they constructed by taking apart wholesale wire and rearranging its strands.
Brietny Vega, a senior in the engineering concentration, specialized in some of the school's more humorous items. One of the placards read, "If you're looking for a sign, this is it." She also took a wooden block, painted it red, and emblazoned it with the phrase "your mom." Why? Because Vega just likes the expression.
The only thing limiting what you'll find at Philadelphia's annual Career and Technical Education Holiday County Fair — held Friday at school district headquarters — is the outer bounds of the teenage brain. In other words, there was a lot of funky stuff to be had.
Philadelphia has 120 CTE programs spread across 30 schools. There are culinary arts programs, engineering programs, sports marketing programs, business administration programs, and, well, a lot more programs.
Part of the appeal is that students get to make stuff, do stuff, and otherwise apply their learning. Each year that includes creating holiday gifts and trinkets for this citywide expo, the proceeds of which go right back into each school's CTE programs.
Students at the Workshop School in West Philadelphia made their name in past years selling "Jawnaments," Christmas ornaments carved in the shape of the word "jawn," that ubiquitous and inscrutable Philly slang. They've since added "jawn" menorahs — or "jawn-orahs," naturally — to their growing craft empire.
Graphic design students at Swenson Arts and Technology High School in the Northeast created shirts with the word "nerdy" spelled out using elements from the periodic table. And with their tongues still firmly in cheek, they also bought circular chocolate candies, sorted them into bags, and labeled it "reindeer poop."
Tagline: "I've heard that you've been naughty so listen, here's the scoop — you're getting nothing but reindeer poop."
A frosty hot commodity

Those seeking a more straightforward treat could find frosty jars of coquito courtesy of the Owl's Nest, Edison High School's name for a cafe its students manage.
Elima Patterson, a junior, at the North Philadelphia school said students decided to make the Puerto Rican holiday drink because it has culinary roots in the Caribbean and Africa. They figured it was a fitting reflection of the school's demographics — which are largely Hispanic and African-American — and began selling the creamy concoctions last year. People asked for more of the same this year, and they nearly sold out.
"I can't explain how smooth it is," Patterson said. "It's so rich in flavor that people actually use it as a coffee creamer."
For some students, the assignment wasn't so much contained in what they made, but rather how they sold it.
Business administration student Alberto Gonzalez from Dobbins High in North Philly hawked holiday cookie tins with a small, branding twist.
"I got this advanced storage unit," he called out while circling the expo floor. "Anything you need to store you can store it in here for $2."
While most students waited at their stands for customers to stroll by, Gonzalez and his friend, David Black, decided to work the room. Gonzalez wasn't always so enterprising, but he realized you've got to be proactive to make it in business
"Don't let the money go to you," he explained. "Go to it."