What teachers need to know about connecting with students in urban schools
Christopher Emdin says it's time to do things differently in urban classrooms so students aren't left thinking "You don't get me."
Listen
5:13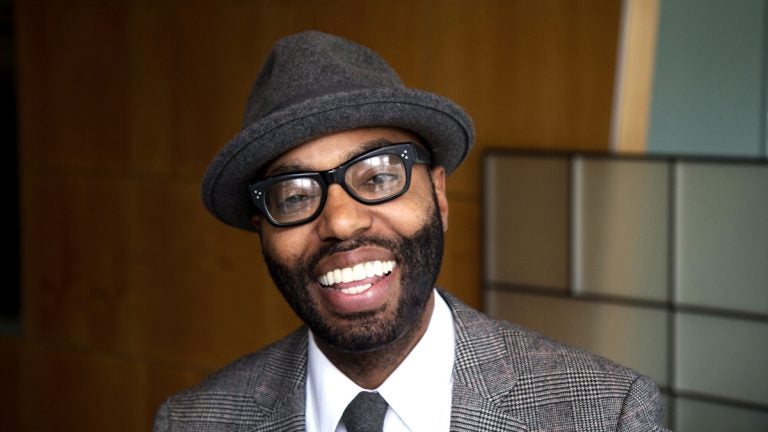 If you're an educator, listen in. Christopher Emdin says it's time to do things differently in urban classrooms — to draw in students, to mesh with interests and backgrounds, so students aren't left thinking "You don't get me."
Emdin's a professor at Teachers College, Columbia University, who specializes in math, science, and technology. He's written the New York Times bestseller "For White Folks Who Teach In the Hood … and the Rest of Y'all Too," as well as "Urban Education and Urban Science Education For the Hip-Hop Generation."
Prior to an appearance this week at Drexel University, I asked him about some of his teaching tools — including his signature reality pedagogy.
Christopher Emdin: Reality pedagogy just says: Have teachers focus on the realities of youth experiences. And there's some tools to help you get insight into those realities.
You know, one of those is the co-generative dialogue, which is really just having conversations with students outside of the classroom about their feelings on the instructions. And  then co-generate a plan of action for improving the next class together with the students' input.
And that gets the students engaged, because they feel as though they are not just there as passive learners, but they are citizens of the classroom now. And then that helps you get immediate feedback from your audience, which is the students. I mean, it's a simple thing that we don't do.
Jennifer Lynn: What else?
CE: Let students teach.
"You know, Dr. Emdin — what if they don't understand the content yet. Can we have them teach anyway?" Absolutely, because if they are preparing a lesson, they actively learn. Right? They're learning to teach, which opens up different parts of the brain, which makes them more apt to be able to connect to the content. And that's the stuff that makes teaching magical.
JL: You've even said, like, go out into communities as a teacher and see what the kids see, see what they do, go to wherever they hang out, and get to know what things are the fabric of their lives.
CE: I think this shouldn't even be accidental, right? So people are always saying, you know, "Dr. Emdin says going to the community." Do you know what it does to a student when they are going to the supermarket and they see their teacher. It's like the world opens up. They think you live in the basement and you don't really exist. The minute they see you in the community, the connection that you have to them is so powerful. Then you have different reference points with them, right? Then you have different examples you can use with them that hold some powers.
But I've made the suggestion that, if you're gonna teach in an urban school, and the program that is giving you the opportunity to teach in that school can pay for your master's, they can also give you a small stipend if you choose to live in the neighborhood where you are gonna be teaching. It's those things that make all the difference.
JL: What happens when a teacher doesn't see his or her students?
CE: I mean, they teach to a shell. And when you teach to not the real person, you're hoping that the content sticks. You're not assured that it does.
You know, I always talk about in my work the idea of young people that had these role identities. If you're black and over 6 feet, society perceives you to either be the basketball player or the gang member. And so they're interacted with that way, and so before long if everybody sees you a certain way, you take on that identity.
And then you say, "Well, let me be who they want me to be." And if you start being who they want you to be, then when you're in the classroom you're not being a person who's open to learn, you're not being curious and imaginative. And it's so mentally exhausting to not be yourself that you can't even learn.
If we have an approach to teaching and learning that kind of breaks the shell and lets the true self emerge, then you can teach to the true self.
JL: What about the use of hip-hop as a connector of students and their learning
CE: Well, you know, hip-hop is the most under-focused-upon cultural phenomenon that is right in front of our faces. Right? People who are in media have learned that if you throw a hip-hop beat, it connects an audience. People who want to sell minivans have, you know — people are rapping, you know — there's a Toyota rapping minivan commercial. And in education, they're like: "No, the music is violent." And people misperceive a culture with a musical art form. Think hip-hop music as something that is what it is. Think hip-hop culture is about a mode of dressing, a way of speaking. It's in the cock of a hat, it's in a bob of a step. It's in all these little idiosyncratic things that construct an identity of being anti-authoritarian, while at the same time feeding the ego in a world where your ego is consistently being bruised. And I think that, in classrooms, if we payed attention to how we can incorporate aspects of hip-hop into our teaching, we'd be better served.
JL: And you're looking at …
CE: How could we use hip-hop instrumentals? How could we recruit hip-hop artists to serve as co-teachers? You know, I did a project once with an English teacher in New Jersey, where we brought Kendrick Lamar into an English classroom. And students who would not at all pay any attention to, you know, the nature of the sonnet, or verb and subject agreement, when Kendrick was talking about how those things connected to how he constructs his lyrics, were at the edge of their seats, like, waiting for nuggets of wisdom to drop from the lips of this, like, griot.
I think we can bring Kendricks into the classroom. I brought Master P into a classroom in Brooklyn to talk about financial literacy, and the students have been asking me how to be financially literate ever since. These personalities can be brought in, but more importantly, we can study what they do to connect to their audiences.
—
Watch Emdin's Oct. 24 presentation at Drexel University.
WHYY is your source for fact-based, in-depth journalism and information. As a nonprofit organization, we rely on financial support from readers like you. Please give today.